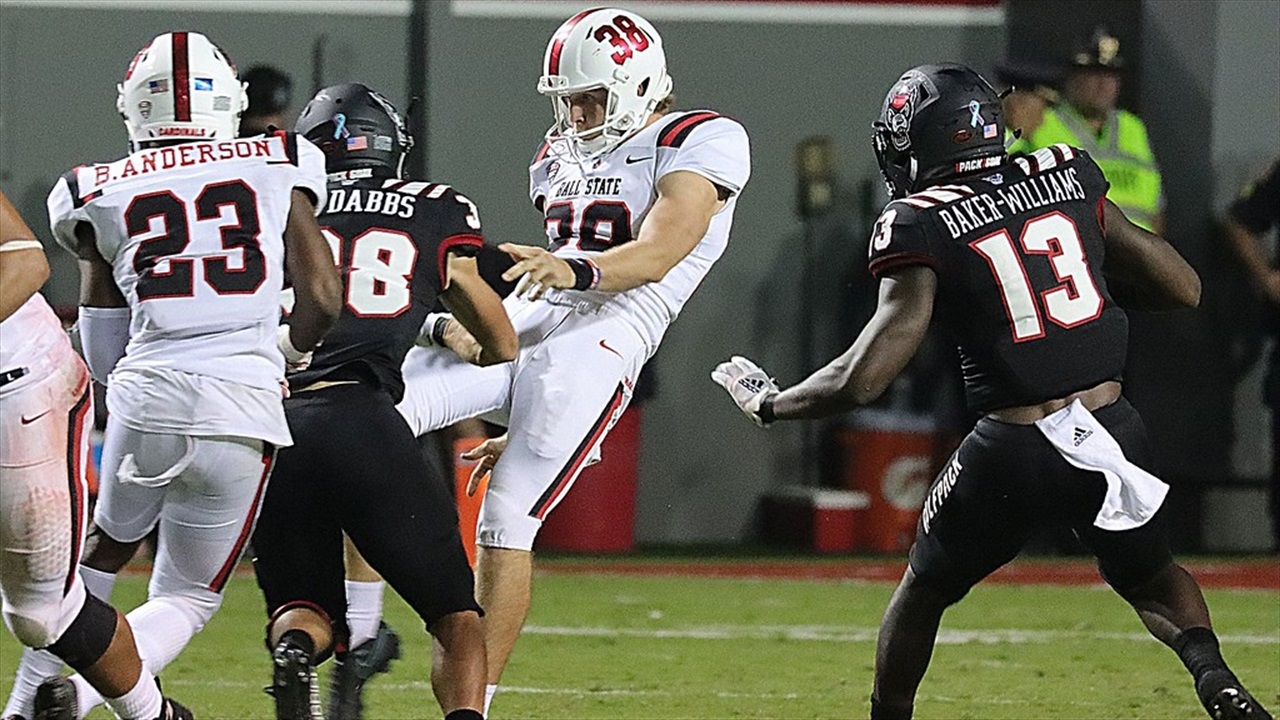 NC State Football
Special Teams Seal The Deal For NC State
---
NC State wasn't at its sharpest on either side of the ball Saturday night against Ball State. Fortunately for the Wolfpack, two special teams plays were enough to get the job done against the Cardinals.
After the Pack forced a three-and-out to start the second half, Thayer Thomas took a low, line drive punt and returned it 76 yards for a touchdown to give NC State a 27-7 lead with 13:03 left in the third quarter.
"We did some really good things with our punt return unit," head coach Dave Doeren said, "which I thought sparked our football team in the second half."
Thomas had a handful of nice returns last year in his first season, but this was his first career punt return for a touchdown.
"It's sort of crazy," Thomas said. "Last year was my first year punt returning, so I wanted to take the next step and actually return one for a touchdown this year."
Thomas' punt return proved to be the game-winning score in the eventual 34-23 win.
"The funny thing is my friend texted me before the West Virginia game," Thomas said. " 'You're going to score your first receiving touchdown in this game.' And he texted me before this game and said I was going to take one back to the house. I thought that was pretty crazy."
Thomas didn't have the only game-changing special teams play. With the offense struggling in the second half, Max Fisher blocked a punt and Malik Dunlap picked it up and returned it inside the Ball State ten yard line. Just over a minute later, Matt McKay scored from three yards out to give the Wolfpack a 34-16 lead.
After West Virginia salted the game away with a punt block last week, this week it was the Wolfpack sealing a victory with a blocked punt.
"They let us down big time on that (blocked punt) last week and they sparked us this time," Doeren said.
Despite a late onside kick by the Cardinals that NC State couldn't recover, special teams was arguably the reason the Wolfpack won the game.
"It was great redemption for Coach (Todd) Goebbel's units and I'm proud of those guys," Doeren said. "Those were two huge plays in the game (tonight)."
Never miss the latest news from Inside Pack Sports!
Join our free email list