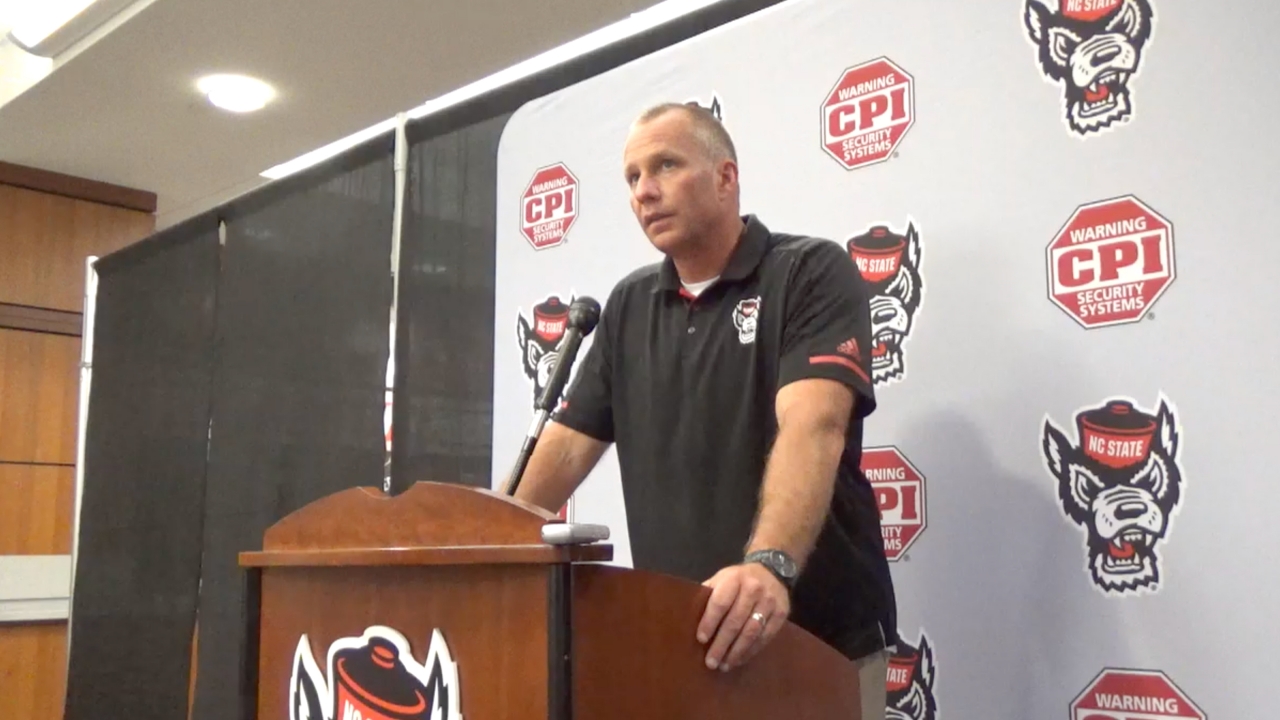 NC State Football
DOEREN: "It Wasn't Pretty, But It Was a Good Win"
---
NC State head coach Dave Doeren met with the media following the Wolfpack's 34-23 victory over Ball State Saturday evening.
NOTE: Click the video player above to watch Doeren's press conference.
---
Opening Statement
"It wasn't pretty, but it was a good win. We did some really good things with our punt return unit which I thought sparked our football team in the second half. Thayer [Thomas] with the punt return for a touchdown and Max Fisher with a punt block and our ability to get a touchdown off of that.
"In the first half, I thought our defense did some good things, got some fourth down stops. I didn't think we covered well enough in the second half, and their quarterback did a nice job. You've got to give him credit."
"We did enough to win but still had too many penalties. Nine penalties. The pre-snap stuff... I don't understand college football anymore on some of these things. How can you not tackle a guy hard? That really bothers me just in general. You're seeing it in the NFL, and you're seeing it in college, but some of these plays... they're taking away the integrity of the game a little bit."
"I'm really, really proud of the way the guys hung in there. Ball State fought back and did some things, and we found the way to finish the game and win."
"I'm glad we were able to get Bailey [Hockman] in the game. We had planned on that all week. Regardless of what happened on his drive, Matt [McKay] was going to go back in. It was just an opportunity to see him when it wasn't mop-up duty and to give him that opportunity."
"I think it sparked Matt a little bit."
"[We have a] lot to work on."
Bailey's last drive was that more meaningful reps?
"I wanted to get him in the game at the end but we were also up by two scores, so regardless of whether they scored or not we said let's get him back in there.
"The only way guys will improve is with reps. He had a good week of practice, and Devin Leary had a good week of practice. I think when you reward guys with that, it helps. It helps them continue to play that way.
"It helps in the event we have an injury it's not the first time a guy has to go out there."
On if they expected Ball State to throw so many passes...
"They are fifth in the nation in passing offense. I expected it.
"I thought we did some good things at times, and we did some bad things. They made some pretty awesome catches too, but we've got to cover better.
"We did mix up coverages. We played a lot of coverages tonight. At the end of the day, you're going to have a one-on-one at some point... we played a lot of coverages tonight so it's not bad. We just have to make more plays when the ball is there."
On if the impressive special teams play tonight was motivated by last week at West Virginia...
"Absolutely. They let us down big time on that [blocked punt] last week, and they sparked us this time.
"It was great redemption for Coach [Todd] Goebbel's units, and I'm proud of those guys. Those were two huge plays in the game [tonight]."
On the defense getting more pressure on the quarterback tonight...
"We blitzed more, for one. The only guy we got back was [Joseph] Boletepeli. James [Smith-Williams] hopefully will play this week. That's the way it's looking. That's the only player back.
"We are missing a lot of guys right now, and then 'Bam' [Zonovan Knight] went out with a hamstring, so he didn't play. We are missing key parts right now."
Bam goes out early but Ricky Person and Jordan Houston played well...
"Jordan is quick and great change-of-pace... I thought Ricky ran hard. I thought he was a little high on that one short-yardage run, but he got a lot of yards after contact today. He played tough.
"We have to get more movement on the line of scrimmage, and if people put that many people in the box we have to throw the ball better at times too."
Were you trying to set the tone going for it on 4th and 1?
I've said it since I've been here, but you can't say you're tough and not go for it on fourth and 1 unless it's just backed up. I don't know how you can talk like that as a coach and not give your guys a chance.
They have to own up and do it. We have to be better there. You can't get tackled for less than a yard ever when you put a goalline formation out there.
That gives me something to be mad about tonight and tomorrow.
Are you worried about the offense right now?
Of course. I'm worried about everything.
Ingram made the play at the end...
Great play and CJ Hart did a good job of playing the wideout... great job by both of those guys.
On Eli Drinkwitz/App State's win at North Carolina...
What a great win for Eli. I'm so happy for him, coach Roof, and Cole Cook is on that staff.
Great win for those guys. I saw the end of the game so to see how happy they all were, I'm excited for them. It's really neat to see them do that.
Never miss the latest news from Inside Pack Sports!
Join our free email list