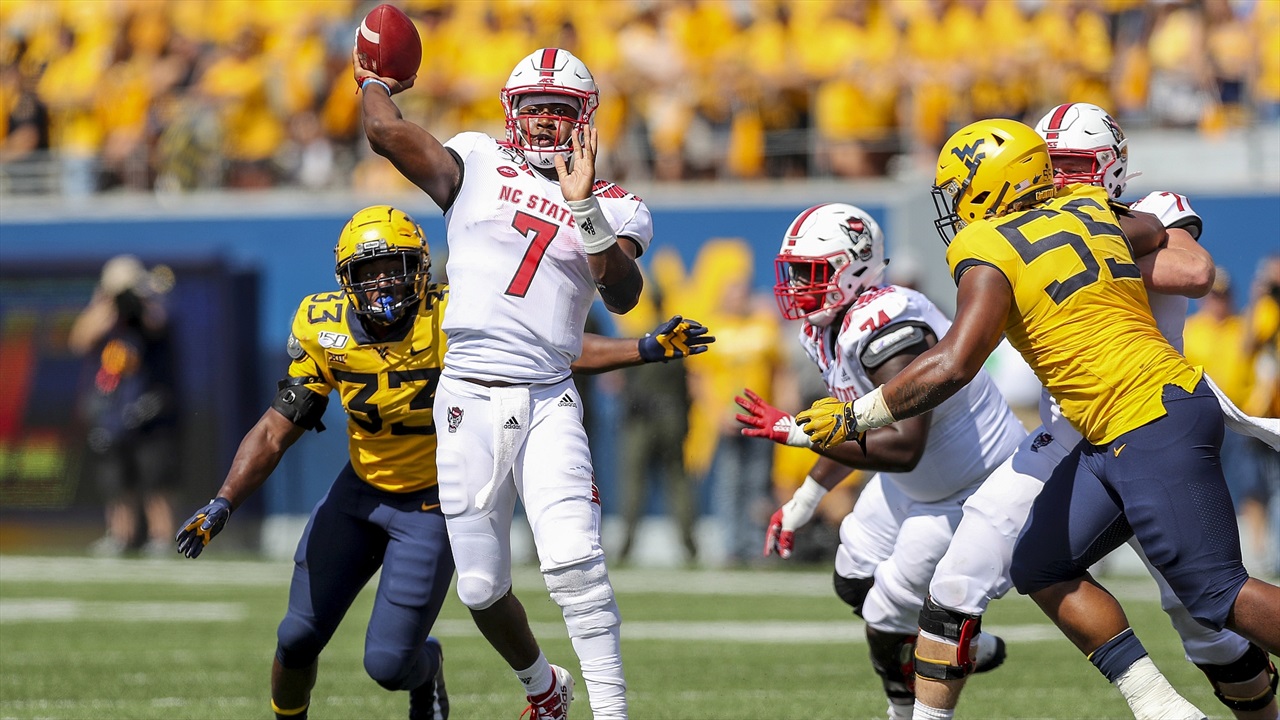 Photo by USA TODAY Sports
NC State Football
MCKAY: "We've Got to be Fresh and Ready"
---
NC State redshirt sophomore quarterback Matthew McKay spoke with the media regarding last weekend's game versus West Virginia and the upcoming matchup with Ball State.
NOTE: Click the video player above to watch McKay's interview.
---
"Coming out in the second half, we've got to be fresh and got to be ready. I've got to make smarter decisions. I'll be accurate. I've been going back, putting the work in with my coaches. I definitely learned a lot."
"We lost the rhythm offensively. I could have done a way better job of getting the ball to the receivers and making smarter plays. I felt like the first was solid, but we just didn't come out and execute in the second half."
"In the second half when the defense got turnovers for us, we couldn't go down and score points. On key third downs, we just couldn't execute."
"A lot of that stuff comes with time. As I go back and watch the films, it's just being smarter. If it's 3rd-and-1, just let the running back eat. Don't try to throw a pass. It was open, but the jack or the D-end just backed up into it. Just hand it to the running back, let him get those yards, and move onto the next play."
"Starting strong and finishing strong. Playing strong through all the quarters, and just executing on third down and in the red zone."
"It's definitely getting better as the season goes on. I'm just connecting and understanding what all we want out of each other, especially with accuracy. The O-line, running backs, and tight ends are right on with the running game and all that stuff. It's definitely all coming together, so it'll be really special."
"It definitely made me work even smarter, understanding the situation that we just had to go down, get first downs, and get points. We couldn't do that unfortunately, so that's something we've got to work on."
"I definitely have a high comfort level with Emeka [Emezie], but the defense gave me what they gave me. I go through my progressions and reads, and that's what happened. Every game plan is different. It's not always going to be the same. He got 23 targets, but that's just what happened."
"Definitely. Just like the other games, I'm spreading the ball around, but my progression reads told me to go there, and that's where I went."
"There's definitely a lot of chemistry knowing I can trust him when he's out there, and he can trust me too to put the ball where he wants it."
"I'm good. My confidence is really good."
"It's pretty special knowing you can put it up there, and [Cary Angeline] can go get it. No matter how big or small the ball the guy guarding him is, he'll go up there and catch the ball."
Never miss the latest news from Inside Pack Sports!
Join our free email list