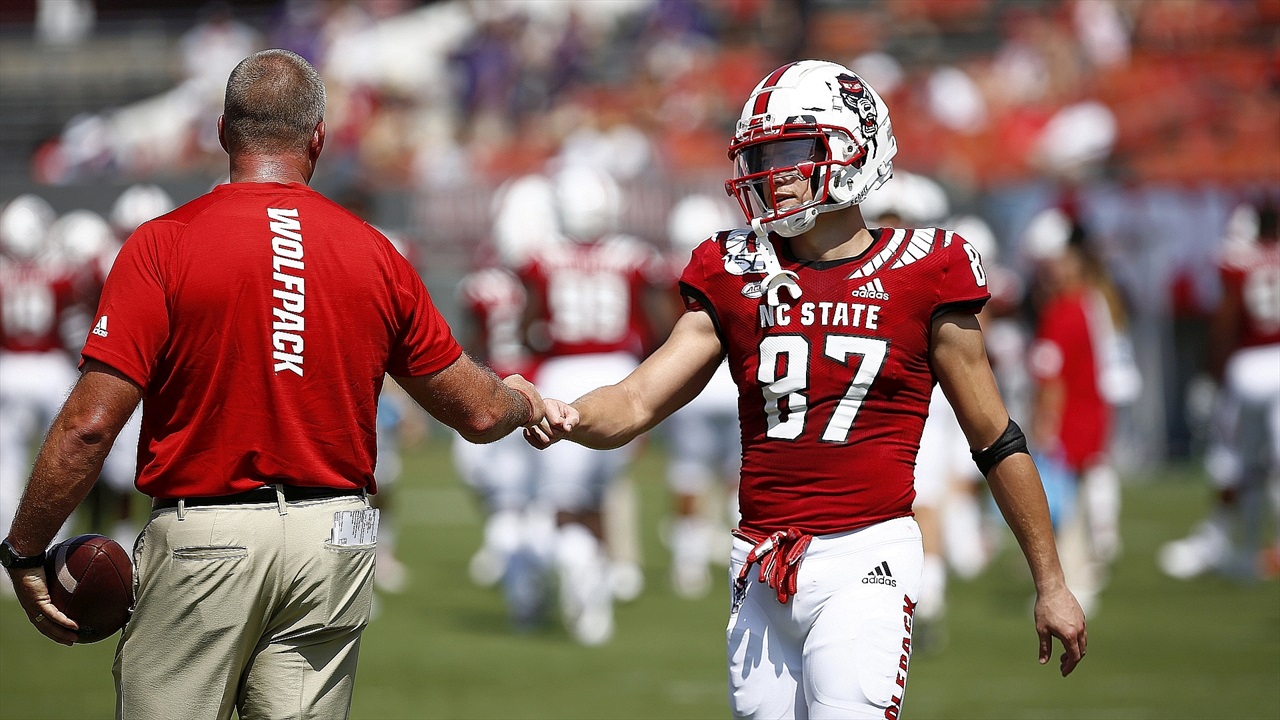 Photo by Jeff Reeves/Inside Pack Sports
NC State Football
THOMAS: "I've Seen the Best of the Best; It's a Crazy Environment"
---
NC State redshirt sophomore wide receiver Thayer Thomas discussed several topics ahead of the Wolfpack's road game against West Virginia, including his personal ties to the Mountain State and his experiences at Milan Puskar Stadium.
NOTE: Click the video above to watch Thomas' interview with the media.
---
"My mom actually went to West Virginia. My cousin is actually on the West Virginia football team right now. He's a defensive player: Rhett Heston. He's a walk-on, but he had some scholarship offers from smaller schools. He was a Player of the Year in the area up there. My dad and mom went to high school at East Fairmont High School which is 15 minutes from Morgantown. I have a lot of family up there. A lot of people will be there supporting both of us and Drake."
"I used to go back in the days when they had Pat White and Steve Slaton when Rich Rodriguez was the coach, and I grew up a huge West Virginia fan when Geno Smith and Tavon Austin were there. I've been in that stadium about 10-plus times since it's so close to my grandparents' house. I grew up probably an equal-Marshall, equal-West Virginia fan. This game means a lot. I've always dreamed of playing up there in that stadium with all my family and friends around being able to watch. It's going to be a pretty cool experience."
"Yeah, for sure. I felt like I was going to have a really good game until I got hurt. I started off pretty hot, but unfortunately I got hurt. Luckily, I got a second chance to go up there and hopefully play a full game. I'm really looking forward to it. I'm looking forward to all my family being up there watching me. It's going to be fun."
"My grandparents, aunts, uncles, cousins, and obviously friends that all live in West Virginia are going to try and make the game. I'm asking all my teammates for extra tickets and stuff. Drake and I have eight tickets together, so we're going to need way more than that. A lot of friends and family are going to be there."
"I was born there. Drake was born in Ohio, so he might not feel as tied, but I think he is honestly. We're all really close to our family. We went up there actually in June to visit family. We were hanging out up there, so we're looking forward to it. It's going to be a really neat experience."
"Hopefully, we don't hear it after the game because they usually play it when they win. They just play it after they win."
"Yeah, I think they also do that, and they also do this chant after every first down where they get up and do a big chant. It's a really loud stadium. We would go up there for Thanksgiving usually. We would be up there, and we would always go to the Pitt rivalry game. That game was crazy. It was always really cold. Luckily, we're playing at a time where it's not cold. I just remember being there crying because it was negative degrees. I was like, 'Why did you bring me here?'"
"I was, but I'd rather watch it at my grandmother's house 15 minutes away because it was so cold outside. That was always a tradition on Thanksgiving: to watch Pitt and West Virginia play."
"Quick little story on that: We would go up and usually watch West Virginia play, but there would be occasions when Marshall would play at West Virginia, so we would always root for Marshall because my dad played there. We would be wearing green, and it didn't matter what age we were; those fans were cussing at us and saying mean stuff to us. I was probably a third-grader, and my brother was a first-grader. They didn't care how old we were. They were pretty ruthless fans. I just remember that, and it's just a tough atmosphere to play at."
"I've had cousins go there, and they've talked about it. I was probably gone far away before the time they started burning couches."
"Last year, unfortunately the weather cancelled the game. We were really looking forward to playing a really good West Virginia team. This year is the same way. We get to make up that game. Even though it's two different teams, we still get to go up there to play a great West Virginia team in a great atmosphere. I'm really looking forward to the challenge and come out with the victory."
"They're a Big 12 team. They've had a lot of success in the past eight or nine years. Coach Doeren talked about, this morning, the turnover margin there is 87-13. That shows you how much the ball is important, so we've got to win the turnover margin to give ourselves the best shot to win the game. He also said to be smart on offense. It's going to be loud, so we've got to be on the same page because we're probably not going to be able to hear each other, pretty similar to how loud it was at Clemson last year. We're in the indoor tomorrow working on crowd noise to prepare us for Saturday."
"Probably a little bit less just because of the travel. It's like seven hours. I hate that drive with a passion. It's a terrible drive. That's why we only go up there once or twice a year. I think it'll be a little bit more just because of all the local family we have up there. My dad's side of the family also lives up there. My mom's siblings moved away, but they'll probably be there. I'm not really sure how many people we'll have, probably around 30, but there will probably be a bit more just because it's up there and not down here."
"I took it more personal when Marshall didn't look at me more. It's not a Power Five school. West Virginia is a little higher up there, and they really don't recruit in the state of West Virginia either. My cousin ended up walking on there, but there are a lot of talented football players up there. West Virginia's a little bit on the back half of things. It's hard to find talent, but there is talent up there. Just like you can see here, there's talent here. I'm just blessed to be able to come here, and I think I've made the right choice. Everything's working out so far."
"Probably not with him. I try to compare myself with more guys that I feel like I could compare with like Julian Edelman or something like that. I've always loved watching Randy Moss because he's such a freak athlete. He plays the game the right way, and he's from where I'm from. The 304 has strong roots. I was born probably 10-15 minutes from Rand."
"It's pretty tight. He and I are roommates. Every night, we usually talk about the game plan leading up to the game. We sit in the Murph and watch extra film and stuff like that. This summer was a really big time for us to bond because we'd probably throw three to four times a week. Even though last Saturday we didn't connect as well as we wanted to on some of the passes, I still have trust in him, and he still has trust in me. In the first game, you sort of saw that. We're hoping to get back on track this Saturday."
"It's a crazy environment. I've probably been there for 10 games. I would usually go to the most hyped game of the year when they would play Pitt every year on Thanksgiving. I've seen the best of the best. It's a crazy environment. It probably isn't the best environment for little kids to be at, which I was at, especially if you're rooting for an opposing team. I was rooting for Marshall one time I was there. They made some slang. It was pretty bad. One game, it was Marshall/West Virginia. The game got delayed. It was supposed to be a noon kickoff game on Labor Day. We got there at 10 [a.m.]. During the rain delay, we stayed. They played again, then another rain delay. We ended up leaving until 11:30 [p.m.], so I was there for 12 hours. It was a crazy atmosphere. Morgantown's a crazy place, but it has really good tradition there."
"They tend to make fun of me because I'm from West Virginia. They think it's a terrible place. Last year, we were at Marshall. It's not as nice as Raleigh, but I'm used to it, so it wasn't really a culture shock for me. A lot of the guys on this team had never been to West Virginia, so they really didn't know what to expect. I tell them all the time, and I think they know how tough it's going to be. I'm not trying to compare it to Death Valley [Clemson], but it's definitely going to be up there with the ruthless fans and how loud it's going to be. It should be fun and a great test for us."
"I feel like if we win this and go 3-0, it sets us up for a great start to the season. After winning the two games we did and if we win this, it's a good win against another Power Five opponent. I think it sets us up great leading into Ball State and ACC play. We're really just trying to focus on the 1-0 mentality, try to look at West Virginia, and not really think about the past and future. Just thinking about the game ahead of us and what we need to do to win is the best thing for us."
Never miss the latest news from Inside Pack Sports!
Join our free email list