Photo by Jeff Reeves/Inside Pack Sports
NC State Football
Zonovan Knight Learning How To Handle The Attention
---
True freshman running back Zonovan Knight came to NC State with huge expectations surrounding him. His Spring game performance did nothing but add to those expectations. Somehow, he's lived up to the hype in his first two games at Carter-Finley Stadium.
In his first collegiate game, Knight scored a touchdown on his first touch. In his second game, he ran the ball 18 times for 119 yards and two touchdowns to lead the Wolfpack to a 41-0 victory over Western Carolina on Saturday afternoon.
Since Knight enrolled in January it hasn't always been smooth sailing, despite his play on the field. Head coach Dave Doeren wasn't a fan of how Knight handled his early success.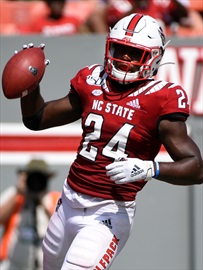 "I don't think he handled it well, to be honest," Doeren said. "I think he had a big head this summer and read his press clippings too much. His attention was grabbed in camp. Our defensive kids got after him and put him back in his place."
Knight disagrees that he got too big-headed, but knows he could've been better during Fall camp.
"I didn't feel like that," Knight said. "Running the ball, I may have been too comfortable. I had three days in a row where I had a bad day; I fumbled three days in a row. Coach Doeren and Coach Kitchings got on me. I had to hold onto the ball or I would never be able to play."
Since then, Knight has turned a corner.
"He had a really good finish to camp," Doeren said. "It's a good experience to be humbled."
Now, Knight's confidence is soaring.
"I felt more confident today," Knight said. "I have to give credit to the o-line, they were blocking good today. On a scale of 1-10, my confidence is about a 9.5. Just the experience from the last two games, it's been good for my confidence.
As good as he has been, Knight will only get better as he gains confidence and experience. The Pack is going to lean on the running game this year and Knight is going to be a huge part of that – along with Ricky Person and Jordan Houston. For a young player and young group, these first two games have been important for preparation of the meat of the schedule.
"It's crucial," Knight said. "Getting experience before a game like that. I don't know how they plan to use me next week, but at least I have experience headed into next week."
Never miss the latest news from Inside Pack Sports!
Join our free email list