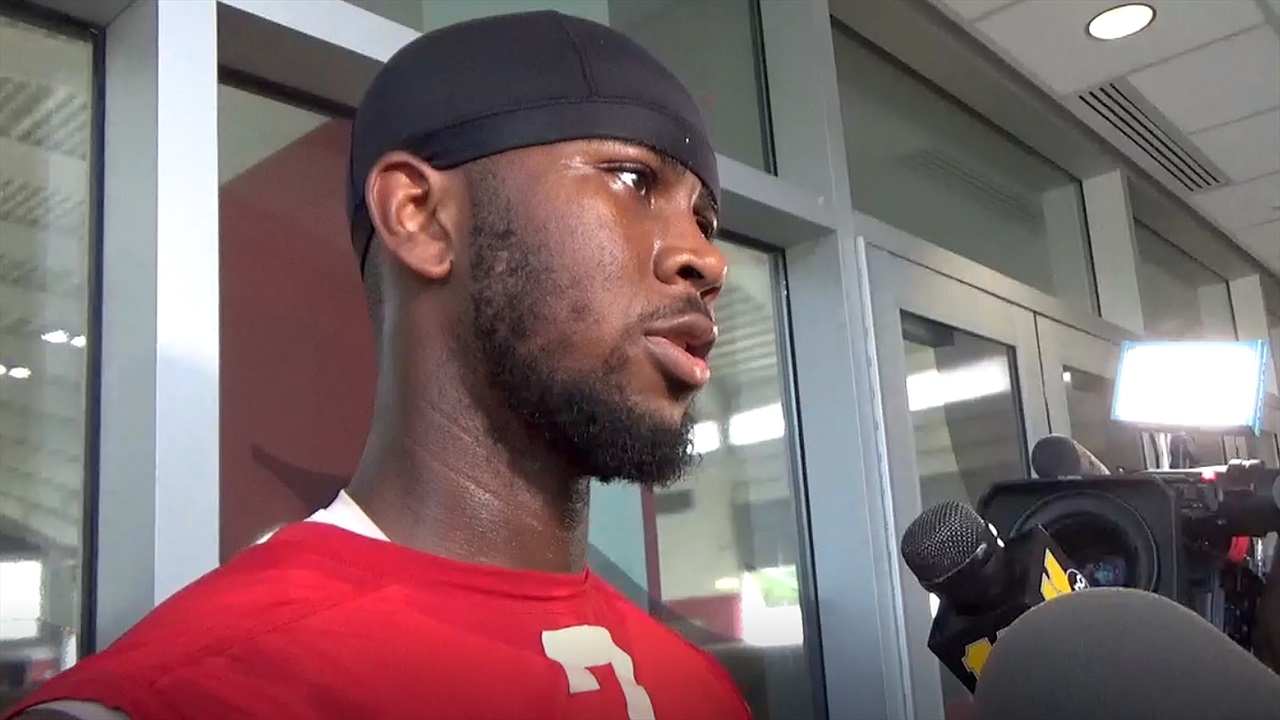 Cary Angeline
Dylan Autenrieth
Jordan Houston
Zonovan Knight
Matthew McKay
Alim McNeill
NC State Football
LOCKER ROOM REPORT: Wolfpack Players
---
Several NC State players met with the media after the Wolfpack's 41-0 shutout win over Western Carolina.
NOTE: Click on each video to watch a specific interview.
---
Redshirt junior tight end Cary Angeline
"It's a great feeling. We've worked very hard. We had a long, hot camp, and it's definitely nice to get out here, play some games, and get some wins."
"I think we have a great chemistry. Matt's playing great. It's been a fun first two games."
"It was a great playcall by the coaches. Little rollout to the right by Matt, and I just ran a corner route with a great throw by him."
Redshirt junior tight end Dylan Autenrieth
"Everybody knows what I can do. Today, they just went out and called some plays, and they came my way, and I made the plays. Back in high school, I didn't even know what playing a tight end was. I was just a receiver in high school."
"Whatever we're asked to do. We also helped out with the 309 rushing yards and however many passing yards between me and Cary. As long as we can make an impact on the team, whichever way possible, that's just what we're happy to do whether it be catching or blocking."
"We love it. With this offense, we're included a lot in all the running schemes. We work really closely with the O-line to make sure we go out there and have games like we did today."
Freshman running back Jordan Houston
"I feel like in the past two games, I've gotten more in the second half. I think they'll keep me in for a good four or five plays to help me get some rhythm going. I'm feeling more and more comfortable each game, so I think it's working really well."
"Honestly, we talk about treating every team the same. No matter if it's the best team in the country or the worst team in the country, our goal is just to go 1-0 each week. It'll be a different experience because it'll be my first away game, but I'm just going to treat it like a regular game."
"Coach Kitchings was telling us that the running back corps is probably going to be the best part of the offense this year. We have to live up to that expectation. We're just trying to work hard so that we can believe that."
Freshman running back Zonovan Knight
"I feel definitely more confident. I have to give credit to the O-line. They were blocking well today. I just felt myself out there."
"On a scale from one to 10, I'll say about 9-1/2 just from having that experience from the past two games. It's definitely a boost in my confidence."
"I personally didn't feel like that, but I guess running the ball may have been a little too comfortable. I had like three days back-to-back I had a bad practice. I fumbled three days in a row. That may have been what he was referring to."
Redshirt sophomore quarterback Matthew McKay
"I felt like we did a little better job of converting third downs, but there's a lot more adjustments as a whole I know we can make."
"They played a lot of eight-man coverage and a lot of different looks. We've just got to make the right reads and execute ready."
"We definitely have to come in tomorrow to learn from today. Going to West Virginia, we have to work hard, prepare, and treat them like the best."
Sophomore defensive tackle Alim McNeill
"We did a lot of good things. We do have a lot of work left to do to prepare for next week at West Virginia. We did a lot of good things and a lot of executing, but there's a lot of things we need to work on as well. There's a lot of room for improvement."
"For me, the offseason helped me a lot with my strength and stuff like that. It's a lot easier for me on the field to move people out of the way if I need to. The game slowed down for me. It's definitely made a huge difference."
"We take a lot of pride in that. We talk about running to the ball, getting the ball, takeaways, and things such as that."
Never miss the latest news from Inside Pack Sports!
Join our free email list