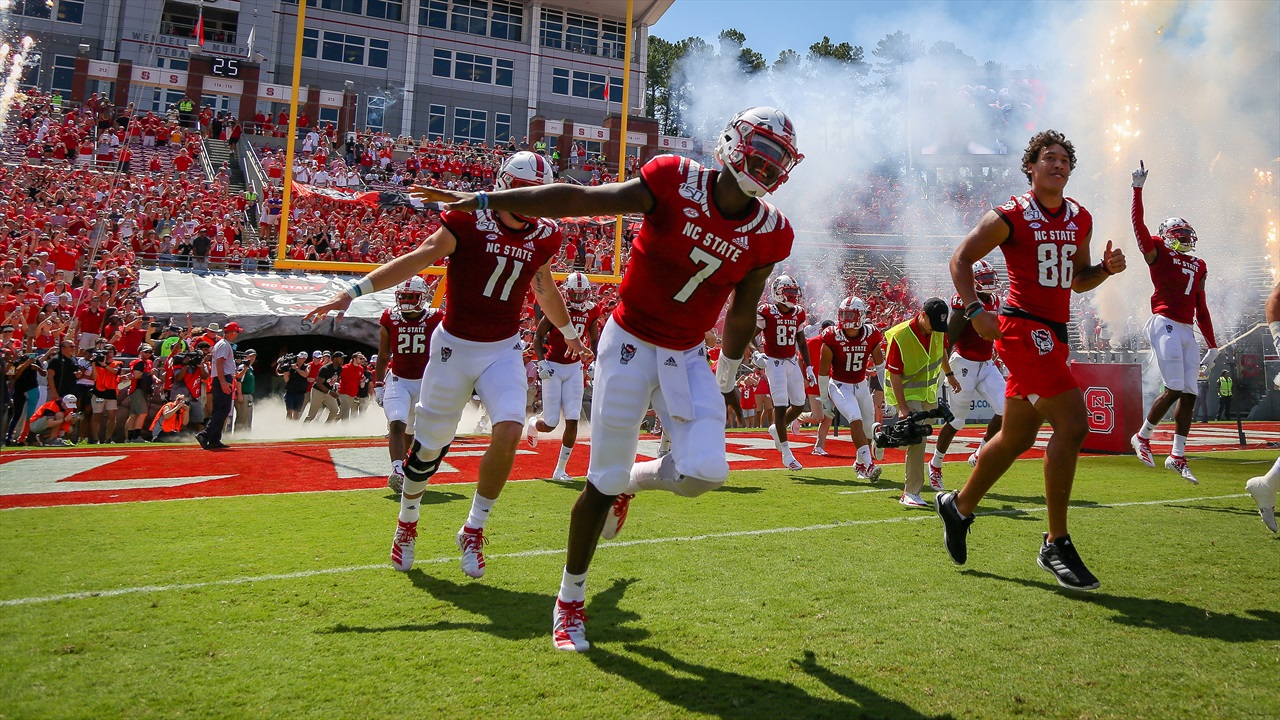 Photo by Steve Murphy/IPS
NC State Football
OUR FINAL TAKE: NC State vs. Western Carolina
---
Several members of the Inside Pack Sports staff predict the winner of the NC State-Western Carolina matchup.
---
James Henderson (IPS Publisher)
NC State 52, Western Carolina 7
NC State should be able to come out and set the tone early against the Catamounts. This one should be over early.
Steve Williams (IPS Football Recruiting Analyst)
NC State 49, Western Carolina 7
Let's be honest, this game shouldn't be close as the Pack should be dominant on both sides of the ball. State has way too much talent and it should quickly turn into a game where some of your 2's and 3's get some meaningful reps. Just get out of this thing healthy. For me this is all about preparing for West Virginia and the ACC.
Bryant Carson (IPS Football Analyst)
NC State 45, Western Carolina 10
I expect the Pack to win with relative ease, but I think the NCSU staff will use this game to give as many reps as possible to 2nd and 3rd team guys. Therefore, State probably doesn't score as much as it possibly could, and I could see WCU sneaking a late game TD in there.
Either way this should be a relatively comfortable win for the Pack.
Rob McLamb (IPS Beat Writer)
NC State 42, Western Carolina 3
The Wolfpack could realistically drop 60 or 70 points on the Catamounts. Don't look for that to happen to this particular directional school, though, as Western Carolina has not drawn Dave Doeren's ire like East Carolina had.
NC State will win comfortably but does not quite beat the spread. Western Carolina finds a way to sneak a field goal in to avoid the shutout.
Daniel Wilson (IPS Writer)
NC State 55, Western Carolina 0
I'm just going to put this here as a visual aid.
Ethan Barry (IPS Writer)
NC State 55, Western Carolina 10
We don't really know if NC State is good yet, but we know Western Carolina isn't. The Pack won't be able to keep two straight opponents out of the end zone, and people will complain about that.

Jake McSwain (IPS Writer)
NC State 52, Western Carolina 7
Realistically NC State should be able to win this game in any manner of their choosing. I will be most interested to see which route Dave Doeren chooses.
IMO the first three quarters will be the Matt McKay show with big gashing runs mixed in followed by ground and pound to finish it off. If everything is firing from the get go they could go to the ground faster.
Never miss the latest news from Inside Pack Sports!
Join our free email list