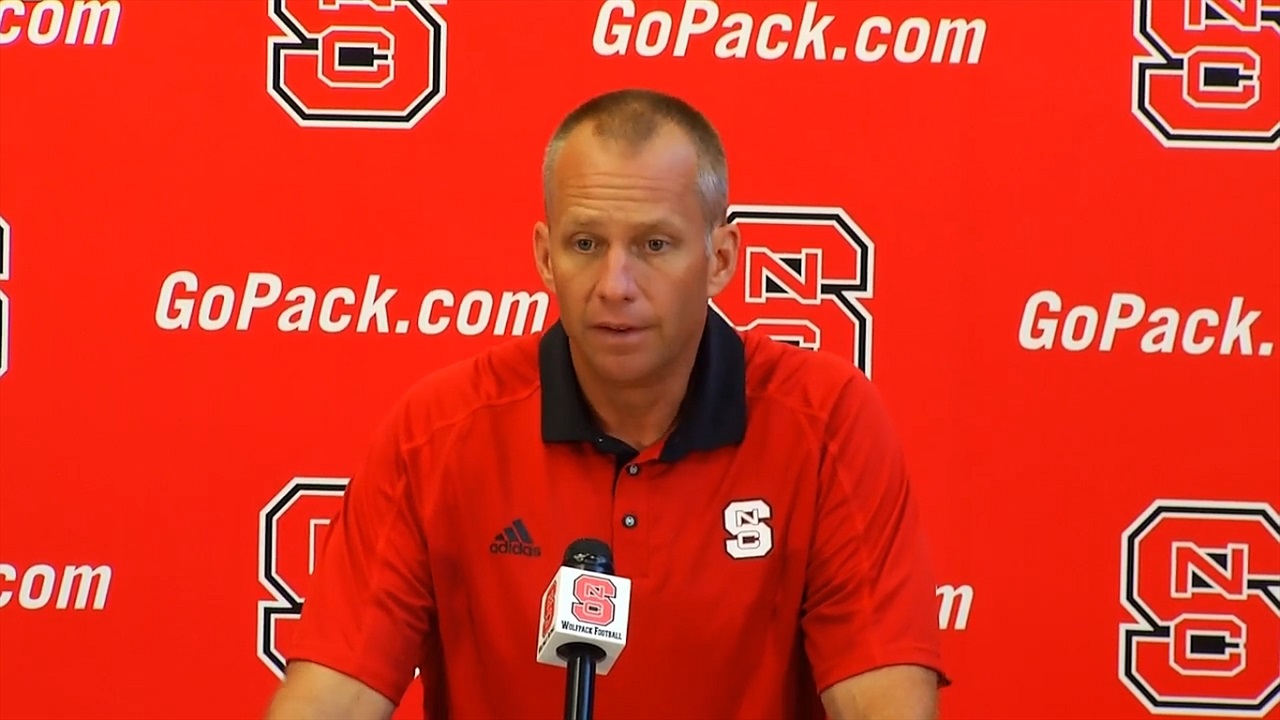 NC State Football
Doeren: "They Pressure A Lot"
---
NC State head coach Dave Doeren met with the media to discuss the upcoming game against Syracuse.
---
Opening Statement...
Going back to the win over Florida State, I was proud of our players and our staff as I mentioned. It's a great win for the team.
The ability to play in that atmosphere and not have the atmospheric-type penalties that you can have like we had in that Clemson game a year ago we didn't have procedural things happen on offense.
We took care of the football.
Defensively to have the red zone stops we did. They got one touchdown and six attempts down there and were held pointless one time... we put a lot of pressure on their kicker with our rush.
Third down I thought we were successful on both sides of the football.
I thought we had some big-time players make big-time plays in key moments. I thought Chubb's end-of-half sack, forced fumble in the game, and multiple pressures were key plays. The play Germaine Pratt made on a third-down flag route, he was playing man-to-man, was a great play by him. Steph Lewis' catch on third and long and a bunch of Jay Sam's plays.
The way Ryan was protected, I thought our offensive line did a phenomenal job and he was hit twice in the game and sacked only once. Our kicker Carson Wise had a nice game, very consistent which is exactly what he'd been in practice. In a big atmosphere, so I was proud of him.
Rushing defense continues to be a strong point for us, and we have to get rid of some of the explosive plays in the passing game... we'll get that fixed.
I was disappointed that we had a punt blocked and had a penalty prior to that on a false start by our left guard... that's a mental mistake on two guys. One for the penalty and then for our right tackle, Dylan Parham, didn't block out on that guy that he knew he was supposed to block. So good job by Florida State. Bad job by us.
Moving on to Syracuse, playing a very explosive offense with an excellent quarterback. I think Eric Dungey is a remarkable player. I think he's a tough guy. I respect him a lot. He's he's been through a lot injury-wise, and you watch him play and he doesn't play afraid at all.
He's got five rushing touchdowns six passing touchdowns he's thrown over 60 percent completion rate and your score in 34 points of game returned seven starters. Two receiver,s Ishmael and Phillips... Ishmael's got 512 yards and 45 catches and Phillips has got to 32 and 27 catches so definitely going to be a great test for our defense.
They play with a lot of tempo, as fast as you're allowed to play, in formation whether it's bunches or stacks or formations into the boundary or empty they make you adjust a lot of different ways.
I think the quarterback makes it all go. I think he's really a good football player who plays with a lot of heart.
Defensively they're playing better than they were last year or stopped in the run or 22nd the country in rushing defense. Two linebackers, Franklin and Bennett, I think are really good players.
They pressure a lot, they bring in a lot more inside pressures and boundary pressures than they did a year ago. They've created eight takeaways on defense in their four games.
Very good football team coming in here and excited to play them. I know our players are as well, and they'll be a physical group. It's an opportunity to play a home game and ACC opener.
To have it be Military Appreciation Day matters a lot to our players and our coaches and me personally. I look forward to wearing our camo uniforms to show our respect back to the military and appreciate what they do for us so much.
Being in a state like we're in, North Carolina has such a military presence. It's a special atmosphere having all of them be a part of it with us so thank them and look forward to playing for them this week against Syracuse.
You had to like B.J. Hill after the game talking about you're not done yet... When we talked to the players about our team goals, one of the team goals was the 24-hour rule, 1-0 philosophy, win or lose.
One of the things that I talked to them about was that goes with success and with failure... they can't get too high or too low and that they need to manage that in the locker room because they're going to be the ones that sense in the locker room. I think that's exactly where that came from.
It was great to hear B.J. say that, and he's not the only one. A lot of guys in the locker room talking about the next game already. I cautioned them there too. I said guys just take 24 hours and soak this one in and we will quickly turn the page because you do need to feel the success of a win like that. I think they all did.
Yesterday we had great focus in the weight room, great focus in our meeting, and I expect the same tomorrow when they come back over here.
More on FSU win...
Beating a ranked team in their place, Jimbo hasn't lost a home opener since he's been there.
It's a hard place to win, so I think it's a huge win. For our players, not just to feel, the benefits of their work but to have the confidence that they are the team that can finish anybody and do it. Probably the hardest place we'll play this year outside, I don't know how Notre Dame will be, but that will be the next one will have that kind of presence about it.
Concerns about a trap game with Louisville looming...
People brought that up to me already I don't look at it that way. I'm watching Syracuse on film. They're a really good football team.
They lost a home game and their former head coach was the defensive coordinator at Middle Tennessee State, and I guarantee coach Schaeffer had those guys ready to play and that was a personal game. Middle Tennessee State on offense has always been good so sir.
Anytime you play a team that can score, that has a quarterback that thinks he's that good that is that good, it's not a trap game at all.
Our guys know that and will know that.
More on the importance of the win...
I think it's just when you continue to have to ask them these guys keep doing it keep doing it keep doing it it's going to pay off it's going to pay off. It gets hard to have that conversation after a long period of time and once they finally feel like we did it he was right. We can see it... it completely changes things.
I told the staff, everything that you ask them to do now that's hard, you're going to be able to point to where it leads. Instead of saying you're going to end up there you can show this is where it ends up, and I just think that's a huge deal for those players to understand the hard work does pay off, and for all these kids that are seniors and particularly the ones that could have gone to the pros that came back.
That's the payoff that they wanted. That's why Bradley Chubb came back, to do things that he hadn't been able to do yet, and so I was really happy for him.
I told our staff before the game we're going to probably have another chance to coach in a game like this again. The seniors will never have a chance to play Florida State again, so it was important that we sent them out in that game with the opportunity to come back with something that we never had before.
What does that win matter to the players from Florida, given what all has gone on down there?
You probably should ask those guys. I mean I think it matters a lot to them, but you should ask them.
More on James Blackman...
They knew one of the keys to victory was not letting him beat us. And I think that kid played a great game for his first game. He's a very talented young man. He took a bunch of hits, and popped up and made some throws and he didn't back down.
I was impressed with Blackman, but I did think the defense for the most part executed the way we wanted him to.
We let him get out one time on a scramble and that was the one Chubb got him down on.
We gave up a couple of deep balls, and I didn't know if he could make those plays or not. He did. He threw some great balls down the field, in his first college start against a team that was putting in a lot of heat on him. So I thought that their quarterback gave him a chance to win.
I did think that Coach Huxtable and his staff did a great job of putting some different things together that made it hard on their quarterback and their offensive line.
Reggie Gallaspy update...
He bruised his knee, he's fine.
Fair or unfair with social media now the talk about the Bradley Chubb logo incident...
It's just what it is now. I mean I don't know if you can call it unfair. It's reality. No nobody is allowed to do anything they shouldn't do anymore on camera, right?
So he got caught in his emotions, he apologized.
Thoughts on fan turnout for Syracuse game...
I think it will be a great environment. I hope they come out to support our guys the way they should, and I expect them to. I also hope they come out to support our military the way they should.
I think this is one of my favorite games of the year... seeing all the different people from the different branches down there in full dress I mean that to me is pretty special.
I told the team this the other day, I grew up when your parents, not that I was alive during it but your parents all talked about Vietnam. When I grew up my dad served, my father-in-law served twice. Both my grandparents served in the wars.
So I grew up in a house hearing those types of stories and being around their friends that were part of those types of stories and seeing pictures of their friends that were in the war and hearing about it.
That's a big deal. I think it's really cool that we get to do that. And I hope our fans come out and really support the troops in the game as well.
Mike Stevens/Dexter Wright Updates...
Mike is supposed to play, he was supposed to play last week. So the plan is just like last week to practice him, and if he feels like he's ready to roll again we're going to play him.
Medically, he's fine. He's just got to get through getting the stamina back and how much running corners have to do. It's different.
Dexter is still probably questionable. He practiced last Tuesday and Wednesday couldn't go. So we have to see where he's at. He said yesterday when I saw him he said he felt better than he did a week ago Sunday. It's muscle tissue. It's just a matter of how he recovers from it.
Thoughts on the NFL protest situation...
I'm not in the NFL so I don't have to deal with that.
Thoughts on Jakobi Meyers' play...
I was proud of how we bounced back. I think he learned a good lesson and he manned up and had a great week of practice. Because he had a great week of practice he was given more opportunities to play and when he played, he played well.
Outside of the celebration error, which I know he'll learn from. It's an unfortunate thing that happened but he's he's an emotional guy, which like Bradley Chubb, that's what makes him a good player.
You don't want to coach guys that have no life. You'd rather have the other guy that you have to kind of pull him back in. Josh Jones is like that too. He had to learn how to control himself, but he had all that spirit about him which made him a good player.
Jakobi is different than those guys, but he's not in that he gets caught up in his emotions at times. He's learning how to grow up, and he's very talented and I'm proud of the progress that he's made in seven days. I expect him to stay on track, and if he doesn't, choices and consequences. That's life.
On the team's play down the stretch...
They wouldn't be denied.
I think that's the thing that is cool on the sideline no matter what happened and even there at the end where we on to draw on offense and had a punt blocked and the safety and you kind of feel the momentum going the other direction the defense had a four-and-out and got him the ball back and then we ran the ball on third-and-7 and got the first down.
It was just you never felt any panic, just go get it done. Florida State has great coaches, and they have unbelievable players. So you knew they weren't going to stop playing. I mean that's as good a good look in a group of guys that see feel when you look at their town the big receivers and long DBs and active linebackers.
I think Nnadi's among the best nose guards that I've coached against.
Talk on starting fast...
We've kind of studied ourselves and just one thing we could improve upon after the third game was starting fast and winning the first quarter the way we were winning the second the fourth and we're kind of 50/50 in the third. So it was an emphasis going into the first game, and we just carried it for us.
More on the Syracuse offense...
Well they're always in two-minute mode on offense. I don't think they're ever going to feel like they're out of a game. That's the one thing.
You can't underestimate a team that averages 100 plays a game on how many points are going to put on the board. So it's going to be a 60-minute game, and just because we beat Florida State doesn't mean that Syracuse is an easy game. They are going to be very very difficult to beat. I can tell you that right now.
More on the Syracuse defense...
They're stopping the run, top 25 in the country in rushing defense. They're very active. They blitz a lot and seven returning starters, two linebackers are excellent players.
They're very active guys.
Never miss the latest news from Inside Pack Sports!
Join our free email list