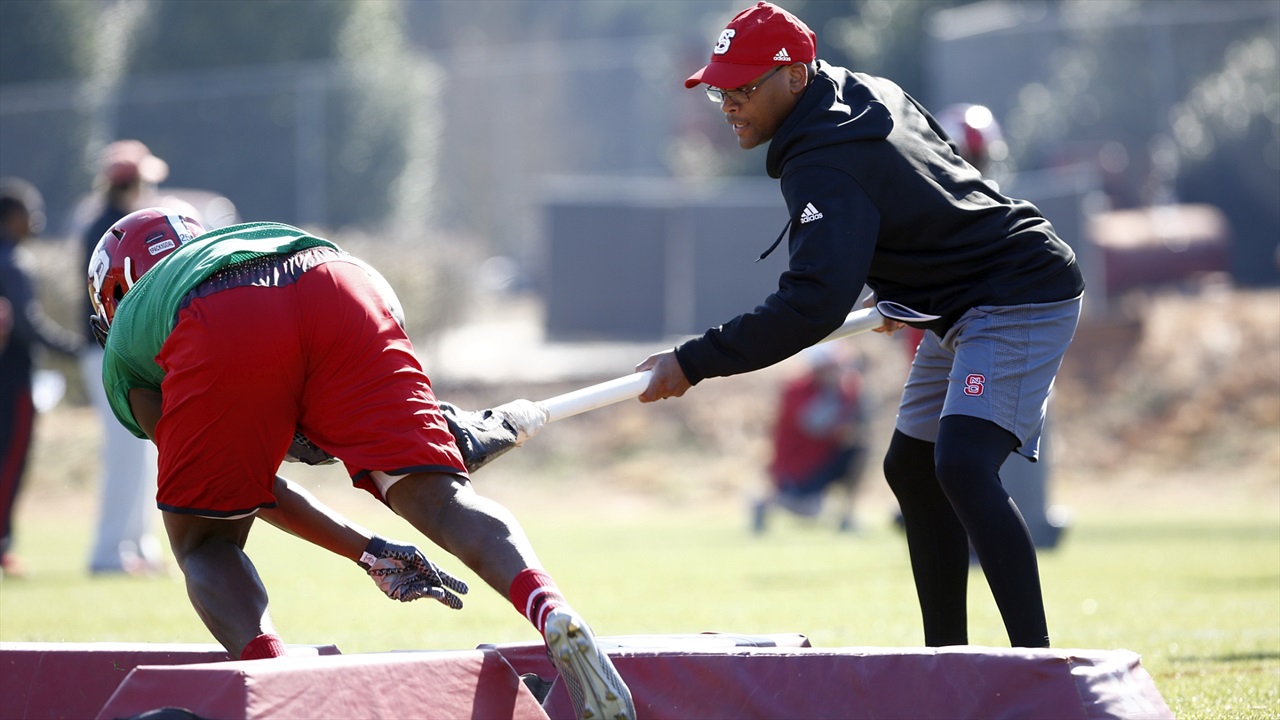 NC State Football
Des Kitchings: "What They Give Us, We Want To Exploit"
---
NC State co-offensive coordinator Des Kitchings has a deeper group of running backs, but the unit lacks experience. He recently talked about the potential rotation at the position, different ways the backs could be involved, installing the offense and much more.
---
Are you approaching this year looking to use a rotation?
Definitely, because we have guys who haven't proven themselves. Pennix redshirted, but at least he's played in some games. Ricky was in and out. Zonovan, you feel like he's been here for a long time, but he hasn't lined up yet – and neither has Jordan Houston.
We've trended the right way in training camp with meeting my expectations and consistency. Now it's up to them to do it on the field.
What were your takeaways from Jordan Houston's fall camp?
He's competitive. He understands ball. He has some ability. Put that together and you have a pretty good ballplayer.
What do the young guys bring to the game?
You have speed with Zonovan and Jordan. They can give our offense some juice and create explosive plays in the run game and even the pass game. They will bring something to the offense to create explosiveness.
How do you grade explosive plays for the running backs?
Taking what the defense gives them, first of all. If they give us the running back out of the backfield and let him do something. We have to run the ball, too.
Sometimes the 3-yard run is the best run in football. We also love the 80-yard touchdown run, obviously. We talk about efficiency – don't think you'll make the big play every time. A 3-yard run on 2nd-and-2 is great, that's a first down, we stay on the field. Obviously taking care of the ball, too. If we have the ball, we believe we can score, but if not, we're on the sideline.
Is throwing to the running backs a focus?
We want to use everybody in the offense. Our tight ends, receivers, running backs, we want to make the defense defend the entire field. What they give us, we want to exploit that.
How will game day be divided up between you and George [as co-coordinators]?
I'll be upstairs and he'll be downstairs. We've already formulated our gameplan and the communication will be upstairs. We'll make in-game adjustments as necessary.
How do you think the offensive install went in camp?
There's been progress. We've dealt with different lineups and figuring out a quarterback. There's been a lot of moving pieces.
The exciting part is putting it together on Saturday. We fine-tuned it... walk through on Friday and then let the kids go play.
There's going to be mistakes with a young group, but we have enough talent to put forth a good effort.
Never miss the latest news from Inside Pack Sports!
Join our free email list