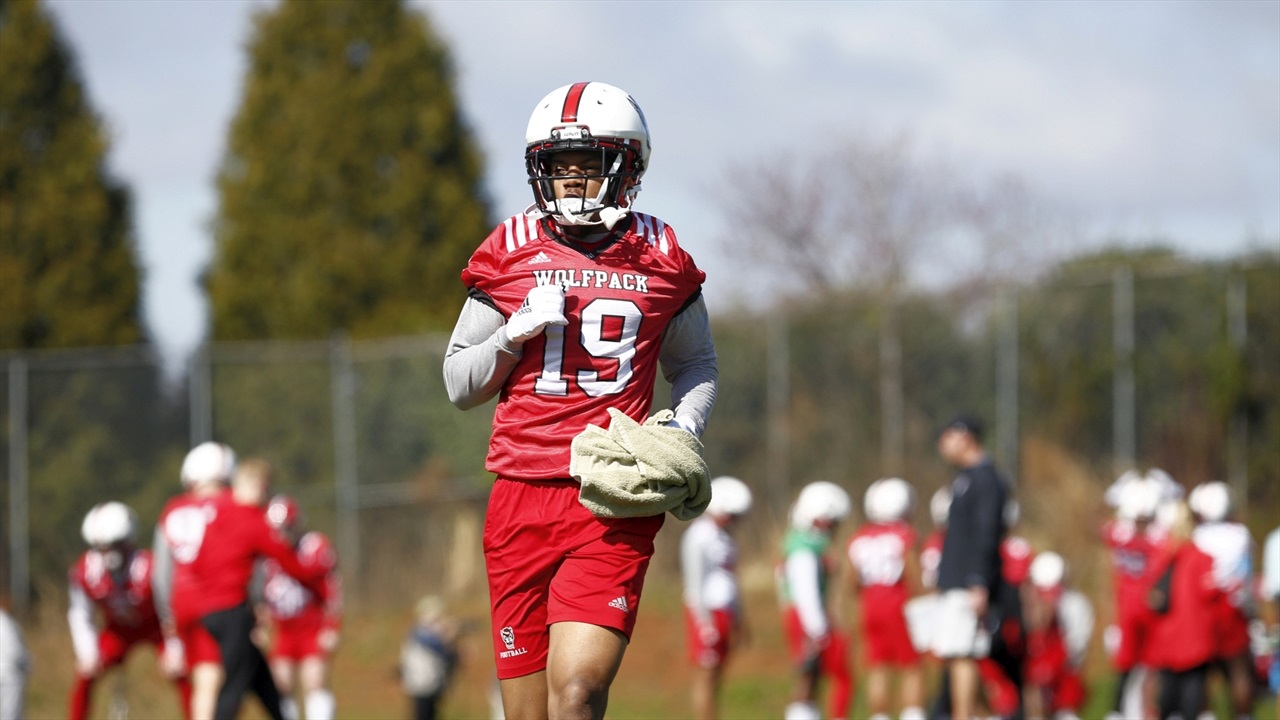 Photo by Jeff Reeves/Inside Pack Sports
NC State Football
Junior Wideout C.J. Riley Prepares For Leadership Role
---
The wide receiver group at NC State has come a long way since Dave Doeren took over. That culminated last year when Kelvin Harmon and Jakobi Meyers became the first receiver duo in Wolfpack history to each record 1,000 yards receiving in a season.
Harmon and Meyers each left early for the NFL, and Stephen Louis graduated. However, the cupboard isn't bare. The Pack returns three receivers who had over 300 yards each and combined for 10 touchdowns, and among that group is redshirt junior CJ Riley.
Riley has shown flashes of his potential the last two years, including a spectacular one-handed grab in the Gator Bowl. Now, it's up to Riley, Emeka Emezie, and Thayer Thomas to replace the departed stars.
"We feel like we are just stepping into their place and picking up where they left off," Riley said. "We are going to come in contribute just like they did and keep the offense going."
As important as it is to replace Harmon and Meyers on the field, it's just as important off the field where the trio – which includes Louis -- was known for their tenacious work ethic. That rubbed off on young guys like Emezie, Riley, and Thomas. It has been a big offseason for Riley as he works his way into that role on and off the field.
"I feel like I'm coming along. Just taking a bigger role and being a leader in the room. Just showing everybody the ropes and making plays like Emeka and Kelvin last year. I need to do the same thing."
There has been buzz about Riley since he has stepped on campus, and mostly because of his speed. Is he the fastest player on the team?
"No doubt. We ran 40s in the spring. I ran a 4.39."
Obviously, his speed is a huge component of his game and to the Wolfpack offense.
"To get the ball down the field and have a vertical threat... that's a big part of my game, and it contributes to the team."
The transition the Wolfpack faces on offense this year is well known. Along with Harmon, Meyers, and Louis, offensive regulars Ryan Finley, Reggie Gallaspy, Garrett Bradbury, Tyler Jones, and Terronne Prescod are also gone. Other than Gallaspy, all of those departed players were multi-year starters. Riley knows it's a long process to replace those guys but he has confidence.
"We're coming along well," Riley said. "The quarterbacks are doing a great job, just trying who is going to be the guy, but they are all doing an exceptional job. We have a lot of young players. We are teaching them the playbook. Tabari, coming from Oregon, he has experience and knows how it goes in college."
Riley has plenty of confidence in the whole team headed into the 2019 season.
"We can be very good," Riley said. "We have to not beat ourselves, that's what Coach always tells us. The only team that can beat us is ourselves."
Never miss the latest news from Inside Pack Sports!
Join our free email list