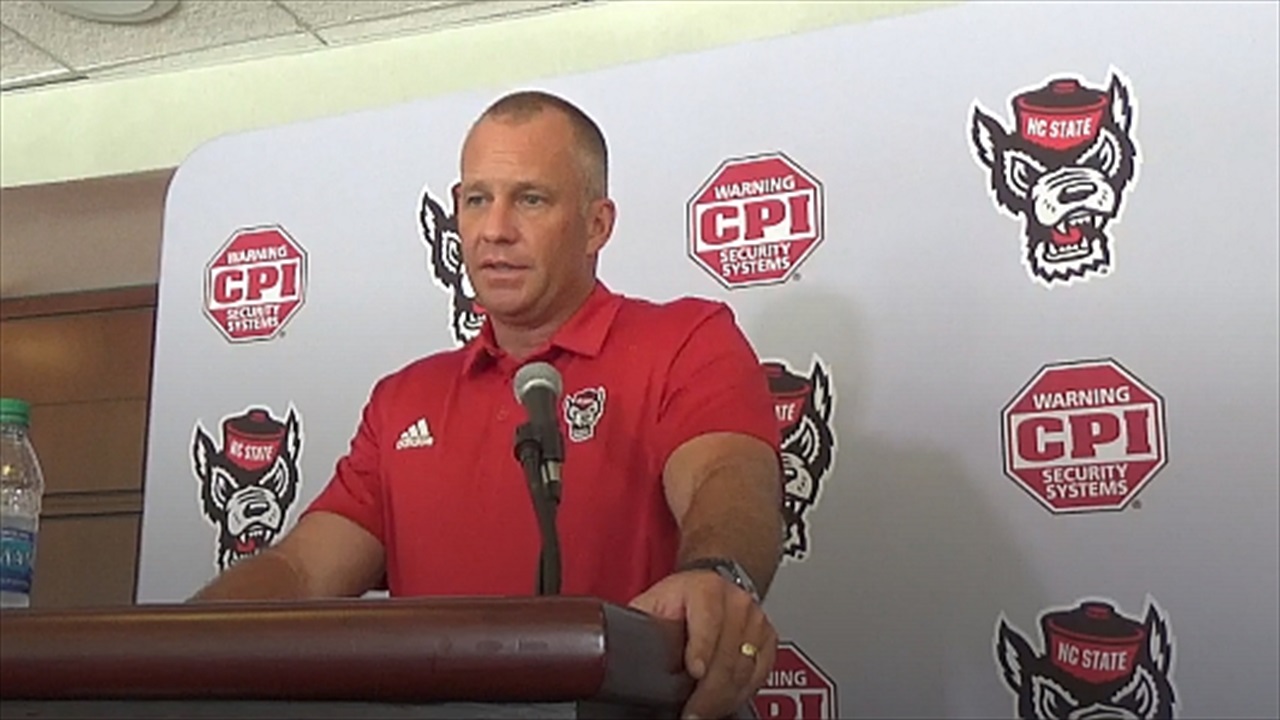 NC State Football
NC State HC Dave Doeren: "It's A Unique Team"
---
NC State head coach Dave Doeren met with the media at the annual Media Day where he discussed the progress his team has made through the first 10 days of camp.
NOTE: Click the video above to watch the press conference. Below is a collection of quotes from Doeren.
---
"Nine practices and one scrimmage in, it's a fine group of guys to coach."
"It's a unique team. There's a lot of really, really good chemistry on this football team. It's a very young football team... but there's things that happen with that in practice."
"There's a lot of guys trying to prove themselves right now... it's been hungry at practice. It's been fun."
"I think our secondary right now is playing way above where it was a year ago at this time."
"It's probably as good a freshman offensive line group as I've been a part of. Those guys are doing a really good job."
"Tabari Hines is going to be a great addition. Having seen Tabari now for nine or ten days, he brings something else to the table. I think he and Keyon Lesane... Keyon has had a really good camp."
"We haven't made any decisions, but I do like the competition and progress [at quarterback.]"
"I watch film of every single player, every single rep, and we chart everything... for the quarterback position you start with their completion rate, touchdown/interceptions, and then their drives. Who is keeping us on the field? Who is creating touchdowns, field goals?"
"That position has a microscope on it right now with me and my staff."
"[Matt McKay] is very vocal with his teammates. He's not a cheerleader. He reminds me of Jacoby [Brissett] leadership-wise. He says stuff when he needs to say it. He motivates guys in his own way... he's very confident, but he's not a cheerleader. He's not a bragging type kid. When you interview him, he'll talk more about the guys around him than himself."
"It's one of my favorite things to do, to give a walk-on a scholarship. They've earned it. They came in here with a lot of work to do. It's not glamorous work. Seth Williams is a guy who has impressed everybody, from strength coaches to coaches and players. He's starting now on a couple of special teams. You could see the elation on his teammates."
"Those guys... [Seth Williams is] going to do everything you ask him to do when he can. Those guys are the heartbeats of your team."
"We knew how good a player [Tabari Hines] was because of what he did to us. The big thing for us was making sure he'd be admitted. He had a surgery when he was at Oregon so making sure he'd be healthy."
"For sure on punt return he gives us another option with Thayer. Thayer is more confident than a year ago, but also Keyon is a dynamic guy back there... with the kickoff aspect we haven't figured that out either yet, but those are two of the options, Tabari and Keyon."
"Zovon has improved a lot. He was very raw, which we expected, being a multi-sport guy from a small school. The weight room was a shock, but he came into fall practice in a much different place."
"That freshman offensive line class is talented... those four guys, they are good players."
"I'm proud of Emeka. Standing up in front of a group and talking is something he wouldn't have probably done two years ago... he did that multiple times and told his story to the guys. I think he's in a lot different place mentally now. The players look up to him because of how hard he works and how serious it is to him. He's a guy, similar to Matt McKay... when he talks, they listen."
"The younger receivers have emerged. Devin Carter has had a good camp... he's improved a lot."
"There's a bunch of guys. Drake Thomas, Louis Acceus, Brock Miller, Payton Wilson, CJ Hart. Those guys are playing good. Our speed at that position is the best we've had across the board. It's fun seeing the growth. CJ has improved a ton and is playing WILL and MIKE. Payton, it's good seeing him on the field. He's a very, very good football player... he's making a lot of plays."
"There's a collective group of guys [at linebacker] really playing well."
"[Jordan Houston] is definitely a guy who can help us."
"Zonovan [Knight] didn't really start camp well, but he's picked it back up. He had a good scrimmage yesterday."
"There's a lot of different guys who can do different things back there. It's nice having that depth."
"Whatever you emphasize they hear. For NC State to be a good NC State, it's to not beat NC State. That's something I really believe in."
"I think we were Top 3 in the league, and that's our goal in every category, to try and finish top 3 in the league. I want people to say this is a disciplined team that won't beat itself. This is a physical team that will play with discipline and effort."
"It's a good competition at punter right now between Trent Gill and Mackenzie Morgan. We have two really good options. Trent, kickoff wise, has done a good job too... he had [a few] yesterday that were 7, 8, or 9 yards in the endzone."
"[Tabari] is hungry. He left Wake to have this season, whatever it was going to be, at Oregon and didn't have it with the injuries... he's really hungry and very, very smart. He can play X, Z, and slot. Demeanor-wise he's very steady. He's not an up and down guy."
"It's great. It's awesome seeing the fans and kids, and for our players it's a great break of camp."
"It's always a good time. All of our coach's children will probably be running around."
"I think in some areas there are. There's definitely less thinking on that side of the ball. They are playing fast on defense right now, which you'd expect. Offensively, the receiver corps is veteran, there are some linemen who have played a lot."
"The tight end group is a veteran group. Those guys are just plugging along."
Never miss the latest news from Inside Pack Sports!
Join our free email list