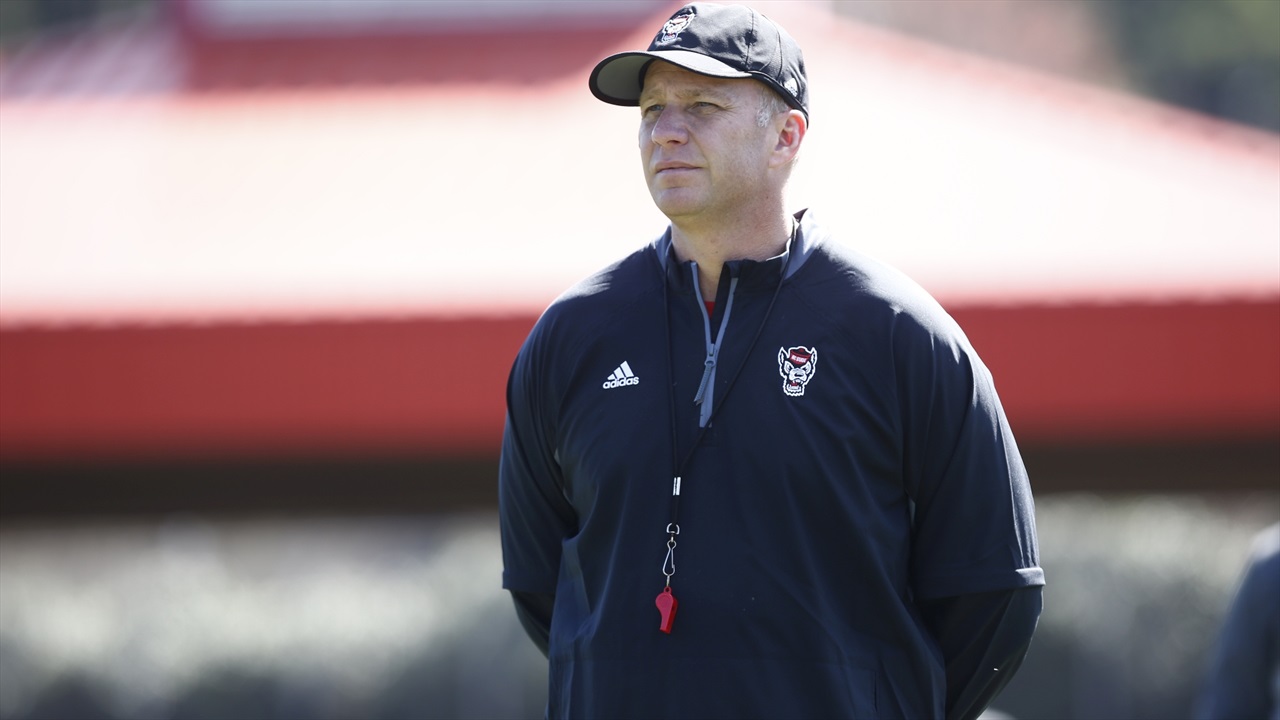 Photo by Jeff Reeves/Inside Pack Sports
NC State Football
WATCH: Doeren Discusses Second Fall Practice
---
NC State head coach Dave Doeren met with the media after the second official fall practice of the 2019 season.
NOTE: Click the video above to watch the interview. Below is a collection of quotes from Doeren.
---
"He had a postseason repair. It was just taking our time with the protocol. He had a lot of things when he got here from his wrist to his hamstring to his hip. We just wanted to get him right heading into fall camp."
"It's a lot different. When he came in, he had a broken bone in his hand, so he couldn't do upper body. Then he had his hip and his hamstring, so we were always limiting him in the weight room where now he's doing everything that everybody's doing. He's gotten almost 250 pounds. He's gained weight, and he's training. He looks good."
"He's our most experienced back. That's the oldest guy we've got, so it's huge having him in there."
"So far, I haven't really been able to see that. He hasn't gotten out on any of his runs just because the defense was in the right place. He's trained hard. He's trying really hard, so I'm excited to see where that goes here when we get into our special teams and some of the plays where we get him out in space and see if it transfers."
"I think it's the deepest group I've had. You take Bam, Jordan Houston, and Delbert Mimms; there's three new guys. Trent and Ricky, we've already taken about. You've got five guys back there that can play, and we just need to get them a ton of reps now."
"I'm assuming it'll be Ricky or Trent in that role, but we'll see. Delbert's a thick kid too. I just don't want to expect that from the freshman quite yet."
"There's more reps happening now than there used to be. Everyone used to huddle on both sides of the football, and the game was shorter. It's different. You're getting 70-80 plays a game on both sides of the football, so you need more body types. Offenses have obviously evolved since then as well. Really, in today's game, A.J. Dillon might be the only guy that's like that that's just carrying the ball 25-30 times a game, and he's built that way."
"He's really good out of the backfield too. He's a good receiver. He's impressive. Every rep he gets, you can see. He's quick. He has good vision. He's explosive. He's got a chip on his shoulder. I like watching him play."
"Absolutely. He knows that, and he'll tell you that. Roseboro was another guy like that that's kind of in the back and then moved himself up to the front as a senior. I'm proud of Emanuel. He's worked really hard."
"I also think we played to our strengths with our receiving corps that we had and Ryan's arm. We didn't run the ball as much either as we had in the past, so the numbers are going to go down just because of the attempts per run. I think you have to play to your strengths on offense, and not that we couldn't run it, but we had some really good wide receivers, and Ryan had great timing with those guys, and we wanted to take advantage of that."
"It depends on him, how well he moves to the right, and how he throws to the right if you're going to run bootlegs and sprint-outs and things like that. Obviously, you're going to throw the ball better moving in the direction of your arm most of the time. You just have to see what he can do opposite, and then we build off of that."
Never miss the latest news from Inside Pack Sports!
Join our free email list