NC State Football
Plenty of Competition at Cornerback
---
NC State heads into the 2019 season with cornerback no longer a position of concern. Virtually every contributor at the position returns and cornerbacks coach George Barlow will have additional talent at his disposal with an influx of talent in the freshmen classes.
"We have two returning starters, Nick [McCloud] and Chris [Ingram], but we'll have the best competition we've had since I've been here," McDonald told Inside Pack Sports. "You've got Teshaun [Smith], who really came on, Shyheim Battle, Taiyon Palmer, Malik Dunlap. You also had Kishawn Miller who played a little bit.
"Overall, there's a lot more talent and depth which will add to the competition which will make us better."
Teshaun Smith was one of the Wolfpack's pleasant surprises in 2018. An unheralded recruit out of Florida, the 6-foot-2 defender played his way into meaningful reps as a true freshman.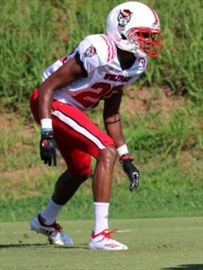 His development is pivotal because from a size-speed standpoint he has everything Barlow covets at the position.
"He developed really well," Barlow said of Smith. "He was a surprise because of his frame; we didn't think his body would be mature enough. We knew he had the ability. He surprised us all during the summer. By the time we got to the fourth or fifth game, we felt comfortable enough to put him out there and he continued to improve.
"He has to keep improving and keep changing his body and develop confidence and knowledge of the scheme. If he does that, he'll push for a starting spot. He's key to developing the unit because if he pushes them, it makes them better. You throw in the other freshmen, it makes us better."
One of those other freshmen is Taiyon Palmer. A former four-star recruit out of Lawrenceville, Georgia, injuries forced Palmer to redshirt last season. The key for him will be returning to full health and putting together reps where he can work his way up the depth chart.
Palmer clearly had impressed when on the field.
"He has pure athletic ability," Barlow said of Palmer. "He would've played serious minutes and would've developed just like Teshaun. His body was more ready to play than Teshaun. Taiyon is a really good player.
"He has ball skills, transition skills. He comes from a really good program and loves the game. He does a good job of grasping the scheme. He has a good football mind which will allow him to push for a starting job, too. Unfortunately, he got hurt last year, so he was out of the rotation. Now he's healthy and had a good offseason."
Add in younger players such as Malik Dunlap and Shyheim Battle, two freshmen who played a ton in the spring game, and redshirt junior Kishawn Miller, and the depth is there. However, all of these young players will have to really impress to earn starting spots with senior Nick McCloud and junior Chris Ingram, two upperclassmen starters, returning.
Barlow considers McCloud to be the clear leader of the group, and he could be in line for a big senior season.
"It's going to be Nick McCloud [leading]," he said. "He has done a good job handling his business and developing others. We have some other guys who love ball and will put themselves in a leadership position, but right now it's Nick."
Never miss the latest news from Inside Pack Sports!
Join our free email list