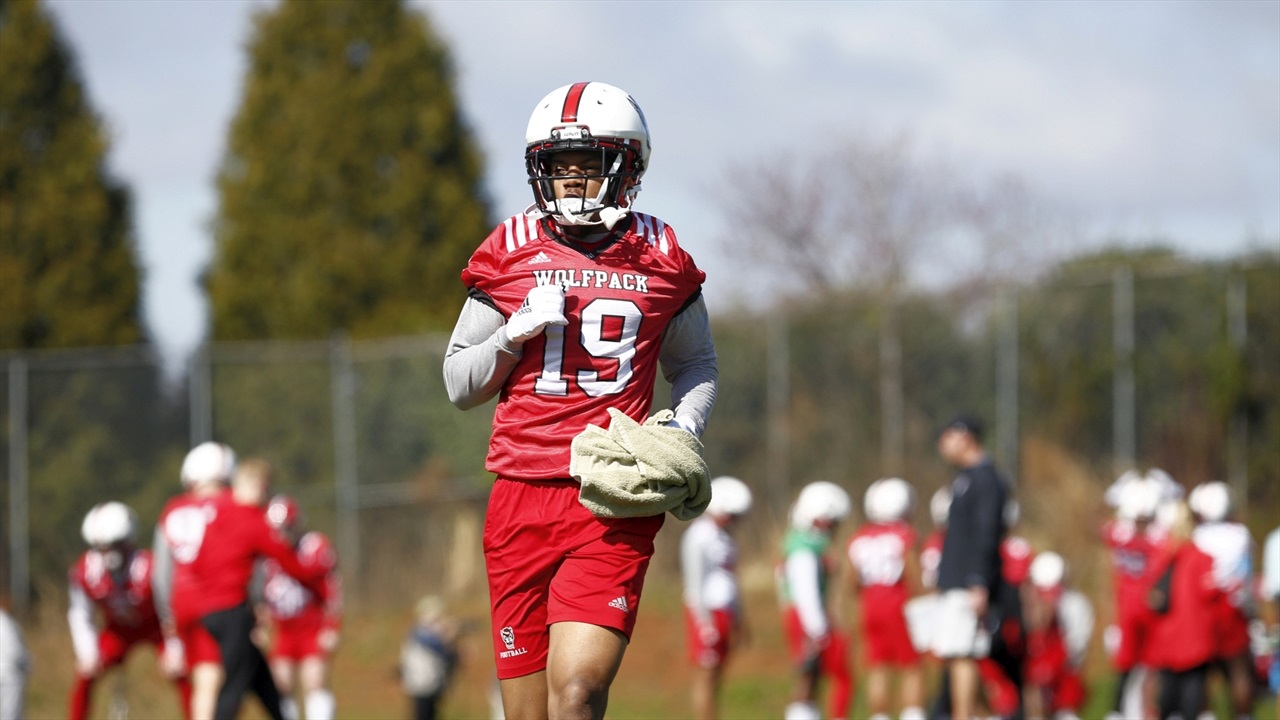 Photo by Jeff Reeves/Inside Pack Sports
NC State Football
Riley Ready For The Huge Opportunity
---
Redshirt junior wide receiver C.J. Riley has been waiting for this upcoming opportunity, and he showed glimpses of his big-play ability again in the spring game. Now he believes he's even more prepared to play a major role for the Wolfpack.
"I feel like I'm a lot stronger and a lot faster," said Riley. "I'm much more comfortable running routes and using my speed down the field.
"We lost a couple of playmakers last year, but we found a couple of playmakers this season. I feel like it's going to be a great season."
Riley, Emeka Emezie, and Thayer Thomas all played secondary roles in 2018, but that experience should benefit them this year as they look to replace a load of targets that went to Kelvin Harmon and Jakobi Meyers.
"Last season when we got our opportunity to get in the game, we had to uphold it," Riley said. "This year it's going to be a bigger role, but we're ready for the opportunity."
Harmon and Meyers aren't the only losses. For the first time since 2015, a quarterback not named Ryan Finley will be lining up behind the center.
Riley has never really played with another quarterback during his time in Raleigh, and he admitted he was caught off-guard by it in the spring game with the Wolfpack holding a competition for the starting job.
"It was a little different,' he said, laughing. "But it's still the same. We threw with Matt [McKay] all year long, so it's nothing new for us.
"Just being in front of the home fans... in the past scrimmages there wasn't anybody in here. For them to be out here in front of the fans and under the lights, it's pretty big for their confidence level."
The offense had its moments, but Riley believes that doesn't mean the defense will be down in 2019.
"The defense has definitely improved a lot in the last year," he said. "They'll help push us to be great this year, and we pushed them in the spring. I can't wait to see them perform in the field in the fall."
NC State is a program that has sustained massive personnel losses on both sides of the ball over the last two years. However, the lack of expectations doesn't concern Riley.

"It definitely puts a chip [on our shoulder], but we don't really pay attention," he said. "We pay attention to the opponent in front of us and we take it day by day."
Never miss the latest news from Inside Pack Sports!
Join our free email list