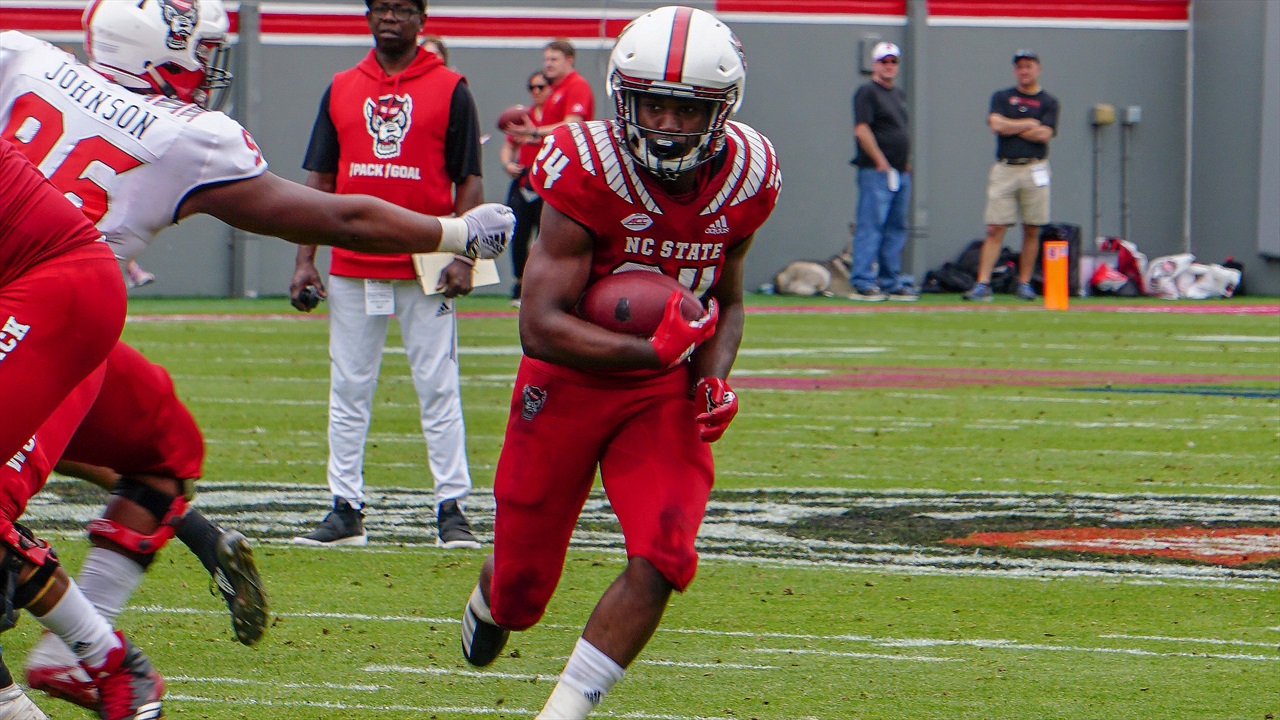 Zonovan Knight Shines In First Outing In Front Of Wolfpack Fans
---
A four-star signee out of Bailey (NC) Southern Nash High School, Zonovan Knight‍ arrived at NC State in January with high expectations. However, that didn't prevent him from still being a little nervous at the start of spring practice.
"First practice I was a little nervous," he said. "But that was my first impression, and I handled that pretty good. Overall I think I progressed every day in the spring.
"I think [enrolling early] will help me come fall when it comes to making that depth chart this season. It will help that I already know the system."
What helped his transition was the Pack's need for him to be ready to go right away. With returning contributor Ricky Person out for spring practice, Knight was going to get every opportunity to receive a ton of work.
He made the most of it and buzz quickly started to come out from various sources that Knight was flashing his big-play ability in practice.
Late in the spring he battled through a nagging ankle injury, but it didn't prevent him from suiting up in the Kay Yow Spring Game.
"I thought I had sprained my ankle, but it turned out to be a roll," he said. "It healed pretty fast."
Playing without virtually the entire projected starting offensive line, expectations were likely low for the running game, but Knight was able to be the star of the show. He finished with 17 rushes for 239 yards and a touchdown. He also added in three catches for 26 yards.
"I think I did pretty solid," Knight said. "There's always room for improvement, but I think I did pretty solid for my first game. I was a little nervous coming out, but after I got a couple of reps, that's when I started getting more comfortable."
"He is an exciting player," Dave Doeren said of Knight. "He is explosive. He is smart. He is hungry. He missed some practices with a sprained ankle, but he gives us what we had when Nyheim was here and that's a guy that can change the game for us."
The highlight was a 74-yard touchdown run where Knight found a crease inside the offensive line, broke the run to the sideline, and out-ran defenders to the endzone.
"That felt good," Knight said of the touchdown run. "That was a great feeling."
Knight and Person should form a strong one-two punch in the backfield with Trent Pennix also factoring into the mix. While Knight isn't sure yet how big of a role he'll have, he thinks he did enough this spring to warrant a role in the rotation.
"We'll have pretty good depth, but I do think I'll have a good chance," he said. "I'm not saying I'm going to start, but I'l have a good chance to get reps this season."
As for the team, he's going to enter 2019 with high expectations.
"We can be great," he said. "I think we have a chance to win the ACC. The goal is to win a national championship, but you take it day-by-day, practice-by-practice."
Never miss the latest news from Inside Pack Sports!
Join our free email list