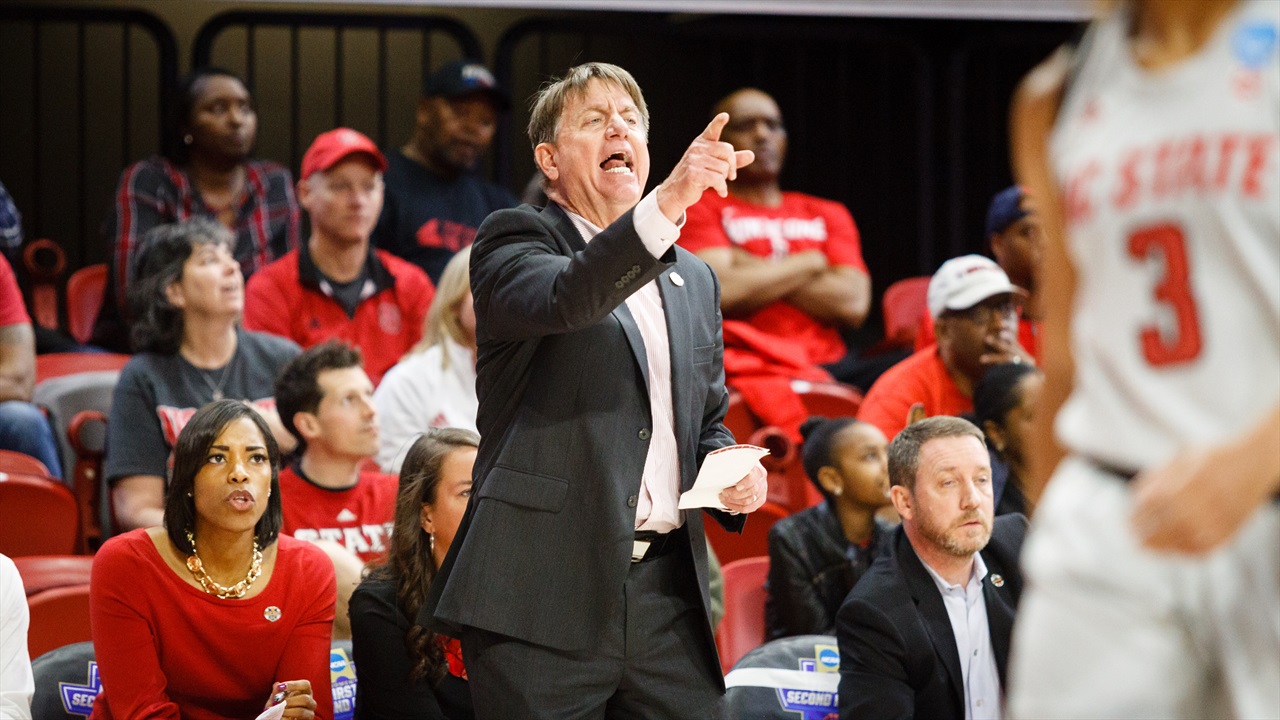 Photo by Steve Murphy/IPS
NC State Women's Basketball
Wes Moore: "We're Excited ABout Where We're Headed"
---
NC State head coach Wes Moore met with the media after his team was defeated in the Sweet Sixteen by Iowa.
---
Opening Statement...
First, you have to give Iowa a lot of credit. They played a great game. Very well-coached. Very fundamental. And you know, Gustafson, obviously, awesome player and then felt like the rest of the team really had a great game around her.

So when they are hitting threes and she does what she does on the block, it's a tough matchup. I thought we made a great run. I was very disappointed in the first half. I don't know exactly what happened; that really didn't look like our team. But second half, we made a nice run and then we came down about four or five times in a row and had some decent looks, and the ball just didn't go in. I thought that was our chance to really put some pressure on them and maybe get over the top but wasn't meant to be. Again, Iowa was a better team today.
Thank you for an amazing season for the ACC. Can you speak to your success in recruiting the State of North Carolina?
Yeah, we've been very blessed in that regard. I think, you know, we had four of our five starters were from North Carolina, and we're proud of that. I think those kids, maybe it means a little more to them.
But also, there's a lot of talent in the state. There's a lot of very good coaches that refine that talent for us, we're very blessed. Obviously those three ladies are all North Carolina products. Couldn't be prouder of the whole team.
I was really disappointed in the first half or if we were nervous or just what, but we weren't ourselves. There's been very few times I have been disappointed, especially with all they have been through. I told them in the locker room, there's times before a game -- I probably shouldn't say this -- there's times before a game, introductions or whatever, I'm almost moved to tears because as good of players they are just as good of people.
You mentioned, your down 13 to start the third quarter and you had a 12-6 run. Was that a product of adjustments you made at halftime, or just shots going in the third quarter that didn't go in the first half?
At this time of year you really struggle with, do you go with what you've done all year or do you try some new things. Obviously we started the game in our normal defense and we just felt like we couldn't match up very well on the block, and Elissa was getting in foul trouble and so we decided to try to get in front and we had spent quite a bit of time trying to deny the high post and pressure the ball. If you're going to front, you have got to have pressure on the ball and make it tough for them to pass, and we didn't do a good job of that.
But I agree, I thought we did turn them over a few times doing that; that maybe took them a minute to adjust. I thought we turned them over, made the run. And then like I said, it just seems like there was about five possessions where we had a couple of wide open threes, we missed a layup, and, you know, you just think if we hit a few of those shots, it puts a little pressure on Iowa and gets the crowd into it a little bit.
I would have liked to have seen what we could have done, but that happens and you've got to give them credit. They shot the heck out of it from three, and that's what you've got to hope doesn't happen when you're playing them because you're going to have to give something up. You've got to pick your poison, and they made us pay.
Your thoughts on this season as a whole, and where the program's going.
Yeah, I think the whole body of work, you have to be really proud of these players and all they have been through. They could have -- you know, they could have really hung their heads and got down four different occasions, when you had some key players go out, and they didn't.
You know, maybe they mourned a little bit for a day or two but they bounced right back and kept coming. I'm proud of that. As far as our program goes, and what's what we owe a lot to these seniors, we had our best recruiting class this past year coming in in the fall. I think ESPN ranked it Top-10, and now back-to-back Sweet 16s, we're getting in homes that we weren't able to get in a few years ago. We're excited about where we're headed and we owe that to the players up here.
Hopefully we can build on what they have helped happen here.
Elissa had a great game today, double-double, really seemed to be really composed going up against the Player of the Year.
Yeah.
What did you think about her performance and her growth this year?
Yeah, you know, again, you know, it was a physical game, so she didn't probably finish as many as she would have liked around the bucket, but what an awesome future she has ahead of her, and hopefully this is an experience that will help her down the road.

You know, again, another one that's just an unbelievable person, and we're excited. Always got a smile on her face. We're excited about having her around and hopefully we can do like Iowa's done, build something special around a special player.
You obviously are really proud of everything you've built here and excited about the future, so have you committed to coming back to N.C. State next year?
Oh, yeah. Oh, yeah. I'm very blessed to be at N.C. State. Again, I like where we're headed.
Never miss the latest news from Inside Pack Sports!
Join our free email list