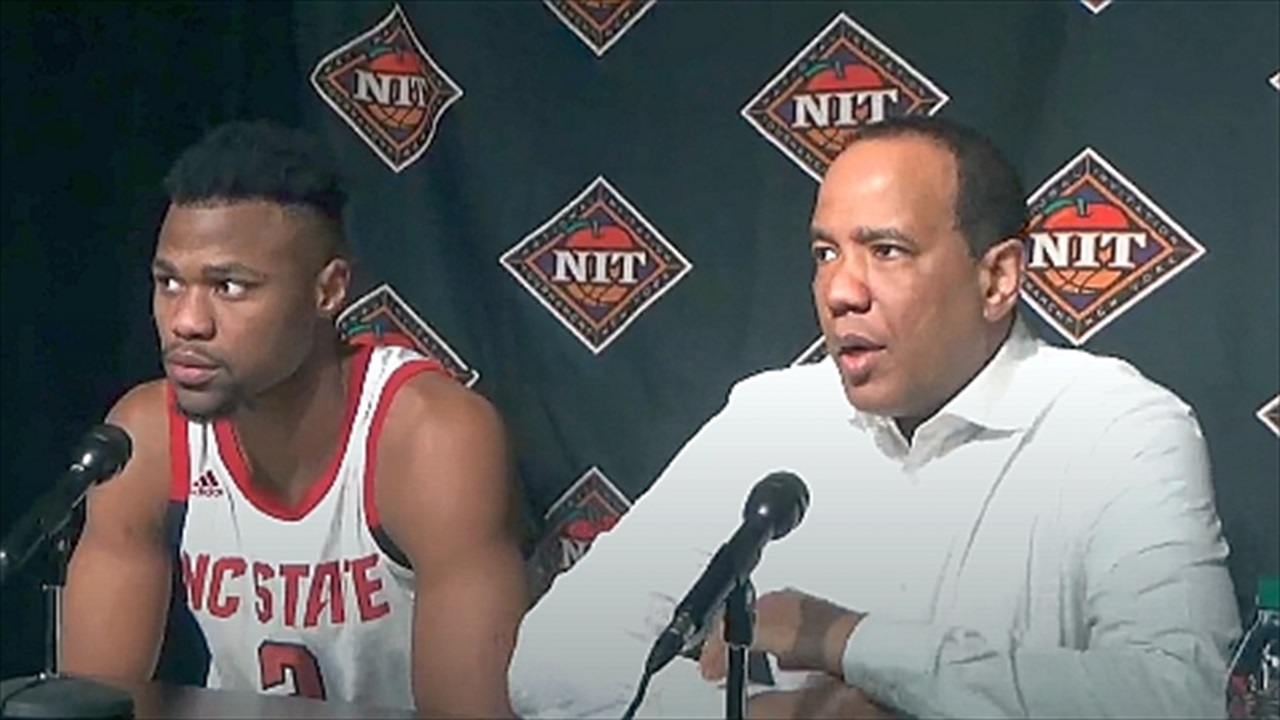 NC State Basketball
POSTGAME: Keatts, Dorn Discuss Wolfpack Loss
---
NC State head coach Kevin Keatts and senior guard Torin Dorn met with the media after the 94-93 loss to Lipscomb.
NOTE: Click the video above to watch the press conference.
---
NC STATE HEAD COACH KEVIN KEATTS
Opening Statement:
"First of all, I would love to thank our passionate fan base. When you talk about us making the NIT and playing three electric games in this building, our fan base turned out and was incredible for all three. That says a lot about our fans and how passionate they are.
"Second, I'd like to thank my players. We went 24-12 this season and I don't think there was a game out of those 35 games that there wasn't a maximum effort, win or loss. Sometimes the ball didn't go in, and we had highs, and we had lows. We had one game where we scored 24 points.
"Every single time we stepped on the floor, those guys competed for me. We are trying to establish a great culture, and I think we are moving in the right direction. My coaching staff did a tremendous job preparing these guys. Their families and parents of these young men have worked hard to lead me to coaching their kids.
"That being said, what a great game to watch. It was a tremendous offensive game. I felt like whoever had the ball the last time would have the chance to win it. I thought Markell Johnson made a great play down the stretch to give us the lead, and their point guard did the same thing. He had a great steal at the end and then made a play to win the game.
"I am proud of my guys. No one wants their season to end this way, but when I look at our body of work, I can sleep at night feeling like our program is moving in the right direction. Our guys have gained valuable experience from this. We are one of 20 teams, between the NCAA and the NIT, that are still playing basketball up until today. When I got in the locker room, I gave everybody a hug because I am proud of how hard we competed. If we continue to get better, then we will learn from this and be able to keep moving the program forward."
On the impact of Torin Dorn...
"He has meant a lot to this program. I have taken a 6'5" guy and asked him to be successful in the ACC as a big guard and power forward. He has embraced that role and played extremely hard. He led us in both rebounding and scoring.
"I think the thing that stands out about him is that as good of a basketball player is, he is an even better person. He is an ambassador for NC State. He believes in the brand of NC State. He is everything you think about culture when you think about a young man that is already graduated and is working on another degree. You never have to worry about him off the court. He does all of the right stuff. He has matured right in front of our eyes. He was a disappointed young man when I took the job because the year before he had a really good non-conference, but when conference came around he didn't have the same opportunities. To see him play his last game and be aggressive, scoring 34 points in an electric arena, it means a lot to me. When we all get in this business, we want to know that we are sending young men into the real world ready. I don't know if there is another young man in the world that is more ready than Torin Dorn.
"He is everything. The guy is a great ambassador for NC State. Those guys don't come along very often. When you talk about a guy who does everything right, that is Torin Dorn."
On Cooper taking game-ending shot...
"I thought the ball bounced in Cooper's hand. When he made the corner three, I thought it was good. It was a tremendous offensive game. It really came down to whoever had the ball last. Mathews' game tonight was outstanding. We knew coming in he was a big time scorer. I am leaving the game saying that he is the best scorer that I played against this year. He raised up and made shots. He made shots on the break. They are an elite offensive team and I knew that coming in. They are number eight in the country as far as scoring goes. It was a great game. If you were a fan, you loved it. It is unfortunate that we had to come in on the short end of this, but that is the way it goes sometimes."
On where the program is now...
"When I took the job, I promised that we would compete and play hard. I also promised that we would play a style that our fans would love. If you look at our fans, they have turned out whether we are playing at PNC or if we are playing in Reynolds. Our guys are fighters. We don't have the talent that some of the teams that we are playing against in the ACC have right now, but I will tell you that everytime we go out on the floor, our guys compete and fight. I think we are moving in the right direction. I hope the guys continue in the program to get better. We are looking for guys to return. The guys that are moving on, Torin Dorn and Eric Lockett, I wish them a lot of success because I think both of those guys will play basketball, but when the ball stops, they both will be successful in life."
On Markell Johnson...
"One of the things I wanted to do tonight was keep the pressure on them and break them down. I felt like Markell had backed up to half court at the beginning of the second half.
"He has grown so much. I know you guys remember when Markell Johnson came to school. Anybody can look at him and see that he has taken big strides. He has taken strides on the basketball court, in the classroom, and on campus. I am harder on my point guard because I expect those guys to be an extension of me on the court. Anytime there is a breakdown, whoever is running the point at the time is going to be the guy that is going to get it.
"He has had a tremendous year. I have been on him all year about being consistent, and I thought he got consistent. He has still got to get better in a lot of areas. I love his play. He led our team and made big shots for us when we needed to. Our team started to rely on him at the end of the year to make those shots and for the most part, he did."
On his confidence in his returning players...
"I hope that everyone will return. Now, obviously you guys read, and know there's over 400 guys in the transfer pool, so you never know. What we usually do-- I'll take a couple of days and I'll let everyone's mind get clear, and let the guys catch up on some academic stuff, and then I typically have a meeting with each individual guy and kind of figure out where they are mentally. From my standpoint, I would love for everyone to stay and to help continue to build a program. We've got a tremendous freshman that's sitting out, in Manny Bates, and I think if we can add him to the mix, along with some of the guys that we have coming in that we're going to sign, and guys that we will recruit, I think we can keep moving the program in the right direction."
On the next step for the program...
"I know everyone talks about the NCAA Tournament, and that's our goal too. From our perspective, we thought we did pretty much enough to get there. Unfortunately, it didn't happen, but I want to continue this program, and keep moving up with it. I'm blessed I think, and if i'm not mistaken, we've won 45 games in two years. As a staff, and with the guys that are in the program, that's pretty good. Now we want to continue to build a program and get guys better. I've always come from a background where development is huge, and so some of the guys, we want to break their game down, and get better in their areas."
On Mathews' 44 pt game...
"There was a point in the game where he was scoring, when I wanted to come out there, and then I realized I've had patella tendon surgery and I couldn't guard him either. But, listen, he was electric tonight, I know you guys saw it. A majority of the shots were tough shots, and we wanted him to take tough shots, but he was good. And he had a great night, and I tip my hat to him."
On reflecting on this year's close losses...
"I'll be looking at the entire season. I'll look at those games we lost at the end, and I'll be looking at those games that we won at the end. We had a small margin for error and a lot of our games came down to the end, and while we will look at that, a lot of times it's players making plays. When you look, even in the NIT, Harvard and Hofstra were close games at the end and I thought we made some plays. So, we'll be looking at the entire season. I'm the guy that obviously looks for perfection, and so if there's an area where I think we need to improve, then we'll go to work and we'll try to get better in that area and that's what the good players, the good programs, and the good coaches, they improve on their weaknesses and get better for the next season."
On his technical foul...
"I know why I got it. I don't know why the call was made but I absolutely deserved a technical foul. I was very upset and I thought it was a bad cal,l and that's a disagreement, so I definitely know why I got it. "
On playing in Reynolds...
"I know it's been a big conversation about Reynolds, and obviously y'all know how much I love Reynolds, and it's a great place. That being said, we're probably one of the few teams in the country that has two great places to play. PNC is an unbelievable arena. It holds 19,000 ,and we sell that place when we recruit. We sell it as a part of our incredible fanbase. From what I've been told we have about 10,000 season ticket holders. You can't fit 10,000 people in here, so it's got to be a great balance. That being said, there may be more than one game in this building if we can figure out how to do it. I don't want to put anybody in a bad spot because it would be unfair for me to say, 'I want to play six games in here,' when I don't know the whole history. I do know that we have a certain number of games that we have to play in PNC, which is 15, and I do know that we have a season-ticket base of 10,000 season tickets. I know we have to allow our student body a certain number of tickets, so if we could figure that out and keep everybody happy, then I'd certainly love to play a couple more games."
TORIN DORN
On what he'll remember...
"Honestly, I will just remember the electric environment that it was tonight. I just tried to play every play in the moment, take it in, and enjoy it because win or lose, that would be my last game at State in front of our home fans so you know, I'll probably just remember that."
On seeing Cooper on the last steal play...
"Yeah, he kind of just broke in front of the pass and got there."
On the outcome based on his performance...
"Yeah it's definitely tough. Any loss is tough for me because I love to win. I try to give it all for my teammates, and the fact that we couldn't win-- I was more upset for them and being hard on myself because I feel like I could have made a couple plays down the stretch, and it would have been a little different, but that's life. Sometimes the ball doesn't bounce your way and it's about how you react to it and how you come back from it."
On remembering intensity in Reynolds tonight...
Yeah, that was probably the most intense and most electric game I've ever played at Reynolds. It was amazing, probably one of the most fun games I've had at State."
On what he'll remember about the program...
"My teammates, all the teammates that I've had over the years, and all the great times that we've had; all my great coaches that have been able to impart some wisdom on me; all the fans that come out and support us everyday. Every game is amazing, and I try to take it in every game. I'll just remember all of that, everybody that had a part in it. NC State is a beautiful place and it's a place where a lot of people love to get behind a team that works hard. We've seen that and that energy has just been able to carry on, so I'll remember that."
On his impact off the court...
"I would just say basketball is kind of like life. It's a rollercoaster and you can never get too high or too low, so everything I learned on the court and off the court, I'll be able to take into being a father or a husband one day. Being able to stay even-keel, and trying to inspire other people to be able to chase their dreams because NC State has allowed me a chance to chase mine. Everyday since I was 11 years old, I prayed at night to be able to play in the ACC, and NC State gave me the chance to do that. I can't be more happy and can't be more blessed for the opportunity."
On his favorite Coach Keatts memory...
Keatts: "Be careful what you say"
Dorn: "Honestly it's hard to pick one. It's really hard to pick one memory, that's like picking your favorite song, there's too many to choose from. I would just say the energy that he brought to NC State is my favorite memory. Being here for so long I was able to see the change in energy and it carried on through the program, and through the fan base. That's my favorite memory of coach."
On who shoots better...
Dorn: "Who shoots better, me or coach? Me of course. Last time we played the shooting game ask him who won.
Keatts: "You guys done with him?"
Dorn: "You thought I was going to say he shot better than me?"
Never miss the latest news from Inside Pack Sports!
Join our free email list