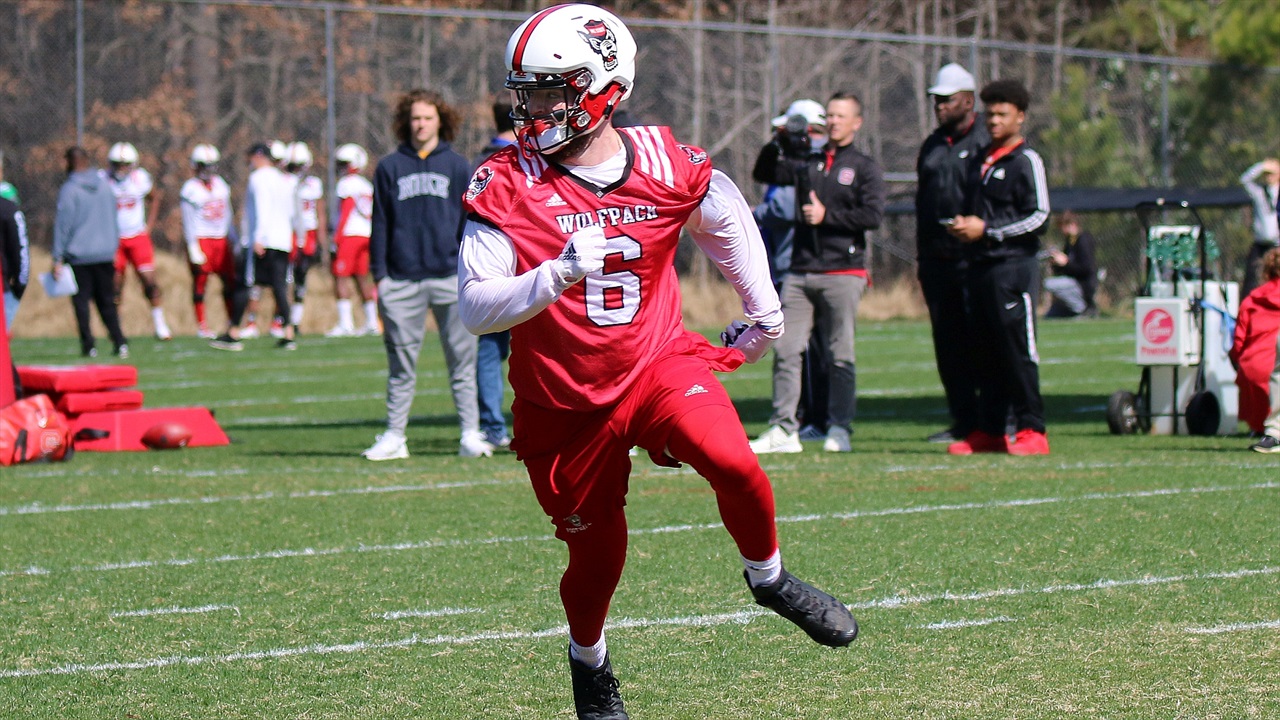 Photo by Bryant Carson/Inside Pack Sports
NC State Football
Angeline Working Hard to Improve, Build Chemistry This Spring
---
NC State redshirt junior tight end Cary Angeline has been on the move and dealing with turnover throughout his college career. He started out at Southern Cal but left the program a couple of games into his redshirt freshman season. Angeline ended up at NC State last fall and had to miss essentially the first month of the season due to NCAA rules before jumping into the mix.
Dealing with various quarterbacks, offensive systems, and position coaches along the way, he is now hoping for consistency this spring.
"It's a lot different," Angeline said. "Obviously I wasn't here for last spring ball and now getting another year under my belt and being here for spring ball... it's been good.
"I've had a lot of different coaches and quarterbacks. You try to get as many reps as you can with them. We've got a good amount of reps with the quarterbacks so far. They are all doing great."
"First of all, he's in a lot more comfortable place," NC State head coach Dave Doeren said of Angeline. "He was trying to learn a new system and meet new people, knowing he can't play. It's hard mentally. So there's none of that uneasiness.
"He's just comfortable. He comes to work. He's a quiet guy by nature, so you don't really see a change in him that way. I know he just comes out here and works hard every day, and we appreciate that. He's very consistent."
Billed as a potential weapon in the passing game, Angeline understands that he has to continue improving all facets asked of him at the position.
"The run game, I have to work on that," he stated. "Route-running, too... coach [Goebbel], he's definitely helped us improve a lot during the offseason."
That's perhaps the biggest change Angeline has had to deal with – a new position coach. Eddie Faulkner, who recruited Angeline to NC State, accepted the running backs coaching job with the Pittsburgh Steelers, a move that opened the door for Todd Goebbel to land the tight ends job at NC State.
Angeline raved about his new position coach.
"He's awesome," Angeline said of Goebbel. "He's been here a few months now and we definitely love him. He's a great coach and a great man. We've very thankful he's here."
What does Goebbel think of Angeline?
"He goes to work everyday, and he loves football," he said when asked about the 6-foot-7 standout. "He picks things up quickly and that's a good combination for success."
New offensive coordinators Des Kitchings and George McDonald have taken over play-calling duties for the offense, and while Dave Doeren has been adamant that the Wolfpack offensive system won't change, there will be some adjustments.
"It's cool having two different OCs," Angeline said. "We're incorporating some of the same schemes coach Drink had with a little different twists. I'm definitely excited with what I've seen so far in spring ball with the offensive coordinators."
NC State must replace Kelvin Harmon and Jakobi Meyers in the passing game which should lead to a potentially expanded role within the offense for Angeline. At this point he's not concerned with targets... it's more about doing whatever he's asked to do.
"Whatever the team needs, we're willing to do," he said. "As a tight end unit we've improved a lot in all aspects, and we're definitely looking forward to the new year."
Never miss the latest news from Inside Pack Sports!
Join our free email list