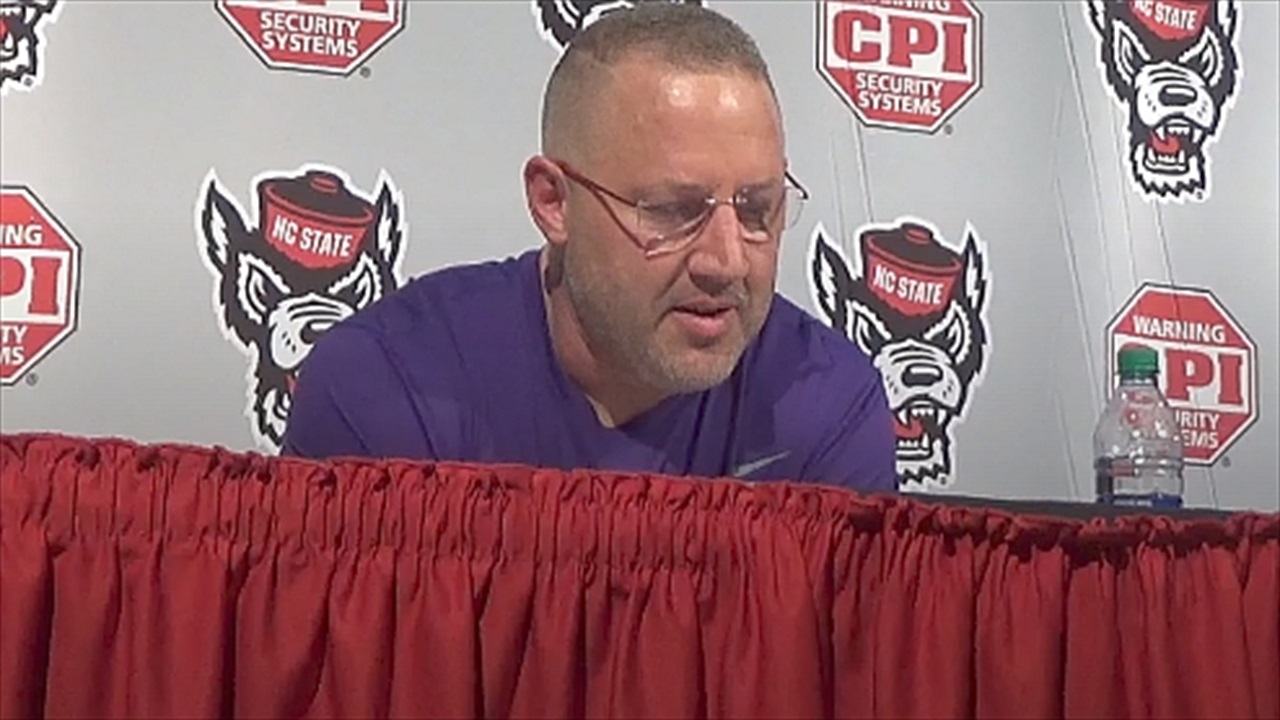 NC State Basketball
Buzz Williams: "I Think We May Stop And Get Some Ice Cream"
---
Virginia Tech head coach Buzz Williams met with the media after his team's win at NC State.
---
On Justin Robinson injury...
He has a foot injury and is out indefinitely. I am incredibly thankful for our staff for their plan to figure out how to best utilize the guys that did suit up.
NC State is so potent offensively, so to try and figure out how to gear them down is hard enough in itself, and then we had to be able to execute it. I'm incredibly grateful for my staff who helped with that.
On limiting NC State's point off turnovers...
I think when you get to this point in the season, the most telling statistic, unless there is an outlier, is you want to at least have the same number of field goal attempts as the opponent.
Sometimes there is an outlier; most of the time for us, it is when we are getting beat on the offensive glass.
I thought we did a much better job in the second half of trying to shorten the game and trying to make sure we got a shot. Just to give a little bit of grace, some of those nine turnovers is a credit to NC State for their non-stop full court pressure, and I think some of it is guys are having to carry different responsibilities than they have up until this point in their career.
On defensive game plan...
Nobody has ever asked me to speak at a coaching clinic. I would rather be with my family or at the office. NC State's spacing is very, very good. They have two ball guards that are very effective at off ball screens. I think their bigs do a very good job of changing the angle of their screen and changing the location of the screen.
We couldn't afford to get into rotation. The whole premise was, "How can we handle all that I just mentioned, while staying between the ball and the basket, and not just on the ball, but the three guys behind the ball screen?"
Ithink our ball screen colors, that's our coverages, were right but the three guys behind the ball screen are so important and today they did a good job.

On Horne's return...
He is still out indefinitely and is not getting closer to returning.

On adjustment in absence of Justin Robinson...
I thought the only chance we had was to have football style of possession. How can we shorten the game? Their average possession time going into today was 16.5 seconds. That's the second fastest in the league and 13th in the nation. We couldn't get into that type of game defensively.
Offensively, our personnel doesn't suggest that that would give us our best chance to win. It is a delicate balance of when to attack their pressure to score, when to attack early in the clock, and that was just part of our prep in a quick turnaround.
We just had Thursday and Friday to figure out what we are going to defensively and what guys gives us our best chance to win offensively.
On shooting performance...
I thought it was really pretty. I know beauty is in the eye of the beholder. And respectfully, we shot double what they shot. It is kind of like art, it just depends on what you want to buy and that is why there is nothing hanging on my walls except my kids.
On Kerry Blackshear injury scare...
KJ is one of my favorites ever. We have become calloused to injuries and how we respond to them. I don't even know who was doing tv, but he said KJ went in the locker room. Maybe he got some Gatorade or something.
On prep for Louisville...
We play three games in five days, with two of those games being on the road. Two of those three are nationally televised. We are thankful that we have gotten into a position that decision makers would want to include us on television.
Like any team, when you get into this time of the year, it is a feel, an instinct, a prayer on how to manage their emotional, physical, and mental gas tanks.
We got home at 2:00 Thursday morning, practiced yesterday at 6:30, had chapel this morning at 5:30, shootaround at 6:00. Obviously a lot has transpired throughout the past two games.
We have a four-hour drive home, I think we might stop and get ice cream, so that would make it four and a half hours.
I haven't watched any clips on Louisville. Obviously I know Coach Mack is already ACC Coach of the Year and will be in contention for National Coach of the Year. He has done an incredible job with his team.
I think their team is really good, with really good personnel, but I can't answer more than that, other than that we will do the best we can.

On importance of winning first game without Justin Robinson...
A quote that we like is 'True confidence can only come from your work.' You guys know that I'm not good at being Pollyanna.
Regardless of who you play or where you play in this league, it takes an enormous amount of emotion just to be ready. I thought the tenacity and the fight that our guys played with was remarkable.
Never miss the latest news from Inside Pack Sports!
Join our free email list