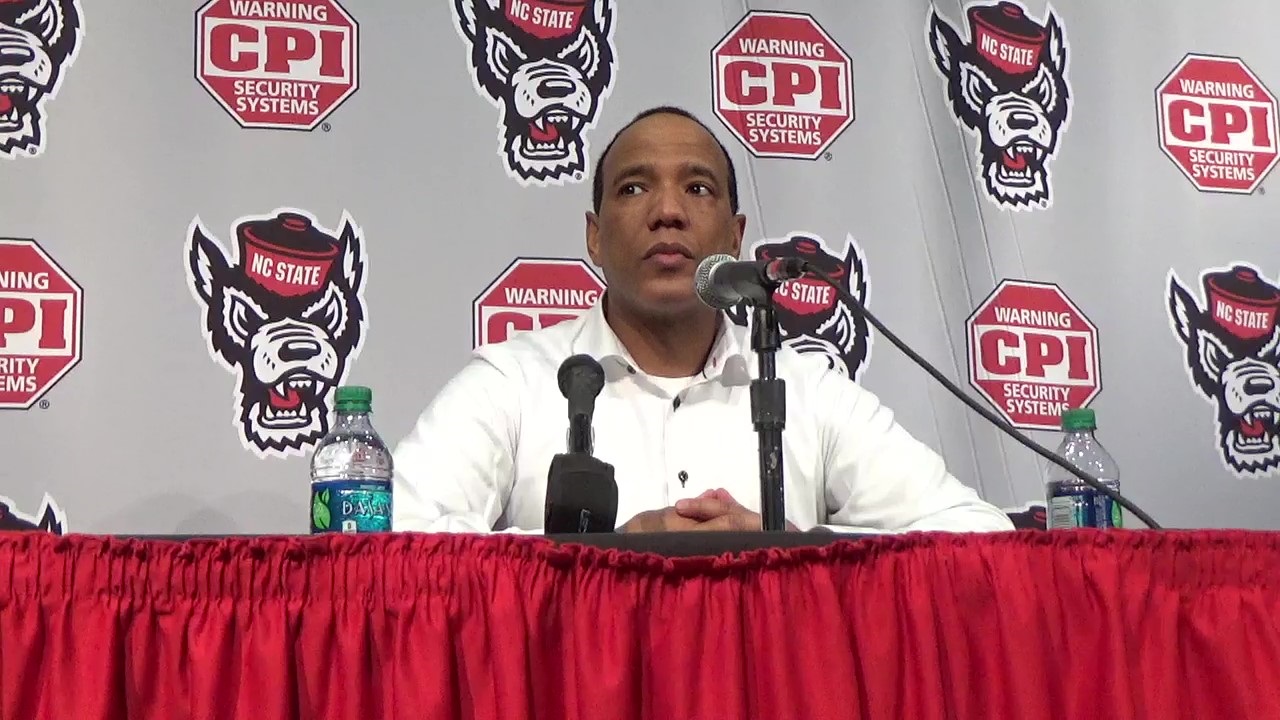 NC State Basketball
Keatts: "We Didn't Move The Ball Enough"
---
NC State head coach Kevin Keatts met with the media after the Wolfpack's 90-82 home loss to North Carolina.
NOTE: Click the video above to watch the press conference.
---
Opening Statement...
I'm proud of the way my team fought. Think about the way we started the game and couldn't get anything going. We missed shots, and then we battled back. I thought it was a very good basketball game between two teams that can score the ball. I told our team at the end of the game that 82 was enough to win the game.
We've got to do a better job of cleaning up some of the mistakes that we made. I thought they did a great job of beating us to some 50/50 balls, and then obviously we gave up a lot of rebounds.
We have a chance to be a really good basketball team. Give North Carolina credit-- I thought they shot the ball well. They did a tremendous job making three-pointers. We had our chances and made some runs, but the ball didn't fall our way at the end of the game.
On lower shooting percentages...
I thought a lot of that was due to our slow start. What happens when you start the game slow and miss some shots, because everybody is a competitor, is that they will try to bring us back by themselves. I thought we didn't share the ball particularly well. We went into the game saying that we wanted to get as many touches as we can and spread out the shooters, but we didn't do that. We didn't move the ball enough.
82 points is enough to win the game. Give North Carolina a lot of credit-- they did a great job tonight. I like where my team is, and I like the way we fought. I told our guys that if we clean up little things, we have a chance to be a really good basketball team.
On DJ Funderburk...
I thought DJ was great. He was very active, he did a great job, and he had a heavy presence down low, both offensively and defensively. What I didn't get was the rebounds from Torin Dorn, CJ Bryce, and Devon Daniels. We typically have both DJ Funderburk and Wyatt Walker with seven to 11 rebounds, but we also have our 6'5" guys with rebounds, but tonight North Carolina beat us to some balls.
On the Pack's offensive performance...
I thought we made some runs. We didn't do a great job of running Cam Johnson off the three-point line. I thought he got some great looks, with a couple of those coming off offensive rebounds. We knew they do a great job of rebounding the basketball and getting them off quick for threes, but we didn't do a great job of running them off the line.
On how the team will bounce back...
We lost a tough game early in our season, and I'm a big streaks guy. We won seven in a row after we lost, and we talked about what do we do from now. We went to Wisconsin and lost a heartbreaker similar to that. You find out a lot about a team by how they bounce back.
That was the last thing I talked to them in the locker room-- is that we did enough to win the game. If we had cleaned up some stuff with the basketball, rebounded the basketball, and got some 50/50 balls, there would have been a different outcome tonight.
On UNC-CH's fast start...
We just missed shots. If you go back and look at the start of the game, we had some great looks that just didn't fall. Sometimes the basketball just doesn't go in.
I thought we settled in. I always tell these guys that you aren't always going to score the basketball, but rely on your defense to get back. When we got down early, I thought we locked in on defense better, and we started making shots. Braxton Beverly hit a couple shots to kind of loosen everything up for us.
On the bench contributions...
Our bench has been tremendous. I like my bench. These guys have given me tremendous effort every day, and they are fighting. We won't be defined by one game. I thought it was a good game, but the guys who came off the bench did a tremendous job. I wanted to bring Braxton Beverly off because I wanted him to see the game start and get into a flow.
On being within a couple points for a lot of the game...
It doesn't drive me crazy. It means that we won't lay down. These guys are fighters and it shows a lot about us, the program, and the direction that we are moving in. We refuse to just lay down.
Never miss the latest news from Inside Pack Sports!
Join our free email list