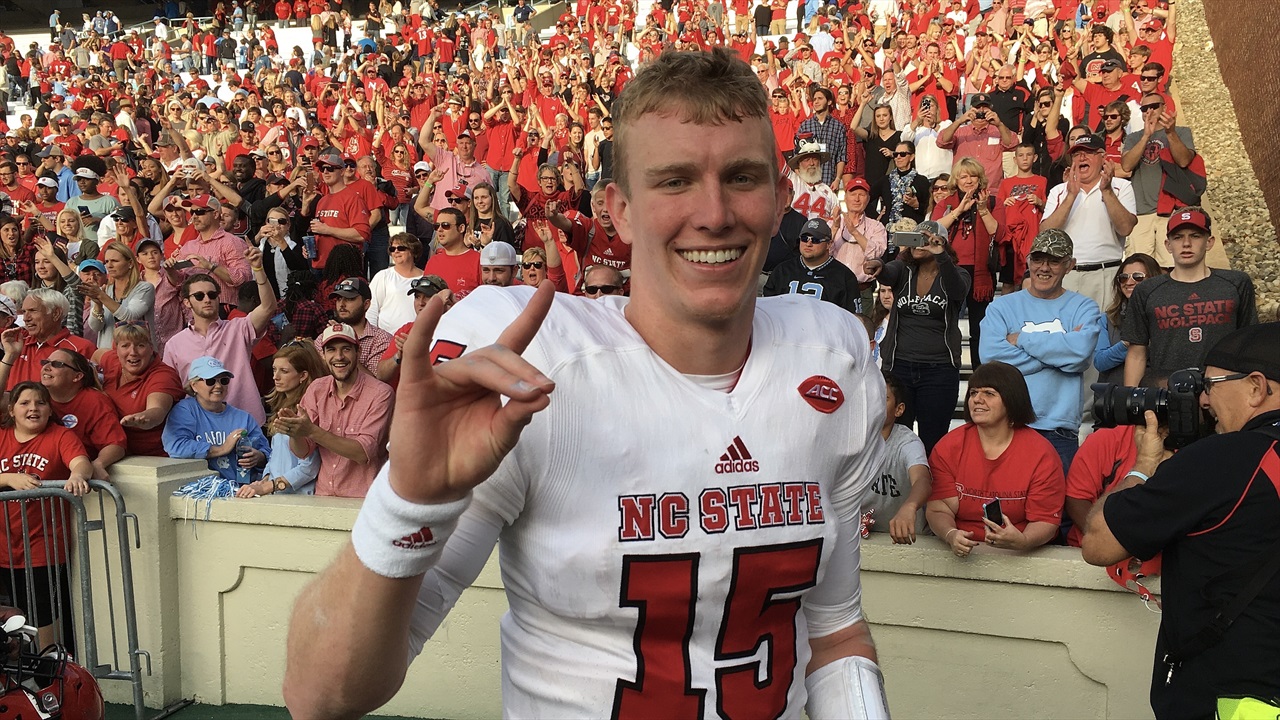 NC State Football
MCLAMB: Finley Should Be Remembered For More Than Final Performance
---
Ryan Finley is one of the greatest players in NC State history. He will no longer represent NC State on the gridiron, but he plans to be a Wolfpacker for the remainder of his life.
Finley, who came to Raleigh abruptly as a grad transfer from Boise State prior to the 2016 season, has grown significantly as a football player and a person in his time with the Wolfpack.
"I think it has been the best experience of my life," Finley said. "So many awesome friends, the opportunity to play this game that I love, got closer to my family because of it. I am excited for my brother coming to NC State and to develop that. I met my girlfriend -- so a lot of awesome things have happened in the last three years and I am very thankful for all of it."
NC State finds itself in essentially the same spot it was after the 1992 campaign. An uneven season in 1990 was followed up by consecutive years with nine wins. The 1992 team was also definitively defeated by an SEC school in the Gator Bowl.
The bowl loss to Texas A&M will sting – postseason losses always do – but it would appear at this point that the Wolfpack football program is closer to the mountaintop than the ground.
"Tonight didn't go the way we wanted it," Finley said afterward. "It is hard not to reflect on some of the awesome things we did. [I'm] just not going to let one game ruin the relationships that we have built. Not the ending that we wanted, but some of the awesome things that came from this season -- just a lot to be proud of."
"I think we left it in a really good spot," Finley added. "I think it has been all up for the last three years and so why wouldn't it continue to do that? I am excited about the trajectory of the program. I think this is just a bump in the road, but it will be motivation for those guys coming back."
The Wolfpack did not get the second 10-win season in school history on Monday, which means they have the fewest seasons of double-digit victories among the programs in the ACC's Atlantic Division. That is the reality of where NC State stands.
Philip Rivers, Russell Wilson, Roman Gabriel, and Mike Glennon, along with several others, are the names that come to mind when media and fans alike recall the great quarterbacks that have represented the Wolfpack in its history. NC State can swing with the big boys at that position, and the journey to do so at a team level must continue.
In three seasons, Finley earned his spot among NC State's greats. If there was a top-25 of all-time Wolfpack players, the quarterback who finished second in career passing yardage has to be on it.
For Dave Doeren, it runs deeper than that.
"He's probably one of the most elite guys that I've been around when it comes to his preparation and his daily, just process and coming to work and handling his business and doing things in the classroom and the way he treats people," Doeren said. "He's an incredible role model for our younger players. I'm blessed to have been in his life as a coach, and he thanked me after the game for the opportunity, and I thanked him for letting me coach him the way he did."
Now he must exit stage right, but the Finley Era will live on in different aspects. The commitment of his brother Ben means part of that era will remain on the football field.
"I talked with Ben shortly after he got offered and went through all of the different situations," Finley said. "I think he just got around the team, got around the culture and was at so many games that, I guess, he fell in love with that. It is exciting for me knowing that I can come back here and my little brother will be here."
The other phase of the Finley Era is post-career. Ryan will move on to the NFL, but he will be in Raleigh again -- and it will not be just to watch his brother or former teammates play.
He is a Wolfpack lifer. To those Finley received support from, he has a message.
"I would tell [Wolfpack fans] I am thankful for them," Finley said "I am excited to one day call Raleigh my home. I am going to be a very proud alumnus. I am excited for my brother to get here. I am just grateful for them. Some of the best moments of my entire life have happened at Carter-Finley."
Never miss the latest news from Inside Pack Sports!
Join our free email list