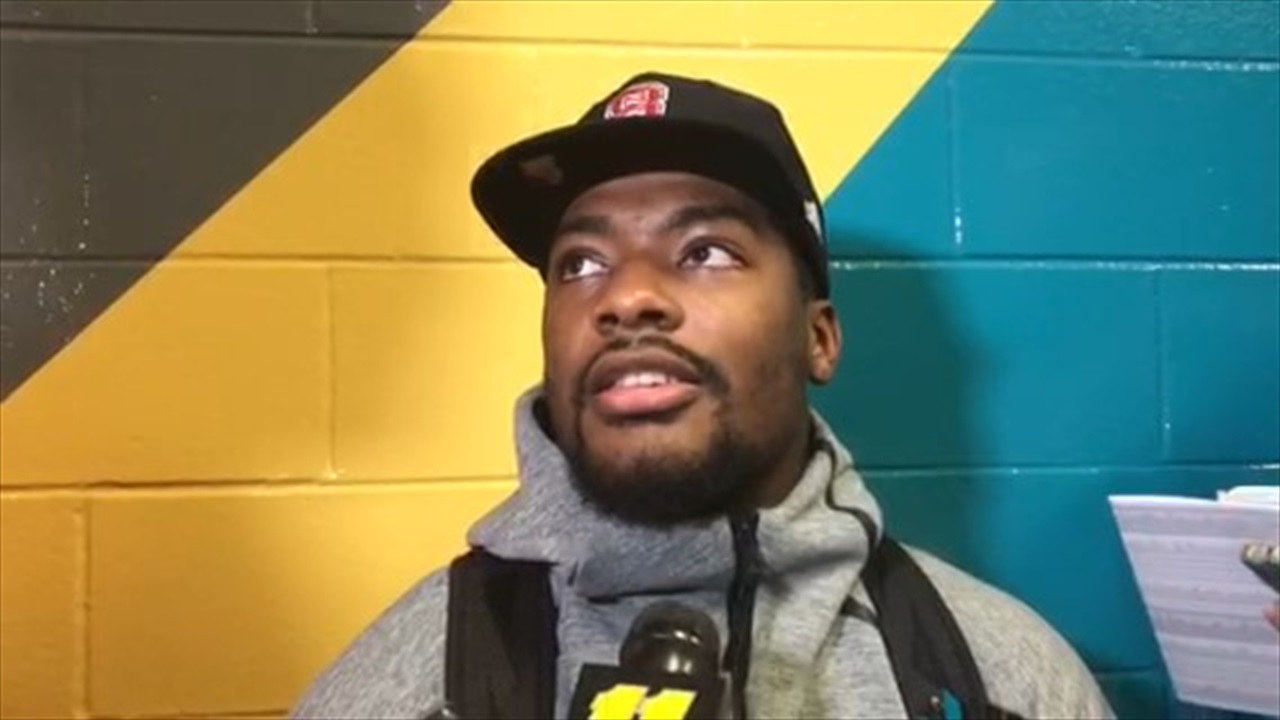 Jarius Morehead
Reggie Gallaspy
Darian Roseboro
Chris Dunn
NC State Football
LOCKER ROOM REPORT: Wolfpack Players
---
Several NC State players met with the media after the Wolfpack's Gator Bowl loss to Texas A&M.
NOTE: Click on each video to watch a specific interview.
---

Freshman Kicker Chris Dunn
"Yeah, absolutely. It's super disappointing, especially for the seniors having to go out this way. But I think each year, the new classes that come in have continued to take the bar up just a little bit."
"The recruiting class that's coming in for next year has been great from what I've heard. So I think we'll definitely be getting after it in a few days in the weight room, watching film from what went wrong, and anything to correct the mistakes, to help us be a better team next year."

"I don't know about 'cake.' Really, it felt great coming off my foot, especially being in an NFL stadium. That's awesome. That's a dream of mine: to play for any team here one day in the NFL. Being able to come into this stadium and be able to hit that and contribute to the game was awesome."
Junior Safety Jarius Morehead
"We just didn't play our best game. They have got a good team. They played a helluva a game. We just couldn't stop them. Give them credit. They have got a good team, offensively and defensively. We just laid an egg."
"They just kept figuring out what was working. We just couldn't get it done and couldn't stop it. That is what opened up. They are a great team."
"In the beginning, we was, like, feeling it and getting the groove in the first series and then in the second series come out and stop them. And then, like that, it just changed."
"It is still going to be trending up. Like the coaches said, come back serious. and be ready for next year."
"It feels like we could have won a lot more, especially the two we lost late in the fourth. I just feel like we are not achieving as high as we should be and next year we will be better."
Senior Defensive End Darian Roseboro
"He's a really good player. He's very shifty, and he's very flashy. Also, I think there were some mental errors on our part. You can't make mental mistakes against a really good team. So I would say that and the mental errors we made."

"Momentum swings, I think. Also, I think we just weren't executing our plays in our playbook. We weren't getting off the field on three-and-out, and we weren't making the plays we needed to make."

"It's part of the game. Wins and losses are part of the game. We've got to learn from it and bounce back. Those guys are going to take that into the offseason, they're going to take it to heart, and they're going to come back a better team."
Senior Tailback Reggie Gallaspy
"Things started to warm up for me, to get 1,000 yards and break a school record, it has just been an amazing season for me."
"This program is progressing, progressing, progressing."
"Ricky is a really good back...he's going to be a good back in the future."
"My cousin, Eurndraus Bryant. We just actually found out a week before the regular season. We have always been hanging around each other and keeping close."
"I am going to miss those guys."
Never miss the latest news from Inside Pack Sports!
Join our free email list