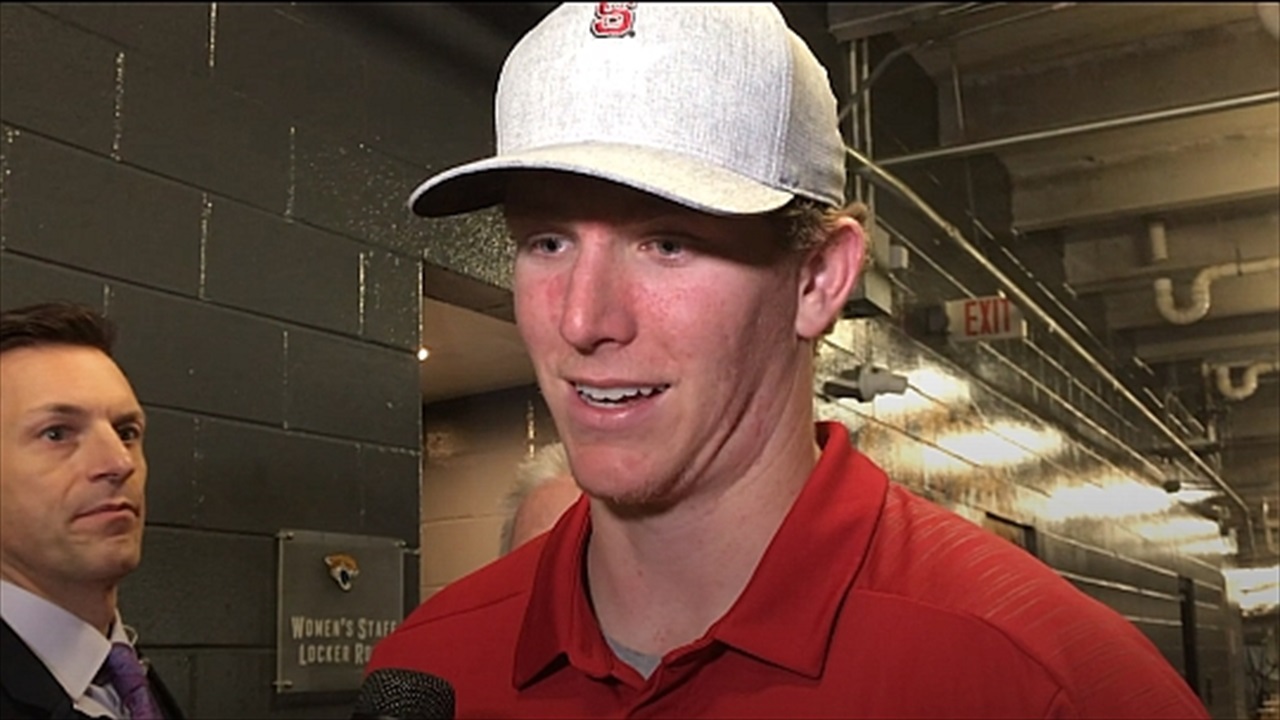 NC State Football
Ryan Finley: "I'm Excited To One Day Call Raleigh My Home"
---
NC State senior quarterback Ryan Finley met with the media after the Wolfpack's Gator Bowl loss to Texas A&M.
---
What is the reaction to tonight?
Tonight didn't go the way we want it. It is hard not to reflect on some of the awesome things we did.
[I'm] just not going to let one game ruin the relationships that we have built. It's not the ending that we wanted, but some of the awesome things that came from this season -- just a lot to be proud of.
You had momentum there in the second quarter and then it shifted to them. How much did coming up empty on the drive after the 4th-down stop hurt?
We got into a rhythm, which was nice. We were moving the ball, ran the ball really well at times. We just kind of had that costly pick, that pick-6, that just really flipped the momentum I thought.
You can't really have that. Hats off to them. They did some really good things. They have good players, good scheme... we just couldn't get into a rhythm after that pick.
What was going on there on third down?
They did a good job on third down. They really did. I thought we ran good stuff at times. I struggled personally. I'll take the heat on third down.
That's kind of who we are. We stay on the field on third downs and we weren't able to do that tonight.
Did they give you different looks?
They do some good stuff. They really do. They change it up a lot. It is hard to kind of get into a rhythm. Definitely, hats off to them.
Do you think the program will continue to trend up over the next few years?
I do. I think we left it in a really good spot. I think it has been all up for the last three years and so why wouldn't it continue to do that? I am excited about the trajectory of the program. I think this is just a bump in the road, but it will be motivation for those guys coming back.
If you could speak directly to Wolfpack fans, what would you say to them?
I would tell [Wolfpack fans] I am thankful for them. I am excited to one day call Raleigh my home. I am going to be a very proud alumnus. I am excited for my brother to get here in a couple of years.
I am just grateful for them. Some of the best moments of my entire life have happened at Carter-Finley. I just want to thank them for that.
When you look at the legacy of the quarterback position at this school... what does taking your place among that group mean to you?
It is an honor.
It is definitely something I didn't take lightly as I was playing here and throughout my career. That is a standard of excellence that came from those who played before me and that is something that I didn't take lightly. Just to be mentioned with those names is an honor.
Never miss the latest news from Inside Pack Sports!
Join our free email list