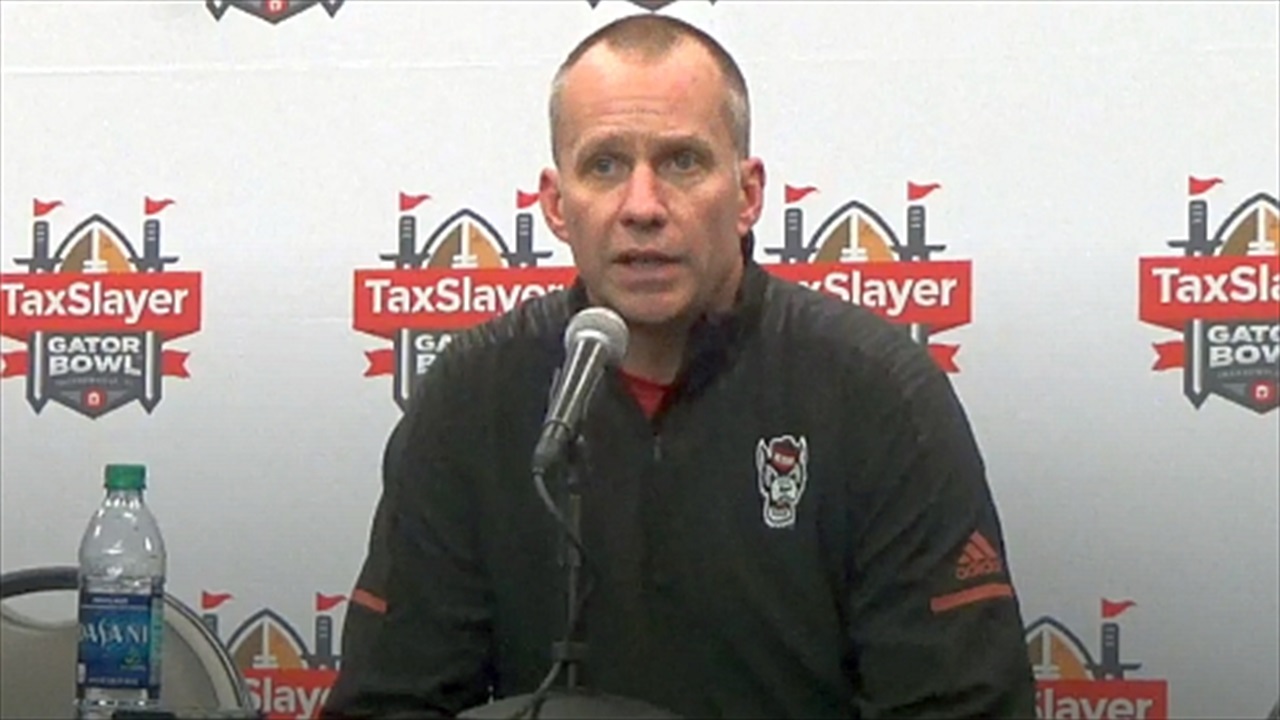 NC State Football
Dave Doeren: "I'm Going To Miss Coaching Those Guys"
---
NC State head coach Dave Doeren met with the media after the Wolfpack's Gator Bowl loss to Texas A&M.
---
Opening Statement...
We have to give Texas A&M a lot of credit. They played really well in the second half. We hung in there in the first half and did not defend the edges of our defense well on the perimeter run game. In the first half I thought we got some of that corrected, but it was 21-13 coming out in the third quarter, and the game just got away from us and weren't able to get back into it. You have to give them credit.
For us, it's on all of us, and it's not the players' fault, it's not the coaches' faults, it's all of our faults and we own it that way. The biggest thing for me is this senior class is so special. I hate for them to have to lose a game that way, and I love these guys, and like I told them in there, there isn't a loser in that room. Every one of these kids is incredible to coach.
We've got a lot of work to do and I look forward to working with these guys when we get back from the break. But it's been an incredible ride with Garrett and this senior class, and like I told them in there, I'm thankful for what they helped us build. It feels bad losing a game like that because it feels bad. There's a lot of positive things that we're going to build on in the future, and I look forward to doing that, and that's probably the biggest thing.
And I will tell you they were more physical than us and all these different things and you can say we were missing players and all those different things, but the bottom line is they played better than we did, they coached better than we did, and I think that's the biggest thing. Our program will have accountability for it, we'll get back to work and I look forward to getting back to work with these guys.
Got some incredible dudes that have been here three, four and five years that are leaving our program, and I thank them for what they did for our program. I thank our fans that came to the game. It was incredible to have our fans here like that. It means a lot to our players, to our coaches. You're special people, and look forward to having you back with us in the fall.
With that, I'll open it up.
Dave, it seemed like you did really well on the line of scrimmage in the first quarter and they shifted somewhere in the second. What changed there?
What side of the ball are you referring to?
Defensively. Seemed like they weren't able to get yards and then everything flipped on the line of scrimmage afterwards.
Yeah, well, I think the first run -- I guess it was the second play of the game, long run, we lost leverage. Our nickel jumped inside of an out block, and he outran our defense. After that I thought we settled in pretty good. And then they started running some different pin-pull schemes, and we adjusted at halftime and took that away and they started getting us on some counters and I thought they did a nice job adjusting. We'd stop this and then they'd bring another deal out. We didn't tackle well enough.
Offensively, we had some good runs as we were spreading them out, but as we got behind more and more, kind of hard to get back in the game just running the ball, and that was part of that. I think when we were in four wides we were able to run the ball pretty effectively. But we were banged up there at the end. We had a bunch of our linemen out, and Terronne was limping and Ricky was limping around and so just weren't full strength, and that hurt a little bit.
Dave, it seemed like you guys kind of had momentum there in the second quarter after the fourth-down stop and then weren't able to capitalize on that. How much did that hurt you guys?
Well, it hurts. They jumped out on us. Our guys rallied us back into the game. Chris Dunn made a couple of kicks. CJ made a nice touchdown catch and the defense had a stop and we just weren't able to make that a score on that drive. Like I said, we went into halftime 21-13, coming out with the ball, felt good about it, and then we had a pick six, I think, in that drive, and things just kind of got away from us at that point in time and we didn't stop them defensively in the run game and offensively we couldn't get anything going. You've got to give them credit in the second half. They outplayed us.
Your thoughts on Williams, and is he the best back you've seen this year?
I would say so. I thought he's a tremendous player. He's all-SEC player and leading rusher in that conference, and their offensive line does a nice job blocking for them. But he's a really good back. Him and Etienne would probably be the two top backs we saw this year.

What did you say to Ryan when you pulled him from the game at the end and your thoughts on his legacy at NC State?
Ryan has done a tremendous job here, he really has. At that point in the game, same with Garrett, they've given us everything, and we were out of it and didn't want to put them at risk at that point. It was good for Matt to get those reps, too. I think that was valuable for him. Any time you can get in as a quarterback in a real situation and play, those are good reps for him, and he'll learn from those reps. And even though they weren't good, they're good learning material for him.
That was kind of -- you don't want to put Ryan in that situation, especially when Garrett was out and Big T was out just from a protection standpoint.
Ryan's legacy, back-to-back nine-win seasons, when was the last time, 1991? And the number of records he had, and I think part of it, too, that you guys don't get to see, but just the way he prepared, the way our younger quarterbacks got to see him prepare, he's probably one of the most elite guys that I've been around when it comes to his preparation and his daily, just process and coming to work and handling his business and doing things in the classroom and the way he treats people.
He's an incredible role model for our younger players. I'm blessed to have been in his life as a coach, and he thanked me after the game for the opportunity, and I thanked him for letting me coach him the way he did.
It's a great group of guys. The hardest part today to be honest, losing the game is hard, but losing these players is harder. You just build such relationships with them and you care so much about them, you hate to see them go out that way. I'm going to miss coaching those guys. They mean a lot to me. They've been here with me for a while.
Dave, you had a great drive going there in the third quarter before that interception for a touchdown. What did you see from the sideline as far as did the guy do a really good job of anticipating the route? What did you see?
Yeah, they dropped eight into coverage, and the Mike backer came off the No. 3 receiver and undercut the route, made a really nice play. Ryan didn't see him. So it was a good job by them on defense, and obviously one Ryan would love to have back.
Dunn made two pretty long field goals there early in the game, including his season long. How much confidence did that put into the team, not only in this game but throughout the whole season?
Chris Dunn has got an incredible future.
We have complete confidence in him, and it was great to see him kick the ball like that. He's a weapon, and so it's great to have a freshman kicker like that knowing you're going to have him for a couple more years.
Never miss the latest news from Inside Pack Sports!
Join our free email list