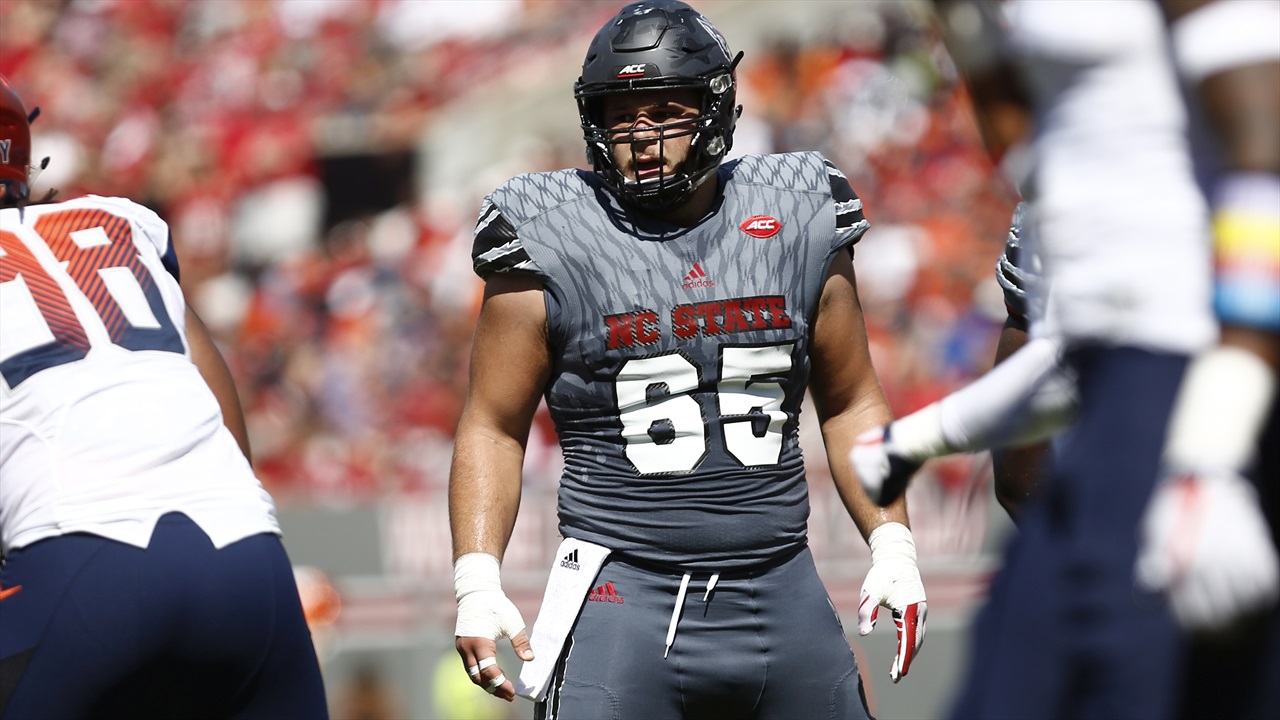 NC State Football
Bradbury Ready For One Final Run With His Teammates
---
NC State senior center Garrett Bradbury is focused on helping his team win the TaxSlayer Gator Bowl.
---
How has Jacksonville been so far?
It's been awesome. It's nice that we're right on the beach, phenomenal view from our hotel rooms. It's been active, we've been going and going and going. We go to practice, go to Top Golf. Go to practice, go to the Navy ship. It's been fun, you want to stay busy. You don't want to be bored.
How have practices gone?
Good. Crisp. We know why we're down here, to get a win. I think everybody understands that. We have an experienced team and good leaders to get everybody focused in. We're ready to work when we need to work.
Is the team prepared to replace Pratt and Harmon?
We played without Pratt and Brock stepped up well in the Chapel Hill game and we have a receiving corps that's as deep as anybody in the country. CJ Riley is going to step up and Jakobi is going to do what he always does. I expect no drop off.
What do your individual awards mean to you?
You care, but not from a selfish perspective; you see how excited everybody is for you and how many people poured into you – from coaches to players, high school, college coaches and players. It's special to share that with other people even though it is an individual award.
Is there any extra significance on what you've done because you were basically unrecruited?
You know how you are as a player talent wise. I didn't have any offers and probably not any stars either. You see every year guys who weren't recruited end up being great players because you don't pay attention to that stuff. When you do, you lose track of what you're supposed to focus on. That stuff doesn't matter.
Are there any similarities between FSU and Texas A&M?
The similarities are from the offensive perspective which we don't look at. Their defensive coordinator came from Notre Dame last year and Wake Forest the year before that. A lot of similar things that we've seen the last two years which is good and has us excited about competing.
Is there any significance to winning a tenth game?
We just want to win this next game and then look back on the legacy we've left as a senior class and as this team. We want one more win to celebrate with the team and the coaches.
Is NC State trending upwards?
Absolutely. It looks a whole lot different than it did five years ago and that's a good thing. It's a testament to the past few senior classes we've had, the leadership we've had, and awesome coaches.
How would you describe this week emotionally?
There's been a lot of laughs. It's not bittersweet, it's not sad, I'm just content. It's been an awesome five years at NC State and I'm excited about where I'm at. I'm enjoying the last few days with the seniors who've been here for five, four, three years. It's special because you're taking it all in and thinking about where you're at in your career. It's not bittersweet.
Never miss the latest news from Inside Pack Sports!
Join our free email list