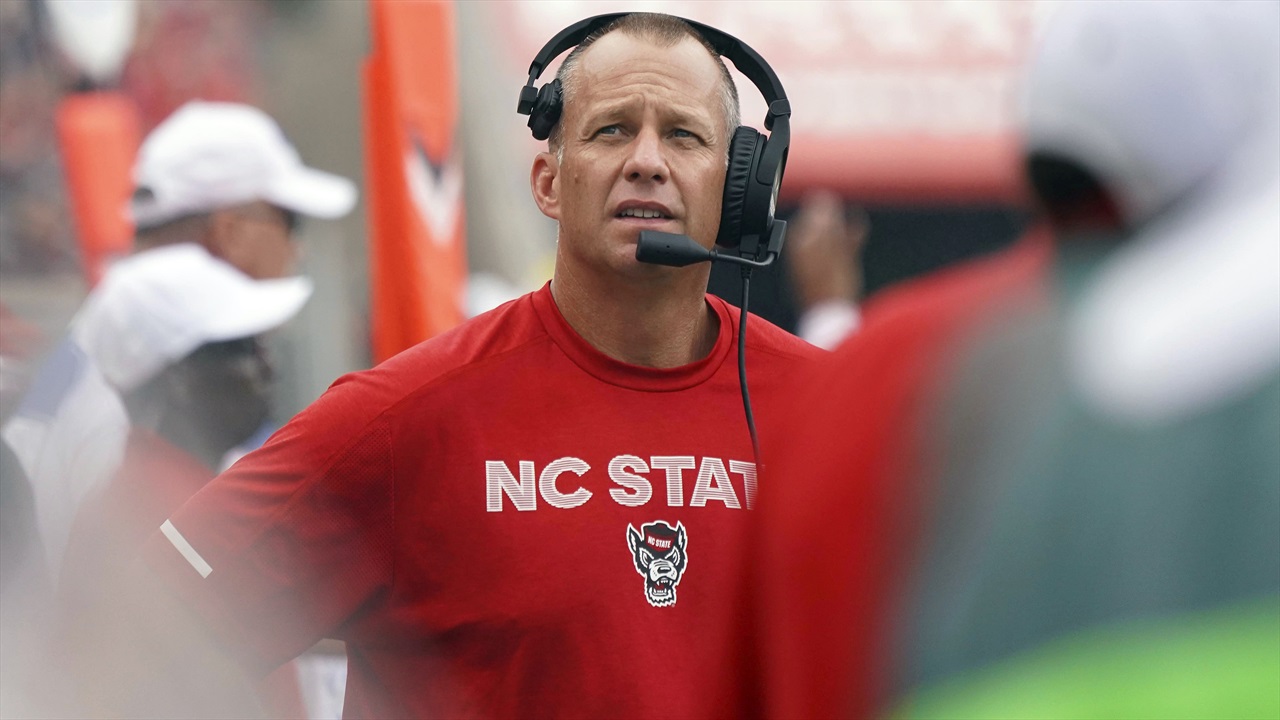 Photo by USA TODAY Sports
NC State Football
Doeren On Drinkwitz's Opportunity, The Future of NC State's Offense
---
NC State offensive coordinator Eli Drinkwitz has officially been hired as head coach at App State, a move Drinkwitz earned after an extremely productive three seasons in Raleigh.
Following a 9-4 season in 2017 with a 9-3 mark going into this year's bowl game, NC State has posted back-to-back seasons of nine wins for the first time since 1991-92. Averaging 35.6 points per game this year, the Wolfpack has a 1,000-yard rusher for the third straight year, two 1,000-yard receivers, and a quarterback with nearly 3,800 passing yards.

Under Drinkwitz's direction, the Wolfpack offense rose from 63rd nationally in total offense in his first season to 25th in 2017 and 16th this season.
State is on pace to set the school single-season record for total yards per game.
Wolfpack head coach Dave Doeren is happy for the opportunity Drinkwitz has earned.
"I'm very happy for Eli and Lindsey for this opportunity and I know he's going to do a great job at Appalachian State," Doeren said. "It's a proud moment for me as a head coach to see coaches from my staff take the next step in their careers."
The question now for NC State is what is next for the Wolfpack at offensive coordinator? Doeren seems pleased with the current system in place in Raleigh.
"Although I never like to lose quality coaches, it's a testament to the success of our program that members of our staff are being pursued by other schools," he said. "A cornerstone of our program at NC State is development, not just for our players, but also for our staff. Seeing my coaches advance in their coaching journey is a testament to that development.
"We have developed a unique offensive system that is very effective. I love it, our players love it, and prospects love it, and we don't plan on changing something that has been so productive. We have, and will continue to have, great assistant coaches and I am looking forward to this opportunity to grow, improve, and continue to build on the great success that we've had."
Never miss the latest news from Inside Pack Sports!
Join our free email list