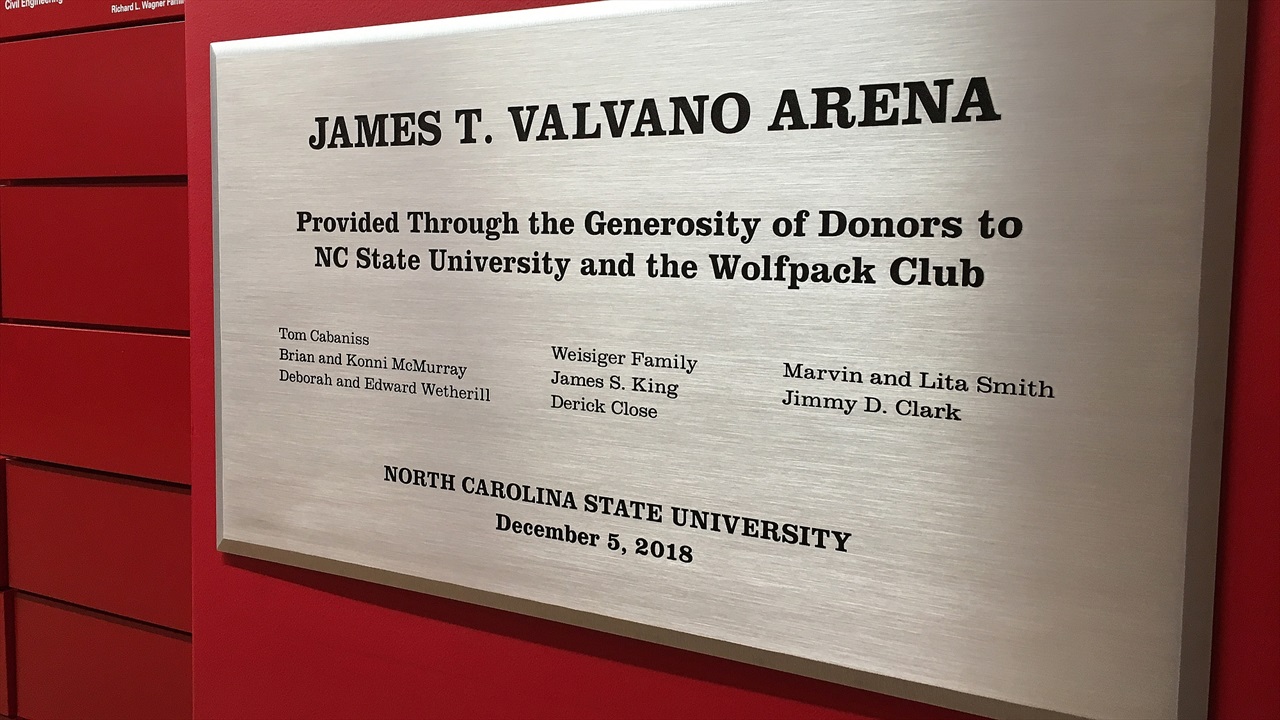 NC State Basketball
MCLAMB: Valvano's Name Completes Reynolds Restoration
---
The renovation now seems complete.
NC State's Old Barn is now a modern masterpiece. The official name it will use for basketball is quite a mouthful: Kay Yow Court in James T. Valvano Arena at William Neal Reynolds Coliseum.
The Wolfpack thumped Western Carolina, 100-67, Wednesday evening in what was the conclusion of a special day in Raleigh.
The renovation of Reynolds Coliseum, coupled with the new and improved Talley Student Union, means the heart of NC State's campus is centered around two facilities that radiate both history and modernism.
Older NC State alumni and fans will be drawn to the facilities for nostalgia. The youth, including those that may potentially attend the university, will be more keen on the 21st-century features.
It is not easy to draw back on heritage while moving in a futuristic direction, but naming the arena after Valvano does accomplish the feat.
Valvano endures. His message will carry on. It is amazing that someone who passed away 25 years ago can have such a legacy that those born since 1993 would still have a deep knowledge of his impact, yet NC State players afterward mentioned how important it was to them to contribute and represent the program in the historical moment.
The ceremony prior to the men's game was wonderful but not overblown. The tone was ideal.
Kevin Keatts also seems to get it when it comes to honoring the background of NC State, including his predecessor. It is difficult for a grown man to wear a red suit along with shoes that have red wolves heads on them without making it about himself.
Keatts did not upstage, but merely accentuated the special nature of the day.
And it was a day that started with the NC State women's basketball team playing on Kay Yow Court in front of a crowd that was comprised mostly of children. Yow and Valvano are indelibly intertwined, and it is appropriate that both have their names linked within Reynolds.
The children present do represent the future, and the facility they were in has the wherewithal to be there when it is their time. Hopefully, in their lifetime, the disease that both namesakes within Reynolds fought so vociferously will be eradicated.
Often a person gets mythologized after his or her life ends, to a point where one might become unrecognizable with who he or she really is. Valvano and Yow will never have that problem. The curing of cancer will only be the beginning of their legacy. If cancer is cured, or better yet when it is cured, the message of fighting on through a malady or never quitting will remain viable.
And so the balance of honoring the past while looking to the future was once again met perfectly at NC State. The naming of Valvano Arena runs a little deeper than just placing a plaque on the wall inside of a building. Its impact will be felt well into the future and fits ideally with the renovation of Reynolds Coliseum, which now feels complete.
Wednesday, December 5th, 2018 was a special day for North Carolina State University.
Never miss the latest news from Inside Pack Sports!
Join our free email list