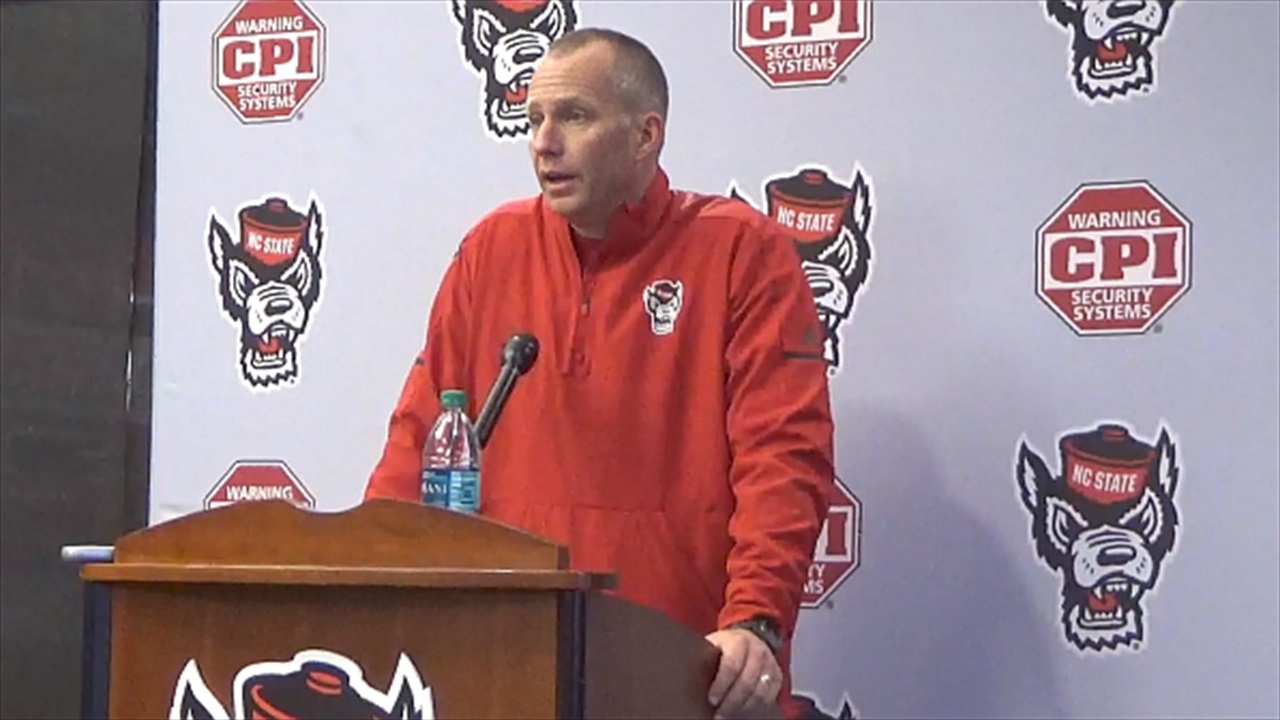 NC State Football
Doeren: "This Is A Really Good Football Team"
---
NC State head coach Dave Doeren met with the media after the Wolfpack's 58-3 home win over East Carolina.
---
Opening Statement...
I'd like to say how awesome it is to win at home for the senior class in their last time in the stadium. I'm really thankful to our players for playing that way for those kids. A lot of fun stuff happened in that game.
This is a really good football team.
This is the third time in school history that we've won nine games during the regular season. We have a school record number of all-conference players and we're coming off a nine-win season with another nine-win season.
I think we're a team that should be ranked in the top 25, in my opinion with only three losses and nine wins. I think we deserve to be in an elite bowl game. I know our fans will travel to support us wherever we're going.
We're really excited for the opportunity to play a great opponent and we hope we get selected for a great bowl game. We look forward to finding out tomorrow where we're going.
We put up 58 points and 655 yards. We were scoring touchdowns and breaking records with a ton of players and it was an absolute blast. We played almost everyone on our roster that we could play today. It was awesome for a lot of guys to get playing time and break records like Reggie Gallaspy, Jacobi Meyers and Chris Dunn. What a day, wish we would have had the shutout, but outside of that it couldn't get any better.
On Wolfpack Nation...
To our fans that were here for four quarters, you guys are awesome! Thank you so much and I know our seniors thank you for that as well. That's big time. To see the progress that we've made and the way that we played today in back-to-back weeks against in-state teams.
In my opinion, this is the best football school in the state of North Carolina with the best fan base and we're going to do everything we can to keep it that way. We're going to recruit the best players in the state to stay home and attract the best players from out of state to come here.
We're doing everything we can this week to get our guys healthy and we're going to fight our butts off to get win number 10.
To hear the fans chanting Reggie...
It's like he's become the spirit of our team with everything that he's gone through. He's so tough and it's been a special season.
On the senior class...
We have such a special group of seniors and there have been a lot of injuries at times and smoke and mirrors with young guys playing, but I'm really proud of this group. Defensively, to hold anyone to 100 total yards is pretty special.
On the Garrett Bradbury touchdown run...
It's been going on for about three weeks. I really wanted to run it last week, but Reggie was kind of hot.
Seniors playing in front of Wolfpack Fans for the last time...
This week for me was senior week. Not that I didn't make a big deal about it on Senior Day. This one for the coaching staff was more of a senior sendoff.
On the importance of today's win against ECU...
It was important. I've been hearing that for three years now. I thought we played well today, and I thought our guys were ready to play.
On Jakobi Meyers...
He's so consistent and such a good ball catcher. When you have an inside target and an outside target, it's tough to defend. I think Kelvin and Jacobi feed off of each other.
Never miss the latest news from Inside Pack Sports!
Join our free email list