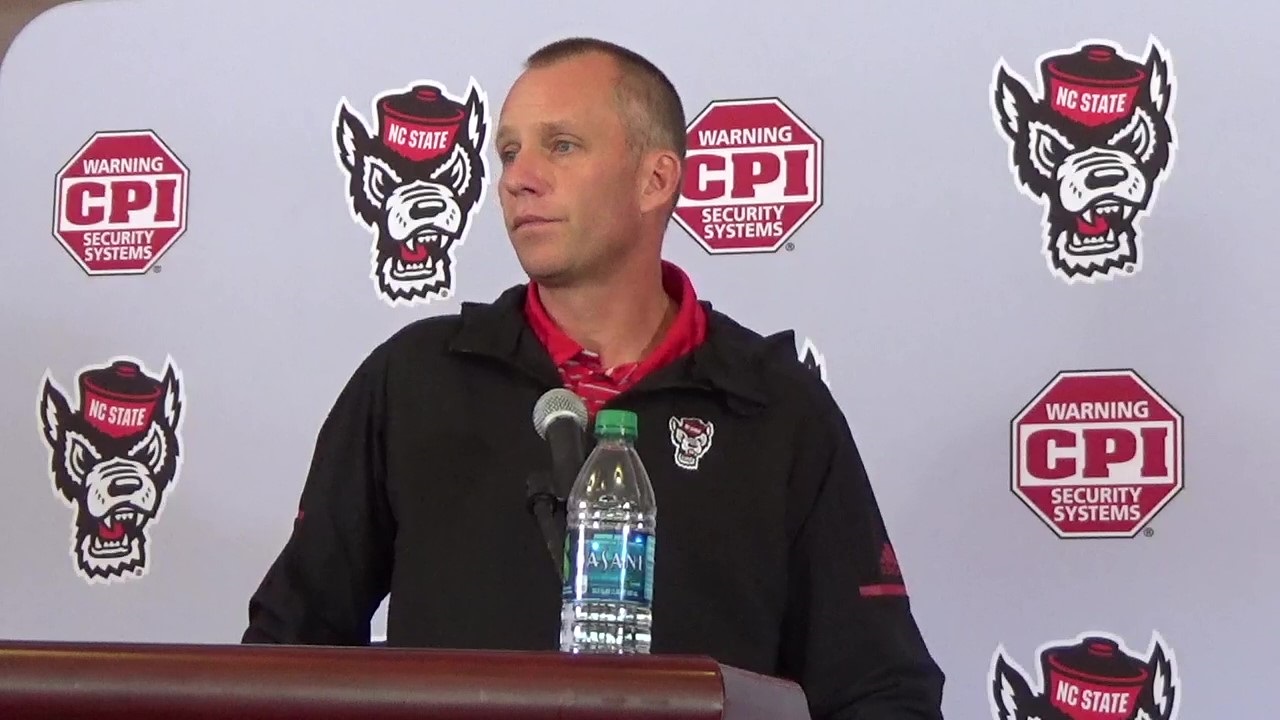 NC State Football
Doeren: "It's Very Disappointing"
---
NC State head coach Dave Doeren met with the media after the Wolfpack's 27-23 home loss to Wake Forest.
---
Opening Statement...
I take responsibility anytime my team doesn't play the way that it can and I do. We had a lot of opportunities and there is a lot of things that happened throughout the course of the game that led to the result.
There is a lot of critical downs in the red zone where we didn't get touchdowns for a variety of reasons. Settled for three field goals. We had some drops that were very uncharacteristic of guys on our team that cost us points or first down.
We didn't win the line of scrimmage, offensive line against their defensive line. They did a nice job with their scheme and we didn't adjust well enough.
I thought we played in the first half on defense pretty well and then the second half - particularly in the fourth quarter - gave up some explosive plays and the last play we were on a blitz and had a bust. We had a safety there to tackle it and he ran into somebody. Disappointing. Very disappointing.
I thought we prepared well, but you get in the red zone as many times as we did in the first half and only get 13 points and you can't put the game away when you had the chance there at the end, gotta make some plays there and obviously have to do a better job giving our guys a chance to make those plays.
I own that.
On the team trying to block out the talk this week of a 4-0 finish to the season...
I don't know exactly if it is that or was it senior night for some of those guys or was it something else. I definitely don't think offensively we were crisp in the first half.
What was the exact reason for that? I'm not sure. Was it the talk of what they could end up being? Was it the talk of seniors and three offensive linemen being seniors and being emotional at the beginning of the game?
I'm not sure.
On Wake Forest's offensive adjustments in second half to get big passing plays...
They threw two bombs and made really good catches. Those were two really good plays by them. I don't think they did anything other than chuck it and have two really good catches made by receivers. We had defensive backs on them and they made great plays right there. You have to give them credit.
One of the other drives they started running their quarterback. They hadn't done that play in the first half so it was a new play. They started flaring their back and pulling their tackle. The defense we had been playing was working very well against the rest of their run game so that was a good adjustment by them.
They got us on a little pick play. It wasn't illegal, but they ran a rub route and our guy couldn't get over the top on (WR-Greg) Dortch on the one that he caught. That was a good play by them, but with all that being said we had plenty of other chances to put that game away and they made more plays than us.
That's really what it comes down to.
On Wake Forest's defense eliminating the Pack's running game...
You saw penetration in different places, sometimes it was an end coming inside, sometimes it was a backside linebacker, sometimes it was a three technique, but it was a variety of thing we weren't doing well and not executing and picking up things they were doing.
We rushed 27 times for 47 yards and in a game where you had a lead, could you run the football there and adjust better and stay on blocks and finish and all the things that we coach and our guys have been better at throughout the season just didn't happen tonight.
We have to get back to work and fix that.
Do you think Kelvin needs the ball more in the redzone?
We tried to go to him earlier down here and I thought he got held really bad but they didn't call it. That was the discussion I was having on the sideline.
We tried to go to him two times and on a corner route... that particular play we threw to Cary on and he was wide open and he dropped it. It was a bootleg to Kelvin, that's why we called the play, and the corner had his arms around him, that's what I saw. The tight end came open, we threw it, Cary has great hands, he just dropped the ball, you know?
There were several plays where we wanted to throw the ball to him, but he needs to be open.
More on the redzone...
Bottomline is we need to score more touchdowns in the redzone.
At the end of the game we were up by three and I could have kicked the field goal to give us a six-point lead but I feel like that doesn't protect you from losing the game. They were out of timeouts.
We have to be way better down there. You don't want to be in a situation where you're under 50% on touchdowns-field goals in the redzone. It's hard to win games like that.
After a loss like this which takes a way a chance at a 10-win season, and a chance to be undefeated at home, what do you say to the team?
Well, we can still win ten games. We win out and win a bowl game that's ten wins, so that isn't one yet.
I'm disappointed. I wanted to be undefeated at home. It's going to sting and we'll feel it for a few days. We'll get back to work and get back to executing.
All the people who were praising us will say what they will say, but we have to get back to work. This team won't quit.
Never miss the latest news from Inside Pack Sports!
Join our free email list