Photo by GoPack.com
NC State Football
Meyers Ready To Make A Name For Himself
---
Jakobi Meyers has worked maniacally to get to where he is at this point in his college career.
The time is coming for him to take the next step.
A redshirt sophomore from Lithonia, Georgia who was recruited as a quarterback, Meyers was handed the coveted No. 16 jersey upon arriving at NC State.
The Wolfpack had plenty of weapons at quarterback and have added more since his arrival. Meyers saw the writing on the wall.
After being thrust into a wide receiver role last season, Meyers has now had a full offseason to adjust to his new craft. He made the two-deep on the depth chart for NC State's season opener versus South Carolina Saturday in Charlotte.
"Coach Doeren saw something in me, and he asked me to make the change," Meyers said. "I would rather play than sit on the bench. That was an easy choice for me.
"I will do whatever they need to do, basically. You know we have got a lot of great players. They all need a break sometimes so when they need a break and rest I will just step in and fulfill my job."
Part of doing what it took to do his job meant bulking up with a vigorous offseason training regimen designed to bulk Meyers up so that he could handle the rigors of blocking while maintaining his speed.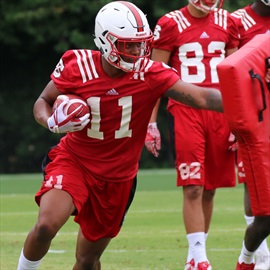 Inside Pack Sports
While plenty in the world put on weight with ease and would kill to be too skinny, adding the mass required for success was a challenge for Meyers.
"It wasn't easy at all," Meyers said. "I tried to put in on. I knew I wanted to be around 200 pounds. At the time I was like 180 to 183. I had to do something to fix it. The whole summer I went out every day with a plan to gain at least a pound a day or to try to do something to make sure I stayed my weight.
"[Members of NC State's conditioning staff] are always motivating me to get my weight up or get stronger. I know it is a process, and I just enjoyed it the whole time."
Meyers had no personal basis of reference when he was asked to move from quarterback to wide receiver.
The only wide receiver-related experience he had prior to the move was throwing the ball to them in high school.
"I had never in my life," Meyers said when asked about playing wide receiver before attending NC State. "This is quite new. Blocking and running. The hardest part was getting in shape honestly. It was a lot of running compared to being a quarterback. It was a big change.
Meyers playing wide receiver can give NC State offensive coordinator Eliah Drinkwitz some trick play options. He cautions those who think he is the only player talented enough for chicanery.
"I think we have got a lot of players like that," Meyers said. "We have Gavin [Locklear], J-Sam -- there is a bunch of us that give options. I think we are really talented this year. We can do a lot of things with a lot of players."
The individual and team goals in 2017 are clear to Meyers.
"My goal is to become a factor this year, just get my name out there and show I can make plays just as well as everybody else," Meyers said. "For the team, I just want us to win. We have got a great chance this year, and we have got to do what we can do to capitalize on it."
Drinkwitz has seen it over the summer. He now wants to see Saturday.
My goal is to become a factor this year... just get my name out there and show I can make plays just as well as everybody else.
"He has had a good fall camp," Drinkwitz said. "Here is the deal, all that fall camp stuff is over with now. It is who produces on Saturdays.
"I am extremely excited to watch him play. He has done a great job molding himself into a wide receiver but at this point now, it is about producing on Saturdays. That is what we are looking for."
As for Meyers? He understands the importance of producing when it counts.
"I am getting better," Meyers said. "I just always work on it but I think I am a lot better than last year. I have got to just keep progressing.
"I think I was kind of free-styling it last year. I wanted to be more disciplined in my routes and come off the ball full speed at all times."
"I am just grateful for the opportunity," Meyers added. "I thank God that they saw something in me that they would at least give me the chance to try wide receiver. Most people don't get a second chance. I was just blessed with another one. I am thankful to the coaches and I have just got to keep putting in the work. I can't be proud yet. I have not proved anything."
Never miss the latest news from Inside Pack Sports!
Join our free email list