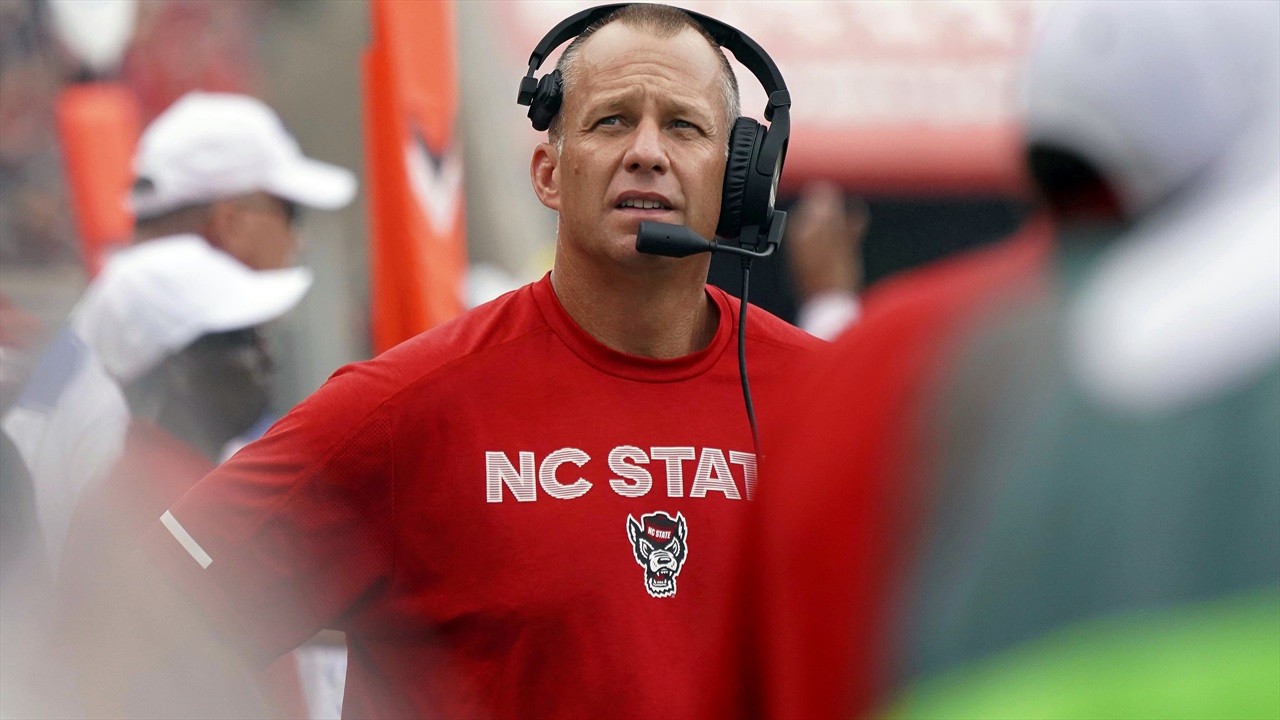 Photo by USA TODAY Sports
NC State Football
Doeren: "I'm Proud Of Our Football Team"
---
NC State head coach Dave Doeren fielded questions from the media on the ACC's weekly teleconference.
---
Opening Statement...
I'm proud of our football team, had a great win this past weekend over a very good Boston College team, and playing a team at the time that had led the ACC in plays in the backfield and tackles for loss and sacks, and gave up no sacks. I thought that disruptive part of the game we won. Defensively playing more in their backfield than they did in ours, and it's easier said than done against a physical team.
I thought our run game was very efficient, and I thought other than two mistakes Ryan made, I thought he bounced back well and played a heck of a game. Our receivers, Jakobi Meyers, having him full strength again, and having Kelvin had another very productive day, and the running backs, Reggie had his first 100-yard game, which was great for him, and Ricky gave us another support with some explosive runs, and I thought defensively we really responded well to some tough situations from a field position standpoint. We turned the football over too much, didn't play well enough on our special teams units, and obviously need to coach those units better, and I own that with a punt block that we gave up at the end of the game that shouldn't have happened.
But a great win and fun to see our team just continue to battle and never flinch in a football game. Probably couldn't have played any better than we did in the first half, and now get a needed week to rest and recover and kind of reset as we get ready to play a really good football team in Clemson.
I'm actually writing an article about transfers at the quarterback position, and obviously Ryan has been with you guys, but he was a transfer, and I was just wondering if you had any thoughts on the advantages that the transfers can bring, especially at the quarterback position.
Well, you know, I think it starts with what you're trying to get on your roster. We've had success here with Jacoby Brissett before Ryan, and now Ryan, and when you have a hole in your roster that's created either through injury or attrition or a position change, which is what we had with Jakobi Meyers and Dylan Parham changing positions, getting an older player to compete fills in a hole in your roster, and for us at that time, we had a major hole in our roster. We had Jalen McClendon, who we really liked, and nobody with really any experience to compete with him. So Ryan came in to give us that second older player, and then the competition started from there.
With Jacoby Brissett it was different. We didn't have anybody here at the time that we felt like we could win games with, so he was the oldest quarterback and the most talented quarterback, and it's different than taking a junior college guy. It's a guy that was a qualifier in high school. It's a guy that sometimes is a graduate from a college, and they're just very mature and have been through some adversity, so they come in with some thick skin ready to compete.
Driving to the game I was covering Saturday, I was listening to yours on radio, and it seemed every 30 seconds they mentioned Germaine Pratt's name. Was that the way it looked on tape to you, as well?
Yeah, he had a great game. He really did. He was very productive. He prepared well. He was ready for what plays were coming at him. He adjusted well to some new plays, and he made good calls.
The tough thing about BC is they're lining up in a lot of unique formations, and they're doing it at mach speed, so the linebackers have a lot going on in that game mentally. So I was really proud of him, not just for how he played but how he ran the show out there and got people lined up.
And then just overall defensively, I think maybe conventional wisdom might have suggested that when you lose, what was it, eight starters off last season that you might level out defensively, but you've taken this big leap forward. Did you anticipate this much of an upgrade defensively just given what you lost last season?
Yeah. Well, I mean, it says a lot about these kids and Coach Huxtable and that defensive staff.
There's been several guys, Germaine is one of them, that have been waiting their turn. James Smith-Williams, you know, Eurndraus Bryant, these guys have been waiting to be the guy, and they're taking advantage of their opportunity, and that says a lot about them, one, that they didn't transfer when they weren't the No. 1 guy, they kept working and grinding and being a great teammate, and now that it's theirs, they're seizing the moment, and we weren't replacing seniors with freshmen, so we developed the players, we recruited good players, and they're kids of high character that when they have adversity they continued to battle.
It's what you want in your program. When you lose your veteran guys, you want the next line of veterans waiting their turn that have game reps, and we had that at a lot of the positions.
What are some of the points of emphasis during the bye week that you guys are going to be really focusing in on with Clemson next?
The first thing we do Monday as a staff is go through every game, and we create lockers on all of our players that have significant reps and their positive plays and their negative plays, and then we bring them in Monday night and show them to them. Together with the player, talk about where they are and what they're doing well, what we want them to continue to do well, and then where their areas of focus need to be in practice over this current week that we're in, so as we get ready for Clemson, we're taking some of our weaknesses and removing them from the field. It's kind of a part-to-whole approach where if each player does that, as a team you're collectively a lot better.
We do that offense, defense, and special teams, and so for today's practice and tomorrow's practice we'll get a jump on Clemson with some of their stuff, but a lot of it is just about individual improvement across the board.
I remember before the season Ryan talking a lot about sort of embracing this sixth year and trying to kind of mature and embrace the entire spectrum of what it means to be the leader of this -- not just the offense but the whole team. I'm curious from your perspective having been around him for three years now, do you feel like he has sort of taken that next step just both on the field and off the field in terms of how he's sort of handled this season so far?
Absolutely. The thing that you love about him and Germaine Pratt, who I think are two vocal guys, they don't flinch.
They make mistakes, they learn from them, the next play is the most important play, and those are things that when your best players do that, it helps the rest of the team immensely because they can see, hey, this guy made a mistake, like Ryan threw a pick and the next series he's out there playing and playing well and still throwing the type of balls we need him to throw and not being gun shy.
I think he's very resilient. He's very focused, and he cares a lot about the guys around him and he's encouraging but also demanding, and he's doing a great job with the role that he has.
Never miss the latest news from Inside Pack Sports!
Join our free email list