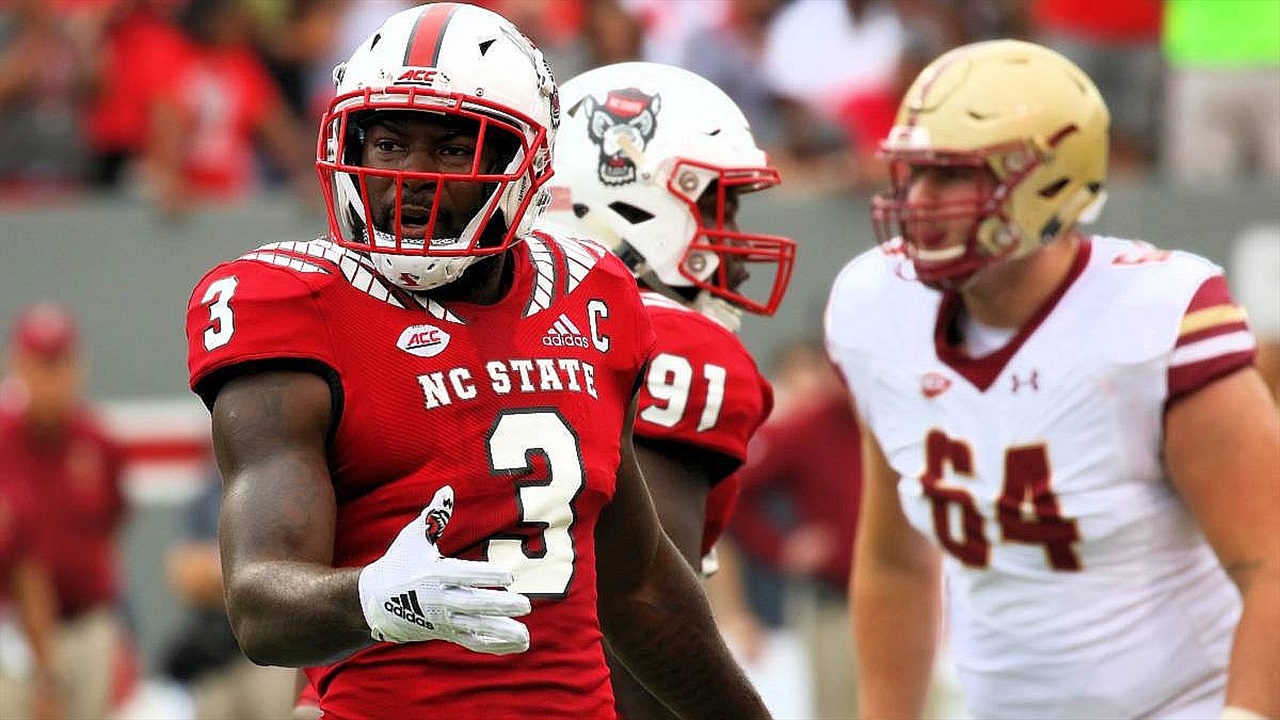 NC State Football
Pratt Keeping Things Level
---
Germaine Pratt had a monster game Saturday, and NC State has the potential to have a special season with a huge matchup with Clemson looming.
Basically what that means for Pratt is it is just like any other day.
The senior linebacker was a force against Boston College, finishing with 13 tackles and a sack as the Wolfpack moved to 5-0 overall and 2-0 in the ACC with a 28-23 win over the Eagles.
After the game, Pratt looked as though it was a typical workout.
Whether the topic was the win over the Eagles or the matchup of the Atlantic Division's lone unbeatens in two weeks, the defensive leader just seemed intent on focusing on the moment.
"I think we can take it day-by-day and get better as a unit because we are a good football team," Pratt said. "There is talk outside, but inside we know that we have got great pieces on offense and defense. We just keep getting better each and every day."
The preception-range for the defense during the offseason spanned from doubt to being maligned at times.
This year's unit, sans the plethora of seniors from the 2017 squad, is holding its own. The NC State defense is a big reason why the Wolfpack is off to its best start since 2002.
Is NC State's defense actually better in 2018?
"Statistically you would say yes, you know?" NC Sstate head coach Dave Doeren replied when asked that question. "I don't think we have as many disruptive plays as we did at this time last year. We forced more turnovers, but other than that, our scoring defense, our third-down defense, and our redzone defense -- those are the top-three things that matter -- are better."
Pratt is not privy to the statistics, or perhaps he's simply uninterested. He is focused on the moment and winning, but he did offer his thoughts on the 2018 unit.
"I think we are more hungry than last year's defensive team becase some people had entitlement there," Pratt said of the NC State defense this season. "We still, with our group, we are just trying to get better."
Next up for Germaine Pratt and NC State's defense is a massive challenge against Clemson in Death Valley.
Is NC State ranked high enough? Does the Wolfpack's defense get enough respect? How big is the Clemson game? Is a conference title a real possibly?
There are many questions, but for Pratt the answer is simple.
"We are not worrying about what outside people are saying about us; we are just going to keep getting better as a unit," Pratt said. "When we are on the field, we know we have got to get a three-and-out and get the ball to the offense in a great position to score."
Never miss the latest news from Inside Pack Sports!
Join our free email list