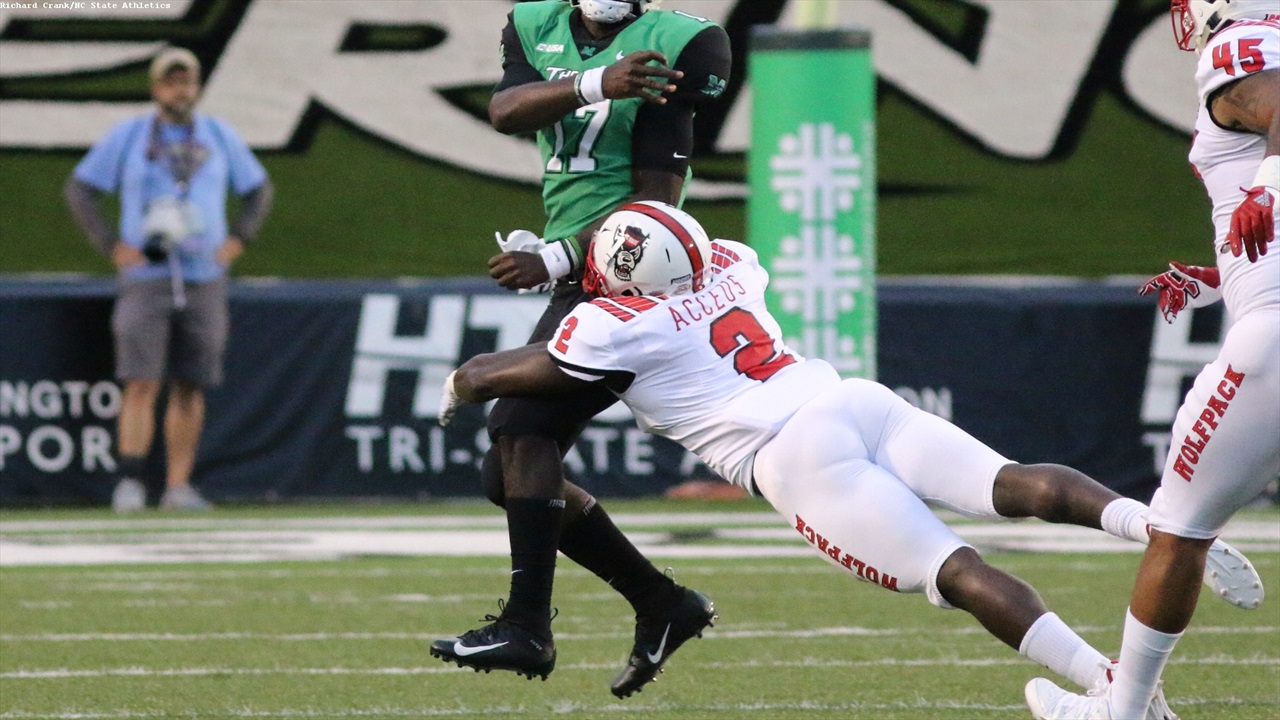 Photo by Richard Crank/NC State Athletics
NC State Football
Acceus Shines In First Career Start
---
Sophomore linebacker Louis Acceus found out in the middle of the week that he would be making his first career start on the road at Marshall. He leaned on star senior linebacker Germaine Pratt for guidance in the days leading up to the game.
"He's the leader of the defense so he gives everybody advice on everything," Acceus said of Pratt. "He's been here for a long time, like five years, so he knows the defense like the back of his hand. Whenever he sees something that I might not see, he'll call it out and tell me. Whenever I mess up on a play, he'll tell me the correct technique. He's a great leader and a great person to have to play beside."
Excited, Acceus still maintained a level-headed mindset.
"I was focusing on one day at a time," Acceus said. "Have a good day at practice and then get inside and watch film, correct everything. When it comes to Saturday, ball out."
He certainly did that. Acceus played 67 snaps at Marshall, finishing with nine tackles and a quarterback pressure in the 37-20 win.
"I looked like I was having fun," he observed when watching back the film from the win. "Just running around and making plays because it was my first start of the year. I took advantage of the opportunity... go out there and do my job, play the game I love and have fun."
NC State used Acceus in a variety of ways. A prep safety, Acceus has the speed and lateral quickness to excel in coverage, but also the athleticism and strength to be a quarterback spy and situational blitzer. He was frequently in the backfield, pursuing Herd quarterback Isaiah Green.
"I loved blitzing," Acceus stated. "It's my favorite part of being a linebacker. You don't have to worry about anything, just go get the quarterback, that's my mentality. It's fun for me, it's what I like to do.
"It affected him a lot because he's trying to scramble to find somebody. When you have pressure in your face it's hard to see down the field. It resulted in a sack or him throwing it away. Hopefully this week we can get more sacks; we were back there last game, we just have to get him on the ground."
This week's challenge will be similar with Virginia coming to the town. The Cavaliers are led by quarterback Bryce Perkins, a dynamic dual-threat athlete who can beat you with his arm and legs. Perkins has tossed nine touchdowns in four games, but he's also attempting 15.5 runs per game with another three scores coming on the ground.
What has Acceus seen from Perkins on film?
"You have to be worried for the draw," he said. "He'll take off in a split-second and make something out of nothing and take off for an 80-yard run for a touchdown. We need to keep our composure, stay under control, and shut him down by playing our keys and playing our game."
The goal this week is simple: make Virginia win through the air.
"Keep the quarterback under control," Acceus replied when asked what the keys to the game will be for the Wolfpack. "He's a really athletic quarterback, and they have a really good running back. We're trying to limit the running game and then take control of the whole game.
"[Jordan Ellis] is a good running back. Physical, carries the ball well. Hopefully we can keep him under 100 yards, I don't think we've allowed a 100-yard rusher so far so hopefully we can keep that streak going, keep him under control."
Regular middle linebacker starter Isaiah Moore resumed practicing this week, and he could return, but Dave Doeren added that with Acceus playing well he feels even better about a position that was a question mark coming into the season.
"I was proud of Louis," Doeren said. "He didn't flinch and he looked like he had been in there for multiple games. I thought he made a lot of plays, looked quick, and had his eyes in the right place. He communicated well with the front so I thought it was great.
"I know it gave coach Hux a lot of confidence to be able to play him more because Isaiah had practiced a lot better than him up until that week. Now you know that when you put a guy in you're going get what you coach and that helps."
Acceus understands why some had questions about this year's defense, a group that through three games is leading the ACC and No. 7 nationally in scoring defense. However, it's clear he's moved on to now.
"Last year's team was last year," he said. "We're a new team... we have new players. We have more athleticism at linebacker so we're able to do more. If we're not even with last year's team, I think we're better. We're gaining experience every game and just getting better. I think we are living up to our own expectations."
For Acceus, Saturday's game in Carter-Finley Stadium could be his first opportunity to receive extended snaps in front of Wolfpack Nation.
"It'll be amazing," he said, smiling. "Playing in front of my fans for the first time. Having their support, my teammates' support, it'll be a great opportunity and blessing."
Never miss the latest news from Inside Pack Sports!
Join our free email list