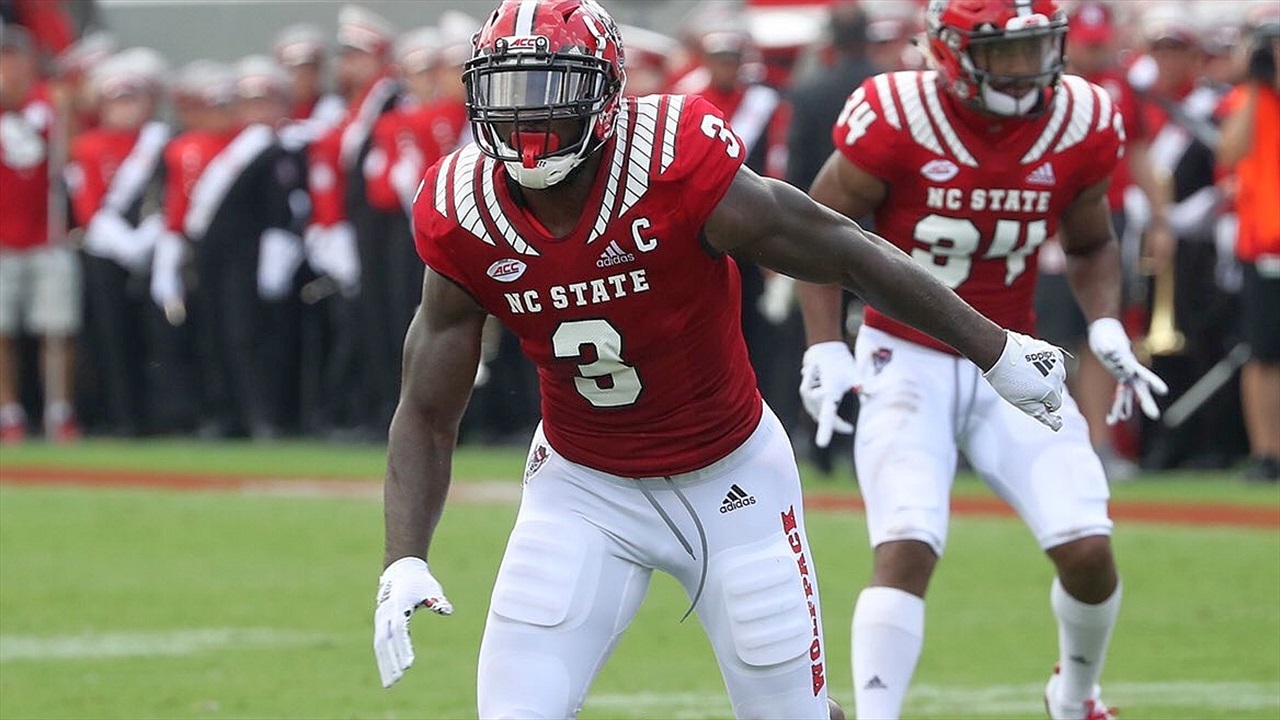 Photo by NC State Athletics
NC State Football
Pratt Striving To Be Even Better
---
Germaine Pratt had high expectations entering his senior season. Last year he was extremely productive in a reserve role, and this would be his first real chance to be a full-time starter for the Wolfpack.
Through two games, he's performed well.
Pratt leads the team and ranks No. 4 in the ACC in tackles per game (9.5) and recorded his first sack of the season in the 41-7 win over Georgia State.
However, Pratt was modest when asked about his play.
"I've been alright," he replied. "I need to get better all the way around as a player."
Those types of expectations are needed to reach full potential, and that is clearly Pratt's goal.
"I just need to keep playing and getting better at every aspect," he said. "I just want to keep putting great things on film. I know I hop a little bit with my feet. I just need to play faster."
Pratt has the physical measurables, as he checks in at 6-foot-4 and 240 pounds with above-average speed. However, it is his football IQ which allows him to really perform at a high level.
"I look at tendencies, first down, second down, what their tendencies are," Pratt said when asked about his pre-game work in the film room. "I look at everything they like to do. What runs they do, how are the offensive lineman blocking, which lineman is going to block me... things like that."
A converted safety, Pratt takes pride in defending the pass, but he understands what the main focus is for the Wolfpack defense: stuffing the run. Regardless of the opponent, that is the goal, but being a ball-hawk is a priority as well.
"The first thing to do is stop the run," Pratt stated. "Then the DBs can challenge their guys in coverage. When the ball is in the air, it's our ball too, that's our mindset."
While Pratt's production has been expected, a big surprise has been Isaiah Moore, who is starting alongside Pratt at middle linebacker. The redshirt freshman is right behind Pratt in tackles, 8.50, which is fifth in the ACC.
What does Pratt think of Moore's play?
"He's a great guy," Pratt said of Moore. "He's doing better than me when I first moved to linebacker. His football IQ is great. He reads and react and plays fast. He's going to be a top player for us."
NC State's defense is allowing just ten points per game, but questions remain.
The Wolfpack would have had a chance to answer some of those questions this weekend against West Virginia, but with the game being canceled it won't get that chance again until the road game at Marshall on September 22nd.
For Pratt, the next game, whoever it is against, is always the next opportunity.
"It's a great opportunity to showcase our talent," he said. "We aren't just playing against average teams. It's an opportunity to show what our standard at NC State is as a defensive player."
Never miss the latest news from Inside Pack Sports!
Join our free email list