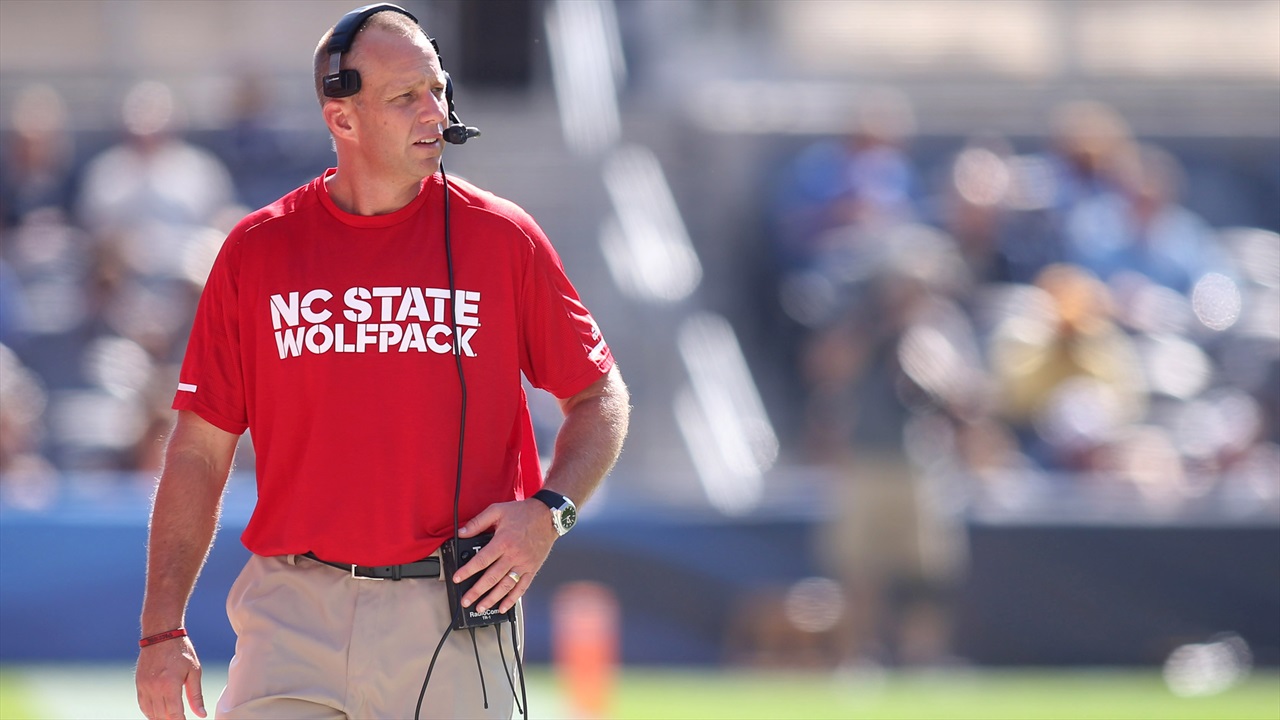 Photo by USA TODAY Sports
NC State Football
Doeren: Priority Now The Safety Of The Team, Staff
---
NC State head coach Dave Doeren fielded questions from the media on the ACC's weekly teleconference.
---
Opening Statement...
Obviously with Hurricane Florence, our prayers go out to everybody in the path of the storm. I know decisions were made to not play the game, which we all support with what could happen here. Priority shifted from West Virginia to the safety of our team and staff. We've done that. Now we're just kind of waiting to see what happens.
Going backwards to our game, it's great to get another victory. Enjoyed the whiteout crowd by our fans. Had a good day. A lot of guys had their first opportunities to score offensively. I thought we started fast, which is an area we wanted to improve from the week before. We had a good opening drive that started with Thayer Thomas catching a really nice pass from Ryan over the middle, then a touchdown by Thayer later in the drive.
Offensively I thought we moved the ball well throughout the game. We averaged eight yards per first down.
Defensively after the first drive we settled in and didn't give up a score the rest of the game, did some good things there. Both sides of the ball have a lot of improvement to make. I thought we played fast on our offensive line. I thought we struggled at the tight end position at times. I know those guys are going to work hard to get better here over this period we have before we played Marshall.
It was good to get some guys in the game. It was good to get Matt McKay some reps, our backup quarterback, get him some reps in the game. I thought in the kicking game we were very effective. Our punter punted the ball well. Chris Dunn was 100% on his field goals and extra points.
First game I've been in with the rule changes where every kickoff return was fair caught, eliminated a phase of the game that way. First time I've been a part of that. A little different.
But thank our fans again for being here in the hot conditions. Came out of the game pretty healthy other than Steph Louis did suffer a concussion and is in our protocol now, doing really good. Just be a matter of time. With us not playing, obviously helps him as far as his return to play on our clock. We'll see where he ends up when we get back into it next week.
With all the fair catches on special teams, what does that mean for college football moving forward? A lot of those guys that aren't your number one receiver, DB, runningback, they get their opportunities to showcase who they are to college football and the NFL. What do you think about the rule changes, what it means for special teams?
I think that's still a coaching decision. Had we played West Virginia, if you watch their film, they return every kick that they can. They have a dynamic returner there. We were actually talking about that with our team before we knew the game was canceled because they were running it out of the end zone five yards deep with their guy. In our game last week, no matter where it was caught, that guy is the all-time leading receiver for Georgia State. He was fair catching it.
I think if you have a player that you think is a playmaker in your return game, you still have that ability to your system. I guess it's team per team on how you're going to see that used.
We're continuing to return kicks here unless we feel it's a ball that puts us in a bad position to return it. It definitely changes the game. It can limit touches when you're a coach that thinks that's a better way to use that play. I know if you get a lead in a football game, that gives you a way to protect the lead maybe a little safer by not taking a risk where you could have a fumble by fair catching it. You still have to catch it cleanly obviously for it to be a rule that helps you get to the 25.
I know Coach Cutcliffe said it earlier, I agree with him, I'm sure there's going to be a continuation of ways to make the game safer. I know that's why that rule was put in place. I guess the numbers will tell if it worked or if they need to continue to tweak it.
As far as dealing with the hurricane, things that you can't control, what can you say about the future of scheduling? Would you like opportunities to maybe have a few more weeks or the opportunity to play something at the end of the season, knowing these hurricanes have affected the lives of families, you want to keep people safe?
I hadn't thought about it. First time in my career that weather has changed a game this way. It's not something that is regular enough to say that it's an every-year issue for me just because I've never seen it as a coach. I know it affects the schools in the state of Florida probably more than anybody else. Last year in Texas, obviously.
There's two sides to that. The longer you make the season, everyone talks player safety, then now you're making them play longer, have longer practice seasons, longer competitive seasons. They're an impact there on the team, as well.
I do hope that we can get a 12th game. I'm not sure where that's going yet. I haven't heard kind of what the different options are at this point just because our attention has been turned to our players getting to safe places, what we're going to do that way.
It's obviously something now that I've been a part of it. I'm sure I'll sit down with our administration and do some research with other schools. I'm not sure you're going to have a lot of people to extend our season one way or the other just because of how long it is already.
You do have the open date ahead. Would you like to see the administration try to find a game for you in that date, if possible?
That would then make us play nine straight without a bye there. That's not great for your team either. But I think we have to look at all the options at this point because you do want to have 12 regular-season games. I'm not sure what they are yet. We haven't gotten to that point.
I spent all day yesterday from 1:00 on just trying to make sure our players and staff were safe, that we had a good plan.
As things now get to where we have everybody in the right places, I can probably spend some time on that, get with Dr. Yow and Michael and see with their heads are on it. I know we all want to have that 12th opportunity. What are the options? Probably other teams affected. I know there were three games canceled but there may be others as this continues.
There may be teams looking for a game. We'll have to see who has the same dates as us, if anybody does, if not, what are the options after our last regular-season game if we're not in the championship game. There's a lot of moving parts.
I asked Coach Cutcliffe about this as well. As someone who is relatively new to the south whether you have an appreciation for Waffle House and its ability to stay open through almost anything?
That's a great place to eat, I'll tell you that. I wasn't aware of their ability to do what you just said. Not somebody that really goes out to eat when it's really bad weather. That's about all I can say on that one.
Having coached through what you did in 2016 against Notre Dame, did you offer any input as to what you guys experienced that day, whether it would be feasible to play in conditions like that ever again?
Well, we actually talked, because we have to, we have to assume we're playing until they tell us we're not. We said, Look, we've been through this, half of our roster was still here when we played that game. You guys now if we take care of the football like we did in that game, because we practiced with wet balls all week preparing for it, we scored 10 points in that day, none of them were on offense. We kicked a field goal, blocked a punted for a touchdown, never turned the ball over. We kind of had that to lean on from this game to talk to our players about the importance of those things, field position, special teams play, not turning it over in a game like that.
We were very well prepared if it would have been a deal where they had us play the football game.
Never miss the latest news from Inside Pack Sports!
Join our free email list