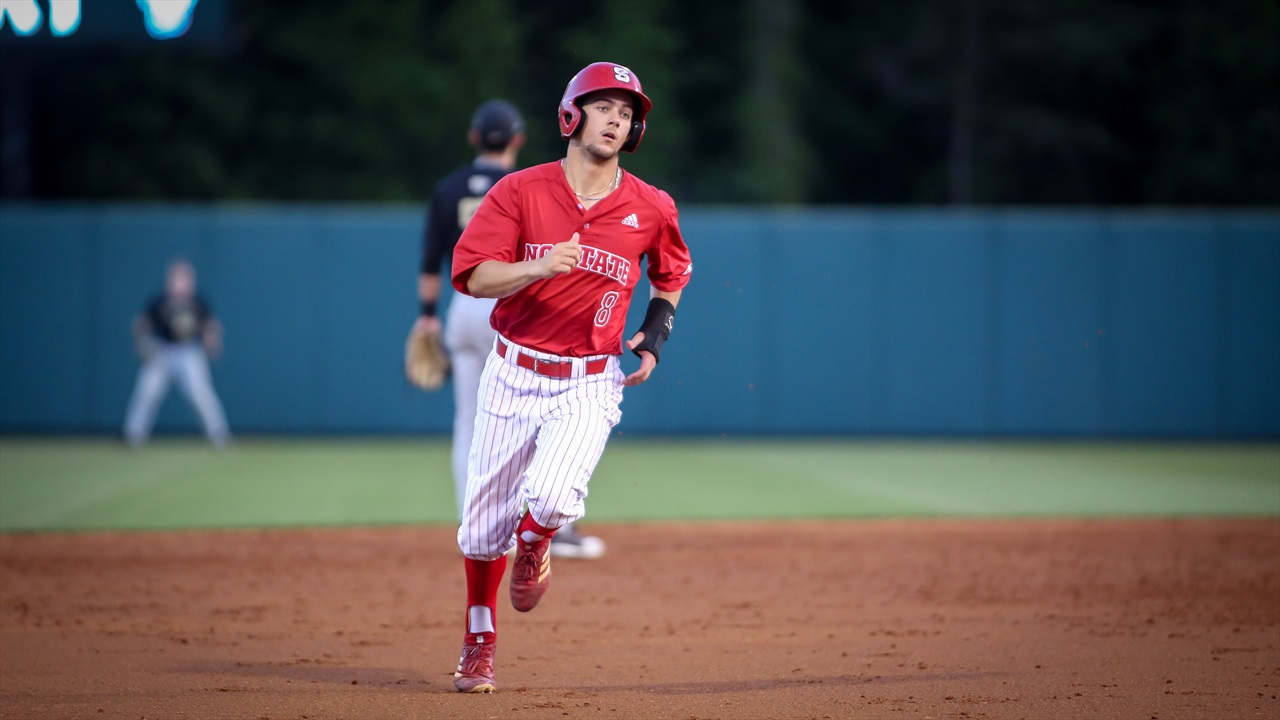 Photo by Steve Murphy/Inside Pack Sports
NC State Baseball
No. 4 NC State Edges Wake Forest, 7-5, To Clinch Series
---
RALEIGH, N.C. – The fourth-ranked NC State baseball team edged the Wake Forest Demon Deacons with a 7-5 win Saturday night at Doak Field at Dail Park to clinch the series. The Wolfpack has now won 11 of its 12 weekend series, including eight of nine in ACC play.
NC State pushed across two runs in the seventh to grab a 7-5 lead and held on for the victory.
The Pack moves to 38-12 and 17-9 in ACC play, while Wake Forest falls to 22-28 and 11-15 in conference action. Johnny Piedmonte threw 1.1 innings of relief to pick up his fifth win of the season, while Jared Shuster was charged with the loss.
Quick Hits
- Wake Forest took an early lead in the contest with three runs on its first hit, as Chris Lanzilli's drive to left center bounced off the top of the wall for a three-run homer.
- NC State scored five runs in the fourth to take a 5-3 lead with its 26thbig inning of the season with four or more runs in the frame.
- Will Wilson ripped a solo home run to center field to start the inning for the Wolfpack and get the squad on the scoreboard with his 13thhome run.
- Patrick Bailey walked and scored on an RBI triple to right center by Brett Kinneman, his first of the season.
- A sacrifice fly from Brock Deatherage plated Kinneman from third to even the tally at three apiece.
- Evan Edwards puts NC State ahead with his 12th long ball, as he launched a solo shot over the left field wall to make it 4-3.
- The Pack capitalized on a Wake Forest miscue to score its fifth run of the frame, as a throwing error allowed Pitarra to reach first and Terrell Tatum to score from third.
- Wake Forest erased the two-run deficit on a double by Logan Harvey to bring the score level at 5-5.
- The Wolfpack's disciplined approach at the plate led to five consecutive walks in the seventh, including RBI free passes to Shane Shepard and J.T. Jarrett to give NC State a 7-5 lead.
- Joe O'Donnell nailed down his 10thsave with 1.1 of relief, which ties for the ACC lead.
Inside the Box Score
- NC State drew 12 walks in the contest, which ties as a season-high and is the most in an ACC game.
- Senior Brian Brown started on the mound for the Wolfpack and pitched six innings to go along with a season-high 10 strikeouts.
On Deck
NC State and Wake Forest wrap-up the series Sunday afternoon at 1 p.m., as the Wolfpack will observe Senior Day.
Never miss the latest news from Inside Pack Sports!
Join our free email list