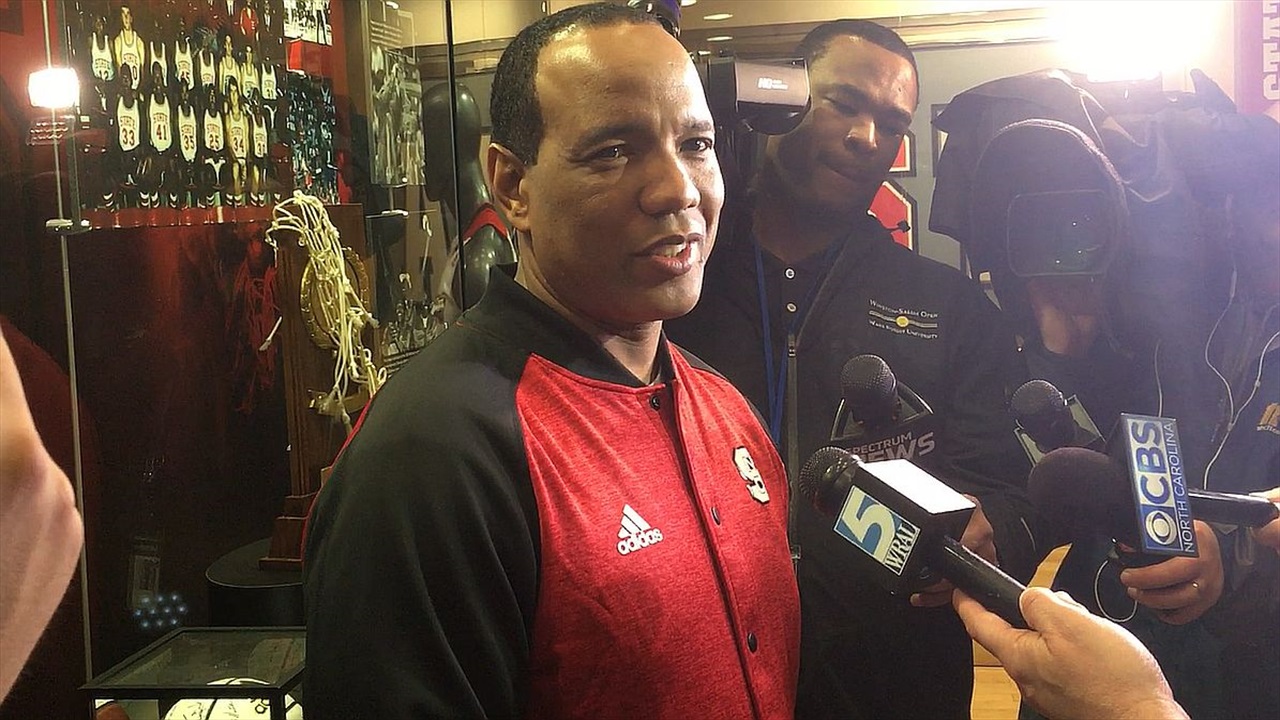 NC State Basketball
Keatts: "They Are Very Good"
---
NC State head coach Kevin Keatts met with the media with his team set to face Seton Hall in the 2018 NCAA Tournament.
---

Opening Statement...
I'm very excited about our opportunity... at NC State we haven't been to the NCAA in the last couple of years, so to have the chance to play in the NCAA is huge for us.
We don't have many guys who have had the opportunity to play on this big stage. Al Freeman played three years and Malik and Lennard played as freshmen. I think we have seven more guys who can dress out, including Spencer as a walk-on, who don't have postseason experience.
We have our work cut out with so many inexperienced guys.
From a personal standpoint, I'm excited for our staff and everybody I've hired, this will be our third NCAA in three years. I have a hard-working staff who has done a tremendous job.
We have a very good opponent. They are very, very good. They get out in transition, shoot the ball well, have elite post players, and mix up their defenses. They play with a swagger and toughness that we have to overcome.
With that being said, our guys are excited about the opportunity and we look forward to playing on Thursday.
They are loaded with experience and that's leadership is big at this time of the year.
You're right and they start four guys who have played in back-to-back NCAA Tournaments and are very hungry. We have to try and overcome that.
What can you do to bridge that gap of experience?
All I can do is talk to these guys about the experience. I don't know every team that is in the field... the other 67 teams, what they are going to do. We're going to go in and try to have the most fun we can be. We're going to be prepared, but I want our guys to be excited about it.
Our guys are going to come out, play hard, and compete.
What an accomplishment is this in your first year?
It means a lot, and we don't take it for granted.
Only 68 teams can play for a national championship and we are one of them. When you look at the way we started the year, our preseason ACC ranking, we were 12th and we finished tied for third. It says a lot about these guys and the program.
I told some guys the other day you could have your best team here at NC State and may not win 11 conference games. It's the best conference in college basketball and I'm excited about what these guys have been able to do in a short time.
Your first team at Wilmington, will this be the same approach?
We talked about that in our staff meeting... at Wilmington we had the chance to play Duke and then Virginia last year. Our guys were so hungry. They wanted to play on the big stage and were excited about it.
I have a different personality group. Not that they don't want to, but they don't show a lot of emotion. They don't give you a lot. Mid-majors, this is their one opportunity. I knew going into that game we'd play extremely hard and we had a chance to win, beat both ACC teams.
With this group I know they will come out and compete because that's been their identity, but they don't show you a lot of emotion.
What was your enjoyment to watch your guys?
I was nervous. I knew we were in the field, but the way they did it... you're saying hold on. You know you're in, you feel like you're in, but until you are you don't know you're in.
What does this mean to a guy like Sam Hunt who can finish his career with a NCAA Tournament appearance?
It means a lot. If you ever talk to Sam, what a wonderful kid, humble kid, and it means everything to him.... growing up an ACC guy with the chance to play in the NCAA Tournament at NC State.
I'm hoping he's excited to the point where he can come out and hit six three's in the game.
Concerned about the program with the subpoena that came down?
No, and to touch on that, when I was on the conference call in February, I was unaware of the subpoena and I'm not allowed to comment further on that.
Any similarities between Kevin Willard and Ralph Willard?
Yes I do. I've known Ralph and Kevin for a long time. When I was at Louisville we ran a 2-2-1 back to a matchup zone or man-to-man. He's not playing as much matchup zone, but they'll come out on Thursday and play the whole game in matchup zone.
Kevin is a tremendous coach as Ralph was, and he does a great job with his program. They've been very patient with him and he's done a great job of delivering, been to a couple of NCAAs.
They have a very good basketball team.
You've lost two of three games, do you see any common factors you need to fix?
You say it's two out of three and you're correct. I see it as one out of two.
We didn't play a great first half against Boston College... I thought our second half was more of our identity and we played well.
Go back to Senior Night and I thought we played incredible. In the Georgia Tech game, it was a game of different styles playing a team that was playing good basketball.
In both of those games we had opportunities to win the games.
In those two games I don't think you'd say your defense was the standard you expect.
I didn't think we flew around enough. In both games we didn't score early so our press wasn't as effective because we weren't able to get into them.
Against BC, you were far better with Torin. Is it you're far better with him?
We don't have a lot of players, we're playing eight or nine guys so any of those guys out of the rotation, it hurts our team.
Desi Rodriguez is battling an ankle injury. Did you go back and watch him to see how he was before the injury?
No, because I know how good he is.
Kevin said in a press conference that he thought he'd be 75% which means he'll be 95%. He hasn't played... he played against Butler in the last game about 16 minutes.
I expect him to be at full strength. He's a good basketball player.
He's a matchup problem because he has great size, he'll post our little guards up, he's great at getting to the hole, and he's their emotional leader.
What can you pass on from your experience?
You have to compete like it's your last game. You have to leave everything on the floor for 40 minutes.
You can't worry about the next game. You don't worry about rest. You have to stay in the moment and worry about that game.
Whichever team can pick up things through scouting reports... will be successful.
Was there a learning experience from that first half against BC?
I thought we just missed shots. I don't think it was us being on a big stage... Omer missed some chippies around the rim.
I know I'm fighting the NC State Stuff. I know you talked about that Luke a little bit. I don't think the Stuff had anything to do with this one. We missed some shots.
Give BC credit... I thought they were good and came back and played strong after not playing well on our home court.
Did you give the team a couple of days off?
I did. We took a couple of days off. We got back in the gym yesterday for about an hour and 15 minutes.
One thing about this group, they've been able to move on. It's the coaching staff, particularly me, that takes a little while to move on.
They've been excited. They came into practice yesterday with a business-like approach. They worked hard. I was happy to see what I got from those guys.
Never miss the latest news from Inside Pack Sports!
Join our free email list