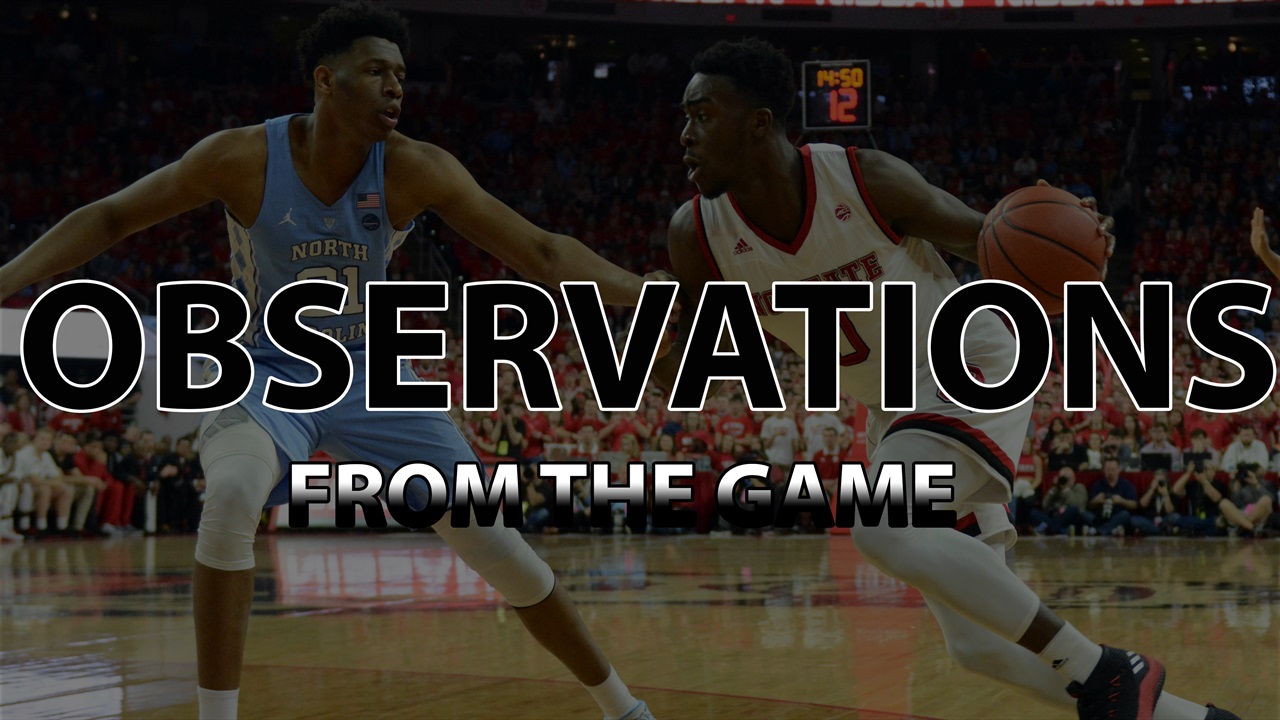 NC State Basketball
OBSERVATIONS FROM THE GAME: North Carolina
---
NC State could not complete the sweep and feel at home to No. 21 North Carolina, 96-89, Saturday.
The Wolfpack drops to 16-9 overall and 6-6 in the ACC with six games remaining in the regular season.
Offensively things went well for NC State but North Carolina was just a little better. When the Tar Heels did miss, they typically got the rebound which nullified the rare stops for the Pack.
With a pair of losses this week after a three-game winning streak, that included a road win at North Carolina, the coming week for NC State will be important. The Wolfpack has road contests at Syracuse (Wednesday) and Wake Forest (Saturday) that will play an important part in whether this season will mark a return to the NCAA Tournament for Kevin Keatts' team.
HIGHLIGHTS
* NC State did everything it needed to do offensively.
Field Goal Shooting: 36-of-64 (54.7 percent)
Three-PoInt Shooting: 7-of-13 (53.8 percent)
* The Wolfpack had six players score in double-figures, led by Torin Dorn Jr. with 21 points on 10-of-15 shooting.
* The fact that NC State shot only 13 threes indicates a willingness to deviate from the preferred style to go with what succeeds. There is growth in that regard, as the Pack did not force anything.
* The second half was ideal for the Pack from an offensive perspective. NC State scored 52 points on 60 percent shooting (21-of-35) from the floor. Kevin Keatts probably has no right to ask for more on that side of the court.
LOWLIGHTS
Luke Maye dominated the game. He was especially sensational in the second half.
Maye: 33 points (15-of-22 FG, 2-of-3 3FG, 1-of-1 FT), 17 rebounds (eight offensive)
He had his way with whoever guarded him and his offensive rebounding is probably what put NC State to the sword. Maye finished with 25 points and 11 rebounds in the second half alone.
Maye's dominance could have played a part in Omer Yurtseven only playing 19 minutes as Keatts elected to use Abdul-Malik Abu and Lennard Freeman on him. This also likely played a part in UNC's complete control of the boards, as Keatts never elected to play Yurtseven with another big and instead went four small.
* Regardless of the primary reason, the stats do not lie and they are ugly for NC State.
North Carolina outrebounded the Wolfpack 41-24 overall, 15-7 on the offensive boards and simply could not be stopped in the second half. The Tar Heels scored on 29-of-30 possessions after intermission.
NC State gave itself no chance to win.
PACK +/-
+/- is the points scored by a team minus the points allowed by a team while a certain player is on the floor.
Omer Yurtseven: +4
Sam Hunt: +2
Lennard Freeman: -2
Allerik Freeman: -5
Braxton Beverly: -7
Torin Dorn Jr.: -7
Abdul-Malik Abu: -9
Markell Johnson: -11
STAT OF THE GAME
North Carolina missed shots in second half: Seven (25-of-32 overall for 78.1 percent)
North Carolina offensive rebounds in the second half: Five (21 second-chance points in the contest)
QUOTE OF THE GAME
"If you look at the stats, we've done a great job of running guys off the 3-point line. Most of the baskets that people score against us are 2 pointers. Last time I checked, 3's count more than 2. So, I am happy with that part of it.
"We have to do a better job of just closing the game and finishing plays at the end. I am very excited about our defense, my style, I think a lot of people make mistakes when you look at percentages.
"If you go back and look at our overall games, we typically get 10 more shots or more than the other team because we turn you over. The percentages are a little deceiving. I look more at how many steals, deflections, and forced turnovers do we have." -- NC State Head Coach Kevin Keatts
Never miss the latest news from Inside Pack Sports!
Join our free email list