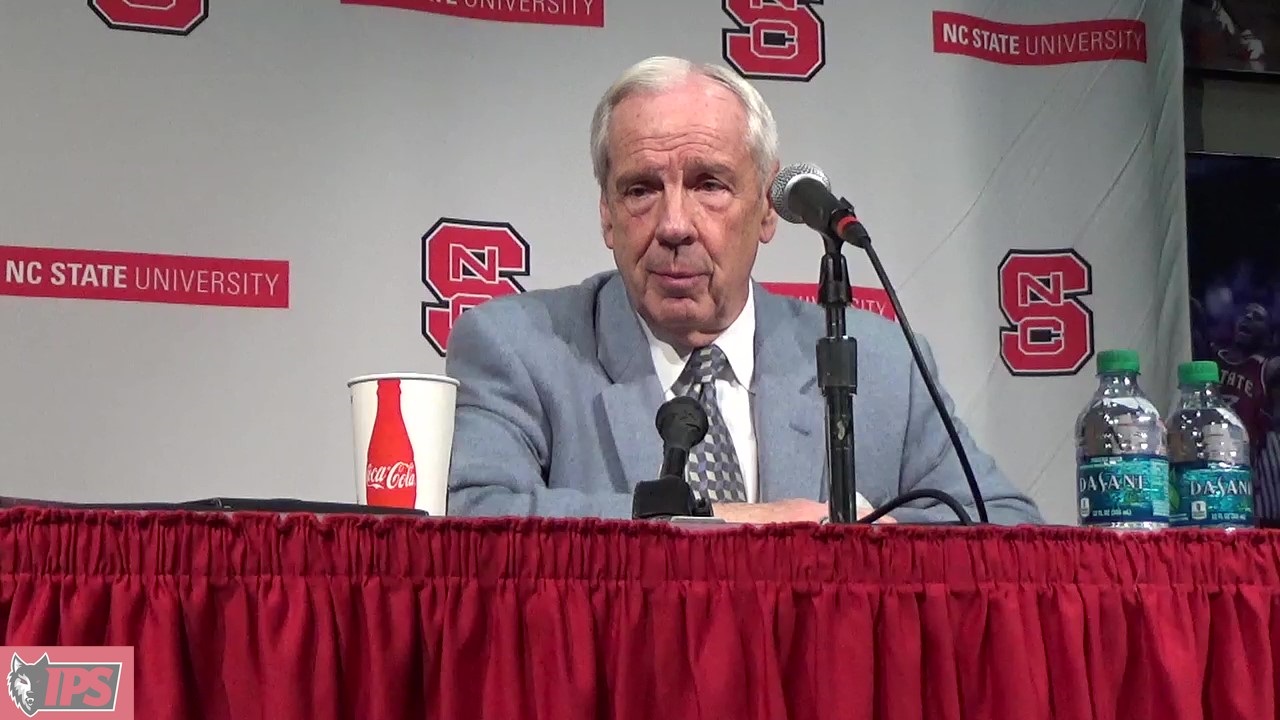 NC State Basketball
VIDEO + QUOTES: Roy Williams
---
North Carolina head coach Roy Williams met with the media after the win over NC State.
---
Opening Statement...
Well, needless to say we feel a heck of a lot better than we did at Chapel Hill a few weeks ago. I was really mad at my team close to the end of the first half because I thought we started giving into a little adversity. I told them I was not going to call timeout because, State was kicking our rear end because we weren't competing, and they needed to grow up.
We made a nice run to get it back to two or three, whatever it was at the half, and I felt very lucky at time. Turned it over 11 times and they scored 103 points without us scoring, and we were still only down by two.
The second half we tried to be even better defensively. We tried to move more on the offensive end, tried to attack more. We talked about attack with your brain and also attack under control. To shoot 78% in the second-half that's pretty impressive.
Kenny, zero points in the first-half, missed his first three. He scores 11 in the second-half including a huge three. I think he made the three when it was a two-point game or something like that.
Theo, making some drives, but Luke Maye, Luke Maye was pretty special today. We had it out of bounds underneath with limited time, I forget how much it was now, he pulled up shot it. He had made four or five in a row, and I said, oh my God, but it went in so I said, good shot. I thought Luke was sensational.
Defensively, Theo was not very good, lost his man twice in a row. Yet, his drive to the basket, the tough layup that he made was a big force too when they got it back down a little closer. Five guys in double figures, you like that, shooting 56% for the game but I still think we need to do a better job defensively. They shoot 55% but the points off the second chance, at our place they outscored us 22-18, today we got them 21-7. We won we're getting out of town.
On playing ball screens better in this meeting…
If we're alive then we played them better than we did in that first meeting. If we have a heartbeat, then we played it better than we did in the first meeting. Freeman, Dorn, everybody got wide-open threes in the first meeting.
Today they still made seven out of thirteen, but I think we closed on better to take away some of the threes, which is what we wanted to do. I think Braxton had three threes in the first half and didn't get any in the second half. I think we did a better job trying to run him off.
Sometimes the ball doesn't go in as much and it did a great job for us today. Luke Maye again, guys, has 33 points and 17 rebounds. He did have 6 turnovers, I told him that too, but that's pretty impressive.
On switching off on NC State's Markell Johnson…
Last time we just didn't do a very good job of it. I thought Markell dominated the last five or six minutes of the regulation game and overtime in the last game.
We were trying to get it out of Yurtseven's hands, Joel fronted him, Kenny fronted him, they kept trying to drive look to the basketball which turned out really really good.
He had nine assists today and that broke his streak of a double-double, but he's having a really good year.
On the added movement giving Luke more room to operate…
I don't know, I think we did a better job of our movement, better job of cutting, Theo was more involved in the play in the second half than he was in the first half.
The first half was a lot of standing around and watching Joel dribble for a while. We tried to run four or five plays in a row where we brought somebody up to screen Theo to get him more involved.
Luke was taking the ball to the basket which I thought was the best thing he did. He made a couple of threes that were really really deep. But I think just taking the ball to the basket was really successful.
On the team's tempo and turnovers…
It's jekyl and hyde, I never know which team is going to show up. One showed up the other night and had two turnovers and they were silly. One of them was a charge and we needed to do a bounce pass and I can't even remember what Theo's second turnover was.
I love that, but I love today shooting 77% in the second half. I don't mind turnovers, but 19 is too much.
On playing Duke and NC State in the same week…
IF, I have to play those two back-to-back in the NCAA that is going to be a challenge. We haven't talked about that, we said this is our schedule and we can't go around crying.
We are going to play three games in five days and we will try to give you time between games to get your legs feeling better. Yesterday we were on the court an hour and three minutes and we will do that again tomorrow.
Never miss the latest news from Inside Pack Sports!
Join our free email list