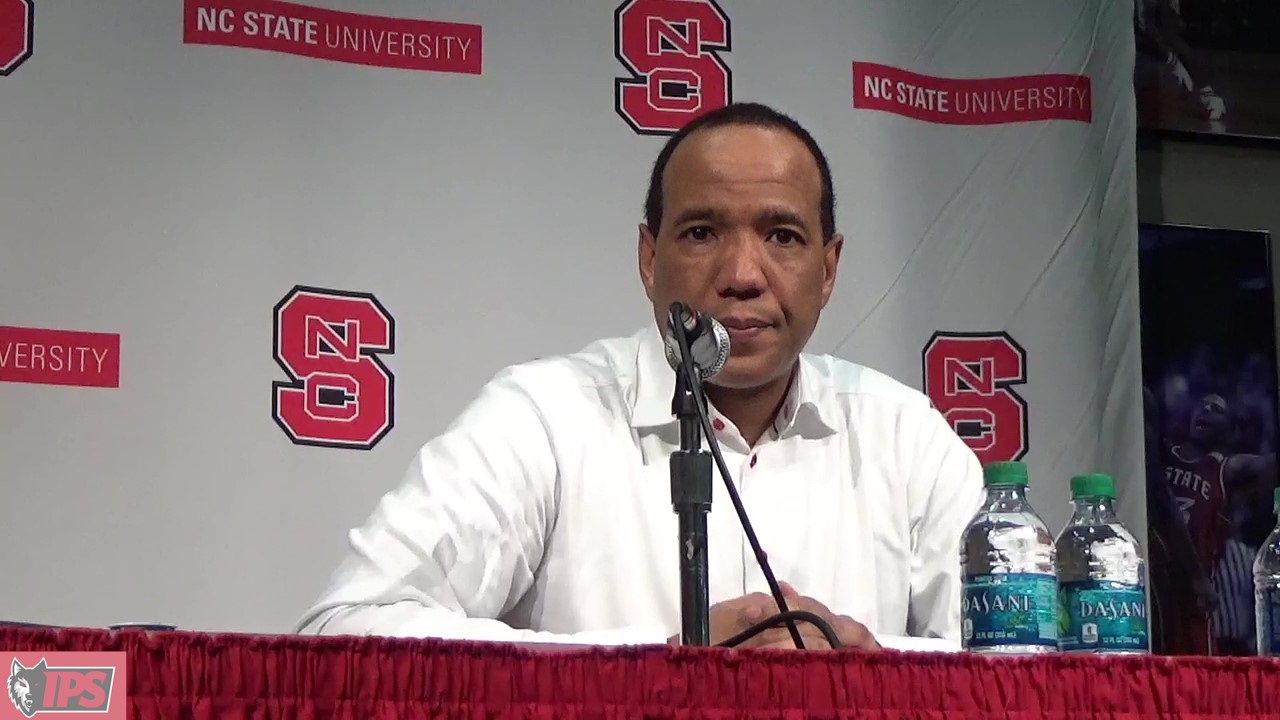 Keatts: "I Am Very Proud Of My Guys"
---
NC State head coach Kevin Keatts met with the media to discuss the home loss to North Carolina.
---
Opening Statement...
Well I was wrong for the first time in my career. I have always said that anytime you play a team twice it's a different game, and it wasn't. It was a great offensive game for both teams the second time around, the second round as we like to call it. Give those guys credit, the plays we made at the end of the game at UNC they made the plays tonight.
I though the biggest play of the game was when Williams made that three it obviously gave them a little separation. Great game I give those guys credit. I thought Luke Maye was really good tonight, and he did a tremendous job when you look at his numbers... 33 points and 17 rebounds.
I am very proud of my guys I thought we fought all the way to the end. Like I told you at UNC we made those shots that they made at the end, and it certainly would have been a different outcome.
On his message to the team after the game...
My message to the team is that we have become a very good basketball team. You don't accidentally beat the likes of Arizona, Duke and Carolina and Clemson, the way they are playing this year. My message to those guys moving forward is you have to now figure out now how not to beat yourself up.
Our expectations coming to the season from everyone outside of our program were pretty much low. Obviously being picked 12. Now we put ourselves in a situation where were playing some of the top teams in the country and were right there to win the games.
Now I have to get these guys to change their expectations. I don't want to get to the point where they're satisfied with how many wins that we've won right now. Now we have to figure out when you look at us were scoring against everybody now we have to figure now where do we go from here?
On changing the defense in the second half, due to UNC going 78% in the second half...
Well we did a couple different things, we trapped a couple ball screens. Luke Maye, he had a great second half, and he played well. We switched out a lot of different guys on him. We got everything we wanted out of it. If you look at our defense, they shot 56%, we shot 54%.
The tell-tale of our defense is we were able to turn them over 19 times and we have 12 steals. We did enough to win the game, obviously as I thought, they made some shots at the end of game that helped them win the game.
On how to fix our defense when it comes to shooting...
If you look at the stats, we've done a great job of running guys off the 3-point line. Most of the baskets that people score against us are 2 pointers. Last time I checked, 3's count more than 2. So, I am happy with that part of it.
We have to do a better job of just closing the game and finishing plays at the end. I am very excited about our defense, my style, I think a lot of people make mistakes when you look at percentages.
If you go back and look at our overall games, we typically get 10 more shots or more than the other team because we turn you over. The percentages are a little deceiving. I look more at how many steals, deflections, and forced turnovers do we have.
Defense at Virginia Tech compared to today's game against UNC...
I thought ourguards did a tremendous job. I go back into it and tell you that Luke Maye had a great day. I thought we switched guys on him, he made shots inside and out, I was very happy with our guard play. Our guards I thought did a good job of keeping guys up front.
You look at the last time we played, I thought Theo Pinson had a really good night; I thought we contained him for the most part.
We went into the game knowing with Carolina you have to do three things. You've got to obviously keep them from getting offensive rebounds; we didn't do a great job of doing that. Transition, I thought we were okay, but the most important thing is we held them to six three-pointers made; against Duke they just came off a game where they had eleven.
The significance of the Red Blazer...
Well I've worn it, I wore it at the UMKC game against UMKC when we played a Reynolds. The red blazer is great man. I knew Roy was going to come in here with some Carolina blue blazer on, so I wasn't going to let him show me up. I'm a way better dresser than him.
Batts out today...
You know just coach's decision, I didn't think it was a game for him.
Changing the expectations, how many times have you had to reset...
I would say every couple games with these guys. I mean we're in unchartered waters when you compare to what has happened the last couple years. Obviously, this is a program that over the long haul has had a lot of success. We talked about the last couple years, obviously winning five conference games two years ago and four last year, now we've got to reset ourselves and move forward.
Obviously, I'm very disappointed about our loss but it doesn't hurt us right now, it's about what we do moving forward, that's what is important to me.
Never miss the latest news from Inside Pack Sports!
Join our free email list