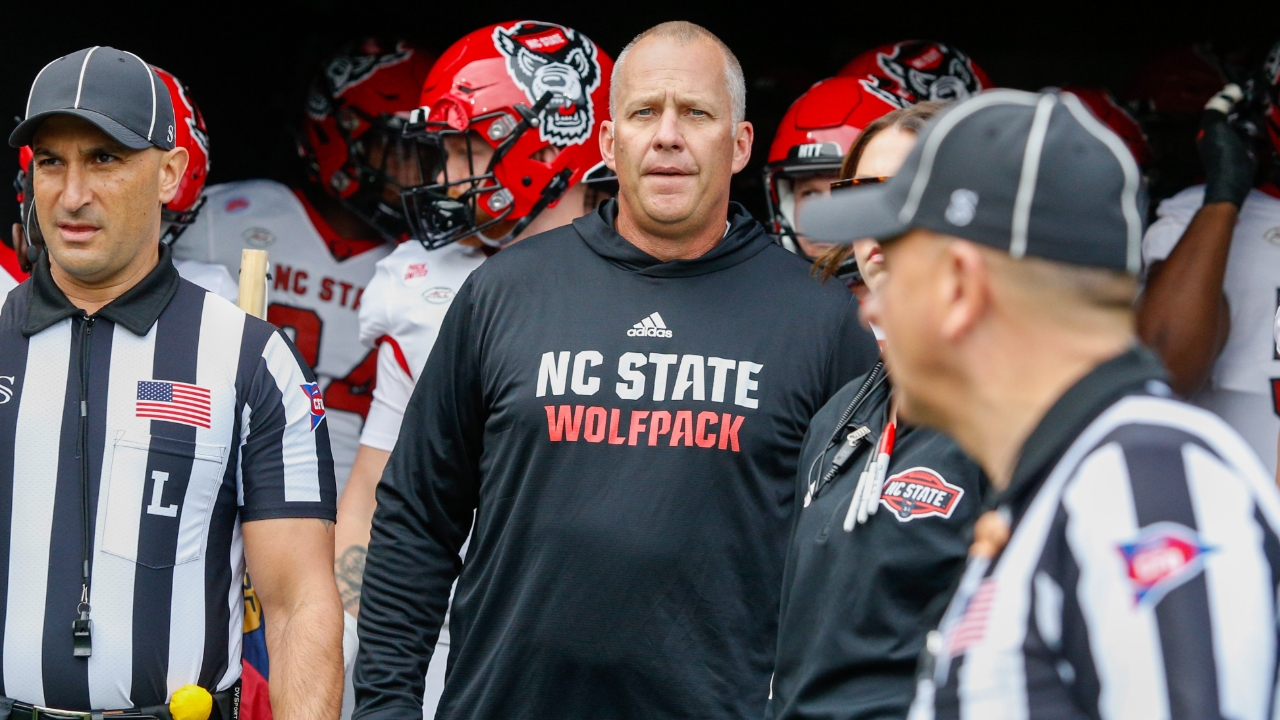 Photo by Steve Murphy/Inside Pack Sports
NC State Football
VIDEO + QUOTES: Dave Doeren's Weekly Quotebook
---
NC State head coach Dave Doeren met with the media via Zoom Monday afternoon to discuss the Wolfpack's 35-28 win over Virginia Tech and its upcoming matchup versus North Carolina.
NOTE: Click on the video in the player above to watch Doeren's press conference.
---
Opening Statement
Starting with win over Virginia Tech, it was another great road win for the team, two straight road wins on senior day, and two difficult places to win. I'm proud of our team and proud of our staff. Virginia Tech has a really, really impressive game day atmosphere, and it was the first time I've seen it with the crowd; last time I was there was COVID. It was definitely as advertised: a really, really good atmosphere. Our goal was to try to get the 65,632 people to be quiet, and we did that. The guys did a great job executing, and the demeanor that our kids played with was very aggressive. We were very efficient, and I was really proud of how we came out and played in that first half in particular.
Offensively, we were physical. We protected Brennan [Armstrong] well against a good defensive front that had a lot of sacks going into the game; we only gave up one. We had over 200 yards rushing until the last three plays where we were milking out the clock. We were very efficient and explosive, 13 explosive plays in the game. That was the most we've had all season.
In the first half, our defense was stellar with the exception of the reverse that we gave up after the kickoff return, and that was disappointing. We had a blitz call that should've hit that in the backfield, but we just didn't execute.
Offensively overall, to score five touchdowns on long, efficient drives, four-of-four in the red zone for touchdowns, and zero turnovers on 80 plays is hard to do against a good defense. Our two-minute drive right before the half, the score to K.C. [Concepcion], and then to open the third quarter with another touchdown drive — that 14 point swing in the game was really important. We were very efficient running the football. Individually, K.C. obviously accounted for three touchdowns, and Brennan had two running and two passing. Brennan, K.C., and [Trent] Pennix were explosive players in the game. I thought Keyon [Lesane], Bradley Rozner, and Dacari Collins played really hard at receiver, frontside and backside, straining for us in the run game, making plays, and getting yards after the catch. Both tailbacks, Delbert Mimms and Kendrick Raphael ran hard, protected the quarterback, and protected the football. I thought Jordan Poole and Isaiah Shirley made a significant difference in the run game. The offensive line battled and did a really nice job, like I said, playing against the good D-line. Areas we can improve,, we had three pre-snap penalties; one was a delay of game, and two were false starts. Those set us back. We had one drop, but it was a good football game for our offense.
On defense, like I said, it was a really good first half. The one interception in the second half by Bishop Fitzgerald was a great play. I thought we defended their tailback and quarterback run game very well. A couple of the quarterback runs were third-and-extra-long QB draws where they didn't get first downs. The one reverse was the explosive, and I thought Savion [Jackson] and Payton [Wilson] played exceptionally. We dominated on third down. We were over 85 percent effective on third down and had the fourth-down stop in the red zone which is like a takeaway. Negatives, we had the one false start on defense, jumped offsides on a fourth-and-long, and we just gave up too many explosive plays: the one deep ball which got them going, and then we just got into prevent with a three-score lead there; it kind of bled them out, but I know that was frustrating for Coach [Tony] Gibson. It's really not his style. The defense will be salty this week. They're excited to play. I thought it was a good team win.
Our special teams, I thought we did a nice job pressuring their punter. I'm disappointed we didn't block a punt. We had two opportunities; we were right there. Coach [Todd] Goebbel did a great job scheming those up; we need to finish those plays. We did give up a kickoff return to the 50, and that's not characteristic of us, and it's definitely something we need to fix and will. Now, we're onto our rival UNC, great rivalry game, oldest in the ACC, always hard-fought, emotional, one-possession, physical game, and it's senior day for us and a great honor. You've heard me talk about this before, but as a head coach, something I take really personal is to be in that tunnel with them the last time for those guys that are true seniors with no eligibility left. Eleven guys fit that bill for us this year that are out of eligibility, walking out on the field with him one last time, letting them go out there and be with their parents. I'm excited. There'll be a handful guys out there that still have the COVID year or one year left, I guess you'd say. We're still in that, maybe two more years, where guys have an extra year. You'll see some guys that aren't seniors out there that have to decide if they're going pro or coming back, those kinds of things. We'll allow them, obviously, the opportunity in case they do decide to go pro. Senior day is important, and guys like Payton Wilson, it's going to be an emotional day. Guys like that have been through a lot, and guys have a lot of stories [like] Derrick Eason. Those guys have been here a long time. It's a great group young man that have sacrificed a lot for our program and have done great things. One of the stats I saw after this last win was it's the only football team in NC State history that's had four straight eight-plus win seasons, and so a lot of these seniors are part of those games and those wins.
When you talk about UNC, obviously it's a very explosive offense. They're balanced. They play with tempo. They're an uptempo team, averaging over 75 snaps a game, and they're in the top one, two, or three in almost every category on offense. Drake Maye is a terrific competitor, a good athlete, can run, stands tall in the pocket, sees the field, and throws every ball you'd want him to throw. At running back, [Omarion] Hampton is playing really well for them. He's one of the top rushers in the country and leads the conference in rushing. He's a physical back. They have a bunch of receivers to throw the football to and tight ends. You can see why they score a lot of points. On defense, they're getting takeaways. They have a big front. Their linebackers run well. Their defensive end [Kaimon] Rucker leads them in sacks and TFLs. Linebacker [Cedric] Gray leads them in tackles. He's been there a while and plays really hard for him. Their safety [Don] Chapman makes a lot of plays and does a good job. They're where they're supposed to be. They're well coached, and it's one of those games where records and stats — even though this is a pretty evenly matched game when it comes to those things — don't matter. It's a rivalry game, and I love playing in them. UNC has done a really good job this year with their turnover margin. They're tied for first in our league with plus-10. Anytime you can be in that area — we're plus-eight, they're plus-10 — you're going to be in a lot of games and win a lot of games which both teams have. We're excited for the opportunity and the challenge to continue the journey, one more week here in the regular season. It's also Thanksgiving. It's a great week for all of us to be thankful and take some time to reach out to the people that have made a difference in our lives and that we love.
One last thing before I open it up: for our students and fans, I know it is Thanksgiving break, and I hope you all have safe trips home, if you're going home, or, if your family's coming in, that they make it safely. Please make sure that doesn't deter you from being at the game Saturday night. We need our fans in the house, packing the Carter, wearing red, supporting this senior class that's worked really, really hard, and being a factor for us when our defense is on the field. Make it hard for their offense to hear. We need you to be students of the game that way in this one with your volume. When their offense is on the field and our defense is out there, you need to be our 12th Man. You've done that for us various times throughout the season, and I'm asking for that favor here in the last game at home of the season.
On Armstrong...
He's doing good. He was sore. He ran for over 100 yards, and he took every snap in the game. He was just sore, and we wanted to get him the treatment that he needed. Now, he's good. Anybody that plays physical football, you're going to feel it sometimes after a game. We just wanted to make sure we did all the right things for him.
On what Armstrong's physicality has meant to the team...
I don't know if I can put it in words. You want to play for a guy like that. He's got heart. He's tough. He creates plays when they're not there, and the plays that we ask him to run, he runs them in a physical way. It definitely gets the guys blocking for him excited. They know that he's going to be straining really hard. It inspires them to do the same, and it sets a standard of play, how hard you should be playing this game. He's having fun out there, man, and that's the thing that's also contagious: just how much he's enjoying playing the game.
On Robert Anae's game-calling versus Virginia Tech...
Coach does a really nice job, not only in game, but looking at what he's called through the season, knowing how he might have set some things up off of some of the tendencies he has, and in endgame, seeing how they react on a certain play and knowing that, "Hey, this play is now set up." He's been doing it a while. He's got a good feel for it. There's a Rolodex, like I've talked about, a deep Rolodex of plays that he'll just bring some plays out. A lot of them are very unique. It's pretty amazing to me how quickly he can get the guys to go out there and function as fast as they do with some of the stuff that, if you're on defense, you're like, "I haven't seen that before" There's some of the shifts, motions, and I don't know what you call it, but it's definitely Robert "spinning the dial." That's what he does, and I thought he really called a good game at Virginia Tech.
On the culture he's cultivated at NC State...
Persistence, perseverance, resiliency, grit, all those characteristics early on. We're really, really deep and thick in this thing, and the guys that helped me build it early on, they hung in there through some tough things and grew up in those early recruiting classes. A lot of the guys now you're enjoying watching play in the NFL, their blood is in the bricks here, as you say, helping me build it. Dantonio Burnette's been here the whole time. That's just that "Hard, Tough, Together" identity that we embrace here. That's when you lean in: when there's adversity. That's where you have to really look at who you are and if you have something that you're really true to. For us, it's perseverance. It's adversity, understanding it's part of life and looking forward to an opportunity to overcome. It's knowing that failure is not permanent unless you make it that way. I embrace challenges, and that's one style of leadership that some people have. I embrace that; when I have something that somebody says is going to be hard, it kind of makes me want to do more. Everything starts with me, and if I'm going to showcase that kind of leadership, then my assistants are going to do the same, and my players are going to feed off of that. When you do that for 11 years, I think it just resonates, and the one thing that I haven't done is change that part of who I am. There are other parts that has definitely evolved in me, as a coach. I've learned a lot along the way, but I have not changed that. I'm not going to quit. I'm going to work hard, and I'm going to look at adversity as an opportunity.
On Armstrong's work ethic rubbing off on other players...
He showcased what leadership looks like. I ask the players from time to time, "Are you being the teammate that you want your teammates to be?" There's no question that Brennan does that. He did that in a very difficult time, and people saw that. How he spoke up to the offense for them to play hard for M.J. [Morris] when he became the starter said a lot about who he was, character-wise. How he just kept practicing, serving guys on the team, when he got opportunities to go in the game, how he performed, and how hard he ran, it really showcased who he is as a human being, and there's a lot of respect in that from our team and our staff. As far as Dacari and Bradley, there's been several receivers that have worked their way up — Anthony Smith is another one — that, at the beginning of the year, they weren't getting a lot of time, and they've just kept working. Sure, they want to play more and this and that, but they also understand, if they do the right things over, over, and over, that they're going to be rewarded, and they were, and then when they went in, they made plays. Dacari started last game, and he'll start again this week, and we're excited. He's just got to stay one day at a time. He's in the process of getting better. I told him the other day that I'm proud of him. He's just needs to stay in that one-day-at-a-time place. It's going to be fun to get out there and compete with these guys this week. Hopefully, there will be more of that: guys continuing the fight.
On emphasizing the importance of the North Carolina game to the newcomers...
I don't think I need to say a lot. I set the stage Sunday in the team meeting. We had a little history lesson, talked about our opponent, and laid out what it's going to look like for the week. They know, and K.C. knew before he came here. They definitely know, and the stage is set. Now, it's just, "Go out and do what you do. The reason we won four in a row is because we've embraced the process of practicing and preparing, and we need to do that again. It doesn't matter if we're playing our rival or not playing our rival. You're not going to win any games if you don't prepare and practice the right way." This game has a lot of ulterior things like senior day, rivalry week, rankings, bowl placements, and everything. I just want to beat UNC, and that's what they want to do. How do you do that? You have a great Tuesday practice, and then you have a great Wednesday and a great Thursday, and that's the recipe for winning for us. We're going to try to stay engaged in that
If he believes this stretch has been the best coaching he's done...
I think I'd have to let you guys tell me that. There's been years where we've probably gotten more out of our talent than other years, but I do think the response that we've had since the bye week has been elite. You guys get a vote on who these coaches of the year are at the end of the year. For me, it's just show up and do the best that I can, and if I'm rewarded for it, then that's great. If I'm not, I'm going to keep doing my job. I'm just super proud of how the guys responded after Duke, and hopefully we can finish it.
On the players' progress working with Burnette from ages 18 to 22...
The developmental piece is one of the strengths of our football program. "Thunder" has a deep part of that, and the evaluation piece on what we look for: body types, what we look for in length, speed, athleticism, and then their intrinsic makeup — there's measurables that go into that — work ethic, live evaluations, lots of time spent getting to know young people, and who they come from. Then, it's just doing all the right things: the training with Coach, how he does things down there, and how he explains things. Our nutrition staff, Natalie Faustyn, does such a great job. Justin Smith, our sports medicine, and his staff, do such a great job. There's all these different people. Then you have Coach Ruffin [McNeill], myself, and Freddie Aughtry-Lindsay teaching the culture of our program from the young guys up to the top. We're trying to grow them in every way, and I think all of those things matter in their maturation. Eighteen to 22 is the greatest growth cycle they're going to have, so we're trying to max out that window, and we can't do it without them. They have to be a part of the recipe. The guy that comes in here and does everything he asked them to do — the Thayer Thomas, the Drake Thomas, those kind of guys — you see them go fast, as far as how they can perform. Then there's other guys that take their time in figuring out how hard it's going to be, and they're a bit a little bit later to come on the scene sometimes. It's interesting. Each kid that you bring in, you don't know which freshman is going to impact the team the most, who's going to have the biggest change like James Smith-Williams — 195 [pounds] to 270 and running a 4.5 at the combine — Wow, what a change. Now he's starting in the NFL. I couldn't have predicted that, not that he could win thanks that he'd be an NFL player, but some of the body changes that "Thunder" has been a part of down there has been amazing.
On what the rivalry impacts recruiting...
Bragging rights are real. It's great when you win a rivalry game. You go out on the road, and as a coach, you've got your chest out and all those kinds of things. I'm not necessarily sure it changes who we get all the time. I think, with these kids, that's the piece, but there's a million pieces in the decision. It might be an exclamation point sometimes, but a lot of these guys come to campus multiple, multiple, multiple times, and there's a million parts of this equation that goes into why they pick us or them or whatever school they're picking. The rivalry is very meaningful to the fan base, to the alumni, to the coaches, current players, former players, and all those things. That's what makes rivalry week great in college football. All these teams, you're seeing them, and every rivalry I've been a part of, it's the same way. It's just great pageantry, and it's one of my favorite weeks in college sports.
If he's seen any other player impact a team's defense like Wilson has for NC State...
Payton's impact is felt. He was out there 47 plays, and he's in almost every play somewhere. He's around the pile if he's not in the pile, and he's playing as hard as anybody. He's running guys down. His impact is massive, and it's felt on the sideline, not just when he's over there in the huddle with the defense. When the offense is out there, he's just cheering them on. He'll run up to the special teams ready area and say things to guys in the huddle there about going down on a kickoff. In the locker room, he's talking. In the team room, he's talking. His impact is huge, and he's a commander. He's not just a leader. He has that command presence in front of a team. When he speaks, they listen to him, and he's earned that. It's meaningful when he talks. I can't really speak for other teams because I don't get to see all the auxiliary things that are going on. There's a lot of good players in our league that impact games. I would say there's not many in the country that impact the game the way that number 11 is right now for us.
On having players recruited by North Carolina on the team making the game more special...
I'm sure it does. It's fanfare. It's message board talk. It's all that kind of stuff. When you put the ball down, it doesn't matter; it's 11 guys against 11 guys trying to impose their will and two coaching staffs trying to out-coach each other. None of that stuff means anything. Leading up to the game, it's mundane. Yeah, it must matter if we're getting asked questions about it, but will matter on the scoreboard? Probably not.
On commonalities in the history of the Pack/Heels rivalry...
There's been a lot of tight games, overtime games, last field goal kicks, and crazy comebacks. You've got to finish. That's the biggest thing: you've got to finish. It's not one of those games where you talk about playing four quarters; you talk about playing every second that they let you play the game as long as it takes. I know both teams are going to fight and fight hard. That's why it's a fun game. Man, this one's had a lot of crazy endings. It's what makes them fun. I know both teams have talented players, good coaches, and rabid fans, and it's going to be a great Saturday night.
On discussing bowl implications with the team...
It's something we've talked about. You always talk about what you're playing for, and then you go back to, "How do you get it?" The implications at the end of the year, destinations are real. Those are real carrots that you hang out there. I don't know what we're being chosen between. A lot of it is out of our hands because you don't know if one of our teams is going to the Playoff or not and how that can shift the bowl order in our league. All you can do is control your own destiny by winning, and that puts you in the best place you can go. That's what we're going to try to do at this point. With eight wins or nine wins, both teams are going to have a good opportunity, bowl-wise. You give yourself maybe the best chance by winning this one.
Never miss the latest news from Inside Pack Sports!
Join our free email list