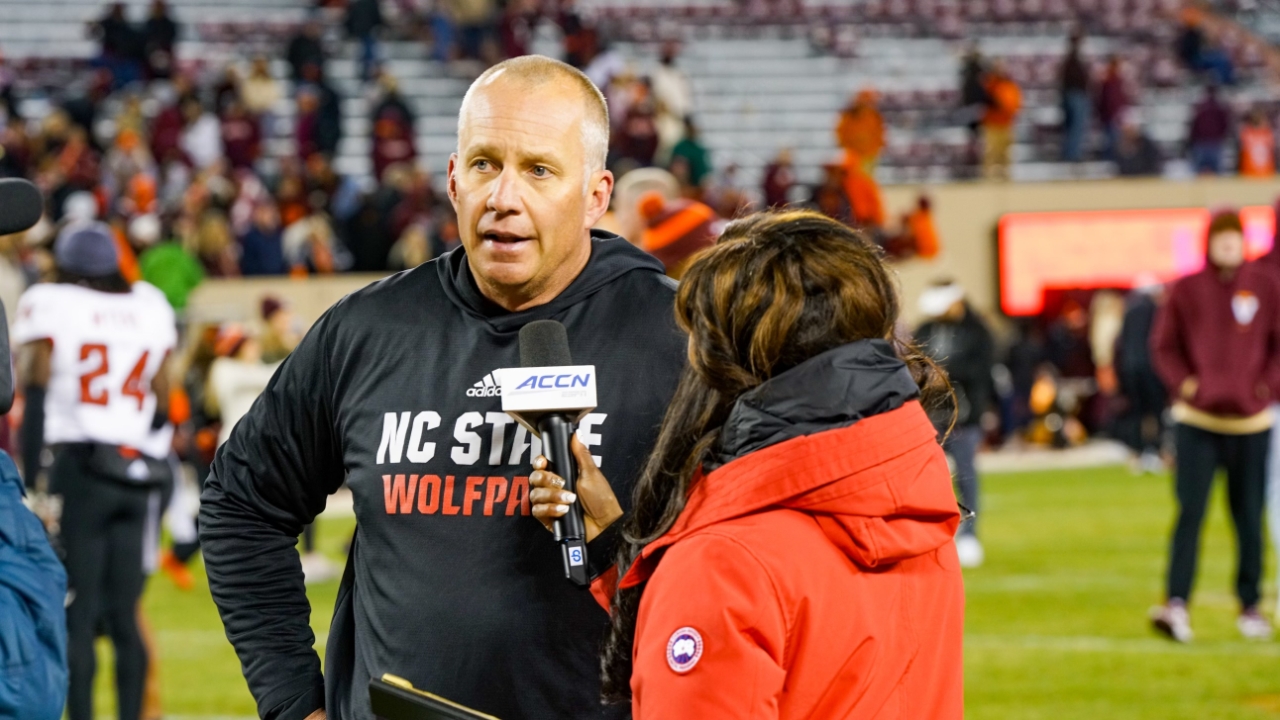 Photo by B.P. Cox/Inside Pack Sports
NC State Football
Dave Doeren: "Scared Money Doesn't Make Money"
---
NC State head coach Dave Doeren met with the media following the Wolfpack's 35-28 road win over Virginia Tech Saturday evening.
NOTE: Click on the video in the player above to watch Doeren's press conference.
---
"[...] We didn't have any false starts due to crowd noise. A lot of teams, when you watch film, that's not what you see. You see guys, over and over, jumping offsides. I thought our kids did a nice job with that."
"A lot of good misdirection. Their eyes were moving all over the place. We shifted. Got a lot of different formations and made them use the rules and broke some tackles. I thought Brennan made some nice throws throws some nice throws and then some of the play designs I thought were really good against how they were trying to defend us."
"He 'spinning the dial,' as [Robert Anae] calls it. There's 25 years of calling offense in that man's head, and he goes back to things he did back in the day, things he did in Virginia, things he did at Syracuse, things that we're watching on film, and then plays off of plays. Man, does he do a good job of that. I thought Robert called a really good game tonight."
"I knew it would take time. The players have to play well for the coaches as well. When you're dropping passes and false-starting all the time like we were in the Duke game, I don't care who's calling the plays; you're not going to be very good. Guys have taken it on their shoulders to play cleaner, play harder, and execute. That helps Robert as a play caller. If we're efficient, man, he can do a lot of good things."
"You never know what to expect. The media, in general, makes such a big deal out of preseason. Even the first three games, it's like the whole world ends when a team loses. It's a long season. There's a lot of stuff. November is a key month. That's why I get frustrated when you see coaches get fired before the end of the season. So many things can happen. I don't know. At this stage in my career, I try not to predict because there's certain things out of my control that changes things. Quarterback injuries changes things. Certain personnel and players — who would we be without [K.C. Concepcion] on offense right now? The fact that we have him playing the way that he is, you just can't predict everything. I'm just proud of how we've gotten better. We're peaking at the right time: offense, defense, special teams. All the guys are pitching in, and coaches are doing a good job. It's going to be a fun rivalry week. You've got two good football teams with the same record coming in, so it'll be a lot of fun."
"[Brennan Armstrong is] just having fun. He had such a tough year last year, and he had such a desire to fix that. Sometimes, you press — 'I've got to be better, I've got to be better' — and that's not how you play better, actually. You play better by just doing what the offense needs you to do, letting your skillset be your skillset. If you're a dropback guy, that's what you are. If you're a mobile guy, that's what you are. Brennan's a little bit of both. Just play the game, play with your teammates, and enjoy it. That's what he's doing now. He's just having fun out there and making plays. What a great run he had there in the second half."
"Big spark. The team embraced his journey, his suffering, his pain. They saw just a good teammate. He really gained respect in these four weeks, just being a good teammate after he went through what he did. Then the opportunity came, and everybody was pulling for him like, 'C'mon man, lets go. I want to see you succeed.' That's been cool, seeing the team rally around him like that."
"All the accolades [Payton Wilson] is getting are so deserved. He's earned them. Boy, has he suffered to earn them: physically, the emotions of not playing as many times as he's had to watch... Some players can watch a game and have fun; they're dancing to the music. To him, it's depressing to watch a game; he wants to be on the field. I'm so happy for him. I'm enjoying watching him, too. I'm taking it in. I'm definitely taking it in because I know he's a generational player."
"[Concepcion's touchdown to end the first half and Armstrong's touchdown to open the second half] was a 'two-fer,' as we call it. We scored to close the half, and then we scored to open the half. That's a two-score swing in the game. For people out there that want to learn, that's a 'two-fer.' That was fun. What a great play. They dropped into Cover 3, and on the seam route, Brennan hit him right in stride, and K.C. did the rest. That was a really nice play before the half."
"[Concepcion] is the most explosive player on our offense. He's a spark, for sure. He's versatile. He picked up when things were missing in the backfield. We had one player that stopped playing and another player that's injured. We've had to fill in with the quarterback runs and receiver runs. The creativity in the backfield is working. I don't know what the stats were — I didn't get them — but I felt we ran the ball pretty effectively."
"We should have [Julian Gray] back next week. He got banged up a little bit in the last game. We're resting him. I didn't think him standing around all game would've been good for him, but we should have him back."
"Watching [Virginia Tech's] film, there was a lot of explosive runs against them in long-edge formations. We just didn't feel like we had a guy that matched up on their defensive ends I said, 'Would you take a D-lineman?' Robert was like, 'Heck yeah!' I told him, 'Well, [Isaiah Shirley] weighs 280.' He was like, 'Perfect!' Shirley had done that. 'Let's give him a shot in practice on Tuesday and see how he looks.' He was very natural. That was helpful to have him in there blocking. I'm excited to see the film. It looked like dented them pretty good."
"It's players making plays, having fun, wanting to be on the field, helping their brothers win. Coaches find a way to get the best players out there to make things happen. We're very proud of those guys, and it's fun to see it. Isaiah Shirley has been on scout team for most of the year, but he's been making life hell on our offense. I was like, 'You know what? Why don't you go make someone else's life hell for a day?' I'm proud of him and happy for him."
"I look at it as putting the pieces in the right place. Scared money doesn't make money. To me, it's some of these guys who are on film not getting it done. We could keep doing that; that's the definition of insanity: repeating something hoping it gets better. Or we put someone else in there and see if they can do it, so that's what we've done. To our players' credit, they want to just play. They don't care what position they play. They just want to be out there and play, and that's what I love about them."
Never miss the latest news from Inside Pack Sports!
Join our free email list