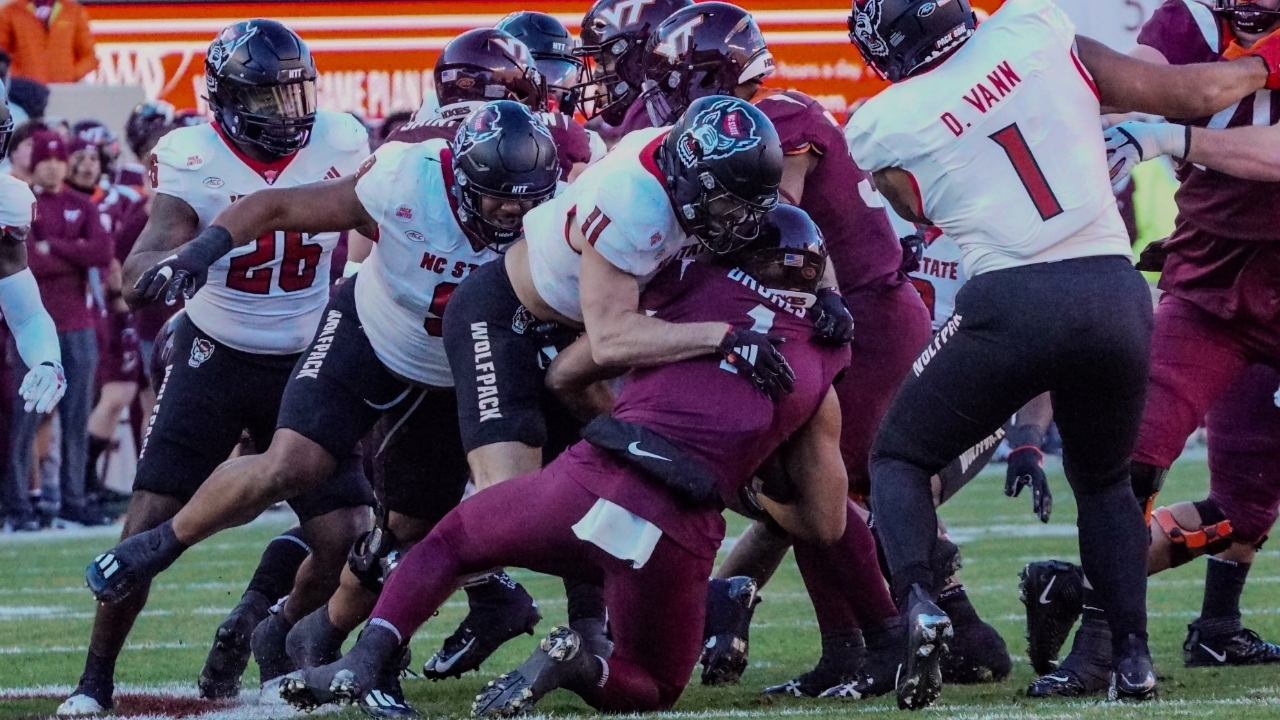 Trent Pennix
Payton Wilson
K.C. Concepcion
NC State Football
LOCKER ROOM REPORT: Wolfpack Players
---
NC State's Trent Pennix, Payton Wilson, and K.C. Concepcion met with the media following the Wolfpack's 35-28 road win over Virginia Tech Saturday evening.
Pennix caught two passes for 38 yards, including a 17-yard touchdown in the third quarter. Wilson led the defense against the Hokies, racking up 11 tackles, 3-1/2 tackles for a loss, and one sack. Concepcion reeled in seven passes for 63 yards and two touchdowns, carried the ball nine times for 44 yards, and tossed the aforementioned 17-yard touchdown pass to Pennix.
NOTE: Click on each player's respective thumbnail to watch each interview in the player above.
---
Trent Pennix

On the trick-play pass to him from Concepcion...
We've been practicing it all week. In the locker room at halftime, Coach [Robert] Anae was like, "Be ready. That play's coming." I looked at K.C. and said, "It's definitely going to score. The safeties are biting hard, and everybody's keyed in on you, K.C." I told him, "You sail that ball really well, I'm just going to be wide open." I turned around, and he threw it before I even turned around. I was like, "All right." It was a good play design and great coaching by Coach Anae.
On Concepcion's throw...
In practice, if you really focus on him, you'll see him throw; he can actually throw the rock. We've just got to find plays where he can really expose himself like that.
On the team's resiliency since the bye week...
Ever since the bye week, we've tried to focus on the five-game season. We're not worried about anything else or what happened in the past. We're just worrying about going undefeated, finishing out these last five games undefeated, and right now we're at number four. We've still got one more step ahead next week. That's gonna be a big one. Everybody's just coming together and really realizing what we have is special, and we could still aim for a 10-win season. That's still at stake, and we have the faith that we can actually pull that off as well.
On Brennan Armstrong improving over the last two weeks...
It's funny because, every time I see him take off on the sideline, I'm grabbing all my teammates, and I'm like, "Bro, B.A. is hard!" Nobody's really messing with him. I already knew what kind of player he was from when we played him like a few years ago, and to have him on our team, I was like, "We've got a good one here. We've just got to know how to really use him." He already knows the offense down pat. It's good to have that leadership role from him, playing for him, and playing alongside with him, knowing that this is both of our last years as well. We're just trying to make a statement for this whole team, going all out in these next two games.
On how Armstrong is able to play even better now...
It's just grit. He's not going to let anybody talk down on him. The outside noise doesn't really impact his game, and he's really focused and disciplined in his craft. That's all he does. He's there for his teammates. As y'all could see, he was there for M.J. [Morris] when he was playing, and he's there for anybody that's playing at that quarterback spot. That's really what will be value in him: that leadership role, that voice, and a guy that we can really look up and depend on every game offensively.
On the next game versus North Carolina...
This is a message to Wolfpack Nation: come sell out the Carter next week. There's going to be fireworks. It's gonna be crazy. It's a big rivalry game. You know how it always goes against UNC. It's senior night — I ain't trying to really think about that right now, but it really just hit me to think about that — next week is my last game in the Carter and also a lot of these other seniors. We're just trying to make a memory, make the best of it, and make people not forget that specific game that's coming up next week. It's going to be a good one.
On helping this team achieve what it has, as a veteran player...
We're just really holding up that standard. As an older guy, I try to lead and bring the younger guys up with us. Today, it was Isaiah Shirley's first game at tight end, and I told him like all week, "When you get in this game, bro, just play free. I gave him some insight from when I was in there before Coach put him in ther. I was like, "Bro, you're going to have a good time playing today. You're strong. I go against you all the time every day in practice. I already know what you're capable of. You've just got to put it against another team that's actually playing." I told him, "I have faith in you." After the game, I went up to him — I was so happy for him — I was like, "You earned it, bro. This is what you worked hard in practice all week for, and I told you you had nothing to be scared of. All of the tight ends are behind you. We have faith in you. We know you're going to do what you've got to do."
On watching younger players thrive after switching from defense to offense...
It shows the amount of skillset we really have on his team. You can really put anybody on this team. It's not just one position. You can put them somewhere else. They'll excel from there. Isaiah came from the D-line, and [Jordan Poole] came from LB. J-Poole scored a touchdown, and I was like, "Bro, what?!" Now, I saw Isaiah moving and denting backsides. One touchdown run came off of his blocks. I was like, "Isaiah, that was off of your block. You've got to know what you're doing. I hope you know you're really moving these guys like it's nothing. Don't be surprised if you're still in the spot moving down the road."
Payton Wilson

On winning his final collegiate road game...
First off, credit to Virginia Tech fans; I don't think there's anything comparable to it. This is one of the loudest places I've ever played in my life. It's just awesome to go out like this. It's not really the way we wanted to finish on defense there toward the end of the game. Our standard is our standard, and when we don't live up to that, we're not as happy as we want to be, but it's my last road game with NC State, and I'm excited that it could be a W.
On what he's learned about this team over the last four weeks...
It just shows that we really admire that like blue-collar, hands-in-the-dirt, put-your-head-down-and-work [mentality]. We've blocked out all the outside noise, and at the end of the day, we know what we have in the locker room. We know what we're doing, and we just had to flip a switch.
On Shirley switching to the offensive side of the ball...
It's really cool. Shout out to Isaiah Shirley. He's a young guy that's getting this opportunity. Another person who was even in our linebacker room, Jordan Poole, it makes me tear up almost every time I see him out there just because I know how long he's waited out and how much work he's put in. Just to see him and Shirley out there, it just really warms my heart.
On the players playing freely...
I think that also shows the character of this team. If you ask other guys on other teams that, to move positions, to switch what they've been doing their whole life, you have a lot of problems. Around here, it's just, "Yes, sir. How can I help you?" That's all you get, and it's just a credit to Coach [Dave] Doeren and the culture that he's built. Put someone out there; they're going to make a play: next man mentality.
On going from when he first signed to playing his penultimate regular-season game tonight...
When you sit in the back of the team room as a freshman, when other seniors are out there saying, "This flies by," you're like, "Man, I'm still a freshman taking all these classes." Going into my last game, sixth year, 23 years old, I'm just excited, sad, excited. I'm ready for the next chapter, but at the same time, I want to finish this out as strong as we possibly can.
If he believes he's set NC State up to have great moments in the future...
I don't know if that's necessarily me. I think that's everybody. I think that's a credit to Coach Doeren, Coach [Tony] Gibson, and the recruiting staff. The people that we bring in here, it's not always about talent. It's about the character that we bring in here, just how the guys mold with each other. I think that Coach Doeren and them have set themselves up for tremendous years to come.
If he thought NC State would be on cusp of a 10-win season at this point in the season following the loss to Duke...
As a competitor, you think you're going to win every single game. There's never a game that I've ever walked into thinking that we're going to lose. We just had to pick this program, basically, out of the trash. We all weren't doing our part. We all weren't bought in. That bye week hit us, those coaches got on us and showed us what we could do, and you can see the result of that. We've got one more to go, and we've got to finish strong.
K.C. Concepcion

On his touchdown pass to Pennix...
I was really just reading the safeties. I had a play early in the game where I'd gotten a swing toss, and the safeties were coming down hard. As soon as I got the ball, I had just watched the safety in the middle come down, and then Trent was wide open, so I threw it.
On where his football IQ comes from...
Genetics, really. My dad was a very intelligent player. At a very young age, he had tried to drill it into me, "You've got to know what you're doing here, here, and there."
On seeing Armstrong's performance over the last couple of games...
It's been amazing. I feel like the fans had counted him out a little bit. It's definitely amazing to see him come back, get the starting role, and do what we've been doing for the past two weeks.
On where Armstrong's grown the most...
I would say his mindset, really. He's a tough guy. He's tough, you feel me? All of us, we just keep on growing week to week, and we just keep winning games. I just hope we keep on doing it.
On what he saw from the Hokies' defense that he was able to exploit...
I'd seen that the seams were pretty open on most plays, and the cutback lanes were very open. The defensive players were overflowing to the ball, so I just saw it and cut it back.
On enjoying being a focal point on the Wolfpack's offense...
Definitely. There aren't too many people in the world that get that many opportunities. I'm definitely blessed. I'm definitely grateful to be on this Wolfpack football team.
On the four-game winning streak giving NC State momentum...
It's definitely huge, the momentum that we have going into this game. I feel like we've just got to get back to practice, fix what did wrong this week, and get after it on Saturday.
Never miss the latest news from Inside Pack Sports!
Join our free email list