Photo by NC State Athletics
NC State Basketball
MCLAMB: Yurtseven Standing Tall
---
He stood tall, is gaining consistency, has more room to grow and now the dynamic is changing.
Omer Yurtseven said his performance Saturday in NC State's upset win over Duke was one of his best. He followed it with a dominant offensive effort that showed a wide range of talent and will serve him well in the future.
The sophomore from Turkey finished with 29 points Thursday evening in the Wolfpack's victory over No. 19 Clemson. Yurtseven made 12-of-18 field goal attempts, dazzling inside with solid post moves and jump hooks that land softly on the rim before gently rolling through the net.
Yurtseven also drilled 5-of-6 three-point attempts, accentuating why he can be the kick-out guy on penetration or the high player in a high-low set despite his being a superior performer in the interior.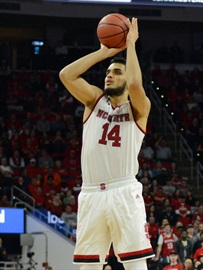 USA TODAY Sports
When Yurtseven played against Duke, he was the best player on the floor for a NC State team that received contributions from everyone. Going up against Marvin Bagley III however, there was some separation between him and a top talent.
The gap narrowed in only one game and it happened when the Wolfpack was not getting nearly the balanced scoring effort that it had Saturday.
NC State needed Yurtseven and would not have won without him. He showed up.
Suddenly, Yurtseven appears not only to be the super-talented player NC State knew it was getting prior to last season but also he is showing glimpses of being a superstar.
It somewhat parallels NC State's journey.
The Wolfpack, picked to finish 12th in the ACC during the preseason, now has two straight wins over ranked opponents in conference play. While nothing is settled, and yet another top-5 team in Virginia is next on the schedule, NC State is right in the mix of things in the ACC.
The victory over Clemson means there is now only one undefeated team in league play. The Wolfpack will be in Charlottesville playing them Sunday.
Over the years NC State has struggled coping with success, especially as it pertains to big wins over Triangle rivals. To be fair, some of those victories over Duke and North Carolina were upsets in themselves and the Pack winning was more of an indictment of the opposition that day.
Those NC State teams also often had to face another solid opponent the next game, as this current squad will Sunday evening at Virginia.
In beating Clemson, the Pack did respond well to success. That, among other things, is an area where NC State needs to grow under Keatts.
"Everybody expected us to relax and just chill after we won the game against Duke, and they were number two and number one in the RPI," Yurtseven said. "Coming off of that, everybody was kind of relaxed but then we start practicing.
"We kept our hustle. We just worked really hard on Clemson and we lost the game at their home by a lot of points. We knew they were a good team and now they're ranked 19. All we thought about was that we had another challenge, another opponent, another barrier. Winning against number two and then winning against 19, that was all we thought about."
NC State needs to 'keep its hustle' and stand tall because there is room to improve and it will not get any easier. There are strides still to be made.
The big fella in the middle may just be the lodestar the Wolfpack needs. Yurtseven is starting to show the way.
Never miss the latest news from Inside Pack Sports!
Join our free email list