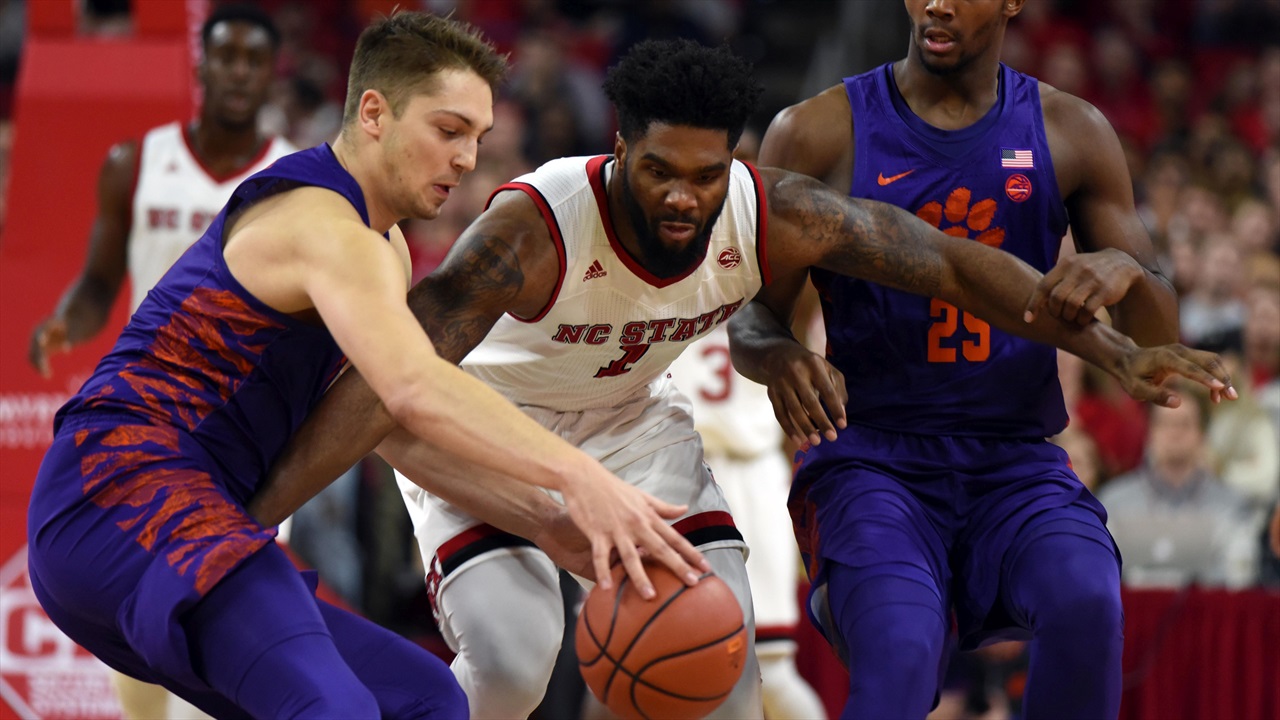 Photo by USA TODAY Sports
NC State Basketball
OBSERVATIONS FROM THE GAME: Clemson
---
NC State picked up its second straight win over a ranked opponent at home with a, 78-77, triumph over No. 19 Clemson at PNC Arena in a wildly interesting affair.
The Wolfpack avenged an earlier loss to the Tigers and held on late despite its own efforts to send what seemed like a comfortable win into overtime.
Gabe DeVoe missed the potential game-tying free throw with two-tenths of a second remaining after being fouled on a three-point attempt. He sank the first two free throws to bring Clemson within one point.
With the win, the Pack moves to 12-5 overall and 2-2- in the ACC. Perhaps more importantly, NC State has responded of late after beginning the conference season with two lopsided losses.
HIGHLIGHTS
Omer Yurtseven was dominant. The Turkish sophomore posted a career-best 29 points and provided visual proof that he has skills that separate him from others, particularly from three-point range where he made 5-of-6 attempts.
As wonderful as it was for NC State to see Yurtseven show what he can do from long distance, the post moves, which seemingly always ended in a left-handed jump hook or put back near the glass, can provide a hopeful glimpse into the future for the Wolfpack. His four blocked shots will also serve his team well.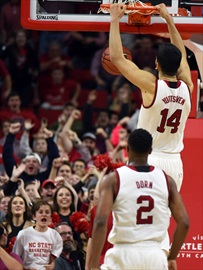 USA TODAY Sports
* It is remarkable to look at the final box score. In nearly every statistical category NC State came up short to Clemson in the contest and in some the Pack actually played worse than they did against the Tigers in the 16-point road loss two weeks ago.
* One stat line that is decidedly in NC State's favor is turnovers. The Wolfpack only finished with four turnovers in the entire game. The steal differential was astounding, as State enjoyed an 11-0 advantage. Lavar Batts Jr. had five steals, including four in the first half.
* The turnover advantage meant NC State outscored Clemson 20-5 in points off of turnovers. It was a margin almost created by default. The Tigers generally could not create any momentum with their defense and the 13 offensive rebounds that the Pack hauled in helped provide Kevin Keatts' team with 14 more shot attempts in the game, with State ultimately needing every one of them.
* Defensively, NC State had its hands everywhere -- deflecting balls and creating disarray. Clemson finished with 17 turnovers and only 10 assists, meaning most of what the Tigers created was in some form of isolation.
LOWLIGHTS
The Wolfpack led by 12 points with less than 90 seconds remaining in the contest. NC State led by five points with two seconds left. If DeVoe makes the last free throw, the contest goes to overtime.
* The Pack had two turnovers in the first 39 minutes and 33 seconds of action but had two more in the final 27 seconds of the game.
* Joy of beating a ranked opponent and exacting revenge for an earlier loss aside, NC State nearly had an epic collapse at home. It almost certainly would have carried a devastating impact.
* The objective for NC State fans going into the weekend will be to focus on the first 38 minutes against Clemson and let that provide hope for better days ahead. The mission for Keatts will be to correct the final 90 seconds so that his team can reach its potential.
* NC State will also have to use its size better in the future. Omer Yurtseven, Abdul-Malik Abu, and Lennard Freeman combined for only 12 rebounds in the game. The Wolfpack lost the rebound total in the game to Clemson by 11. The Tigers outscored State inside 44-26 inside and 12-2 on fast breaks despite there being only four turnovers from the Pack.
PACK +/-
+/- is the points scored by a team minus the points allowed by a team while a certain player is on the floor.
Omer Yurtseven: +10
Allerik Freeman: +8
Braxton Beverly: +5
Abdul-Malik Abu: +1
Sam Hunt: -2
Lennard Freeman: -3
Lavar Batts Jr.: -6
Torin Dorn Jr.: -8
STAT OF THE GAME
Omer Yurtseven: 29 points, 12-of-18 field goals, 5-of-6 three-point field goals
QUOTE OF THE GAME
"I thought Omer Yurtseven was unbelievable. It was great. He scored the ball inside and out. When you look at our team, we did a tremendous job. We had 15 assists on 28 made field goals, only turned the ball over four times. We were very aggressive. We did a great job. We got our 40 deflections. We were able to turn them over 17 times, and they only had 10 assists. (That is a) very good Clemson team. They are going to win a lot of games, obviously, and I think they were coming off winning 10 in a row, but I thought we answered the bell." -- NC State head coach Kevin Keatts
Never miss the latest news from Inside Pack Sports!
Join our free email list