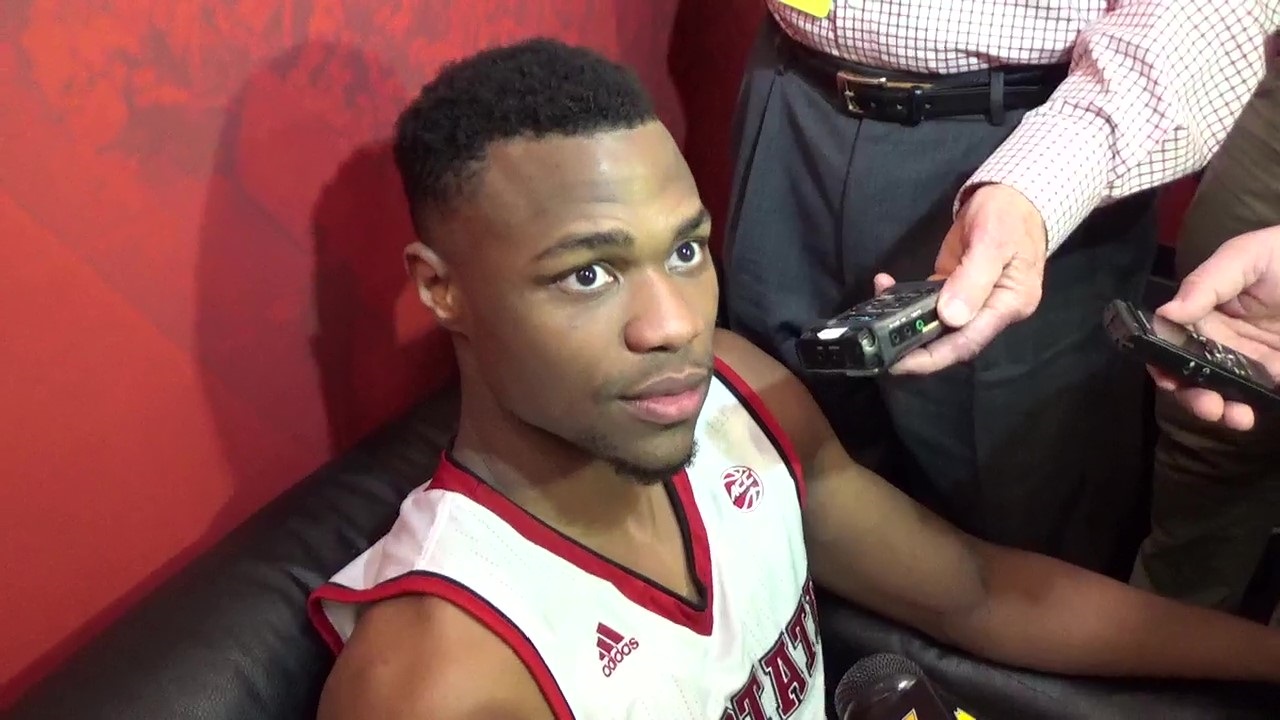 Guard Al Freeman
Center Omer Yurtseven
PG Braxton Beverly
Guard Torin Dorn
NC State Basketball
Locker Room Report: Wolfpack Players
---
Several NC State players met with the media after the Wolfpack's 78-77 win over No. 19 Clemson.
---
Braxton Beverly, Guard
On the crowd...
It was crazy. We were just talking about when TD (Torin Dorn) got that steal and how loud it got. We kept yelling back ton defense to each other, but we couldn't hear anything. The place was rocking.
On the difference between the two games played against Clemson...
We are encouraging each other, sharing the ball a lot better, and we got a high assist number to our field goals. You see now how well it's working out for us.
Omer Yurtseven, Center
On beating another ranked team...
Everybody expected us to relax and just chill after we won the game against Duke, and they were number two and number one in the RPI. Coming off of that, everybody was kind of relaxed, but then we start practicing.
We kept our hustle. We just worked really hard on Clemson, and we lost the game at their home by a lot of points. We knew they were a good team, and now they're ranked 19. All we thought about was that we had another challenge, another opponent, another barrier. Winning against number two and then winning against 19, that was all we thought about.
On the team's potential despite lacking offense...
It just shows the potential that we have. As you said, we kind of slowed down the pace. All we wanted to do was just take our time with the plays and execute the plays. After that, it's all about punishing the flaws that they give us, and that's all we did is try to read the game.
On feeling like they have a new season after beating ranked opponents...
At the beginning of the season, it felt like that, and the more it keeps going, the more we still can grow. Now we know if we share the ball, we can accomplish crazy things. Everybody's on the same page right now, and I'm glad, and I hope that we'll stay on the same page.
Torin Dorn, Guard
I was just trying to stay focused and prepared.
How important was it to have this game after Duke.
It's definitely good for us. Anytime you play a great team and beat them, the tough part is coming back... it was important as a team and to give us confidence.
Does this give you more confidence?
It definitely does... the ACC is wide open.
It will definitely be a tough battle, and we're definitely ready for it.
Al Freeman, Guard
How crazy was the ending?
I told Marcquise Reed if he hits all three of these free throws you have to tip your hat to him. You need to have some cajones to do that.
It's a learning situation... a lesson for us. We have to finish out games.
What was going through your mind in the timeout?
I would have been impressive if he hit all three.
Can this team build momentum?
Yes, we have something good going right now. We have to keep building on it.
NOTE: To view each individual video, simply click the video above.
Never miss the latest news from Inside Pack Sports!
Join our free email list