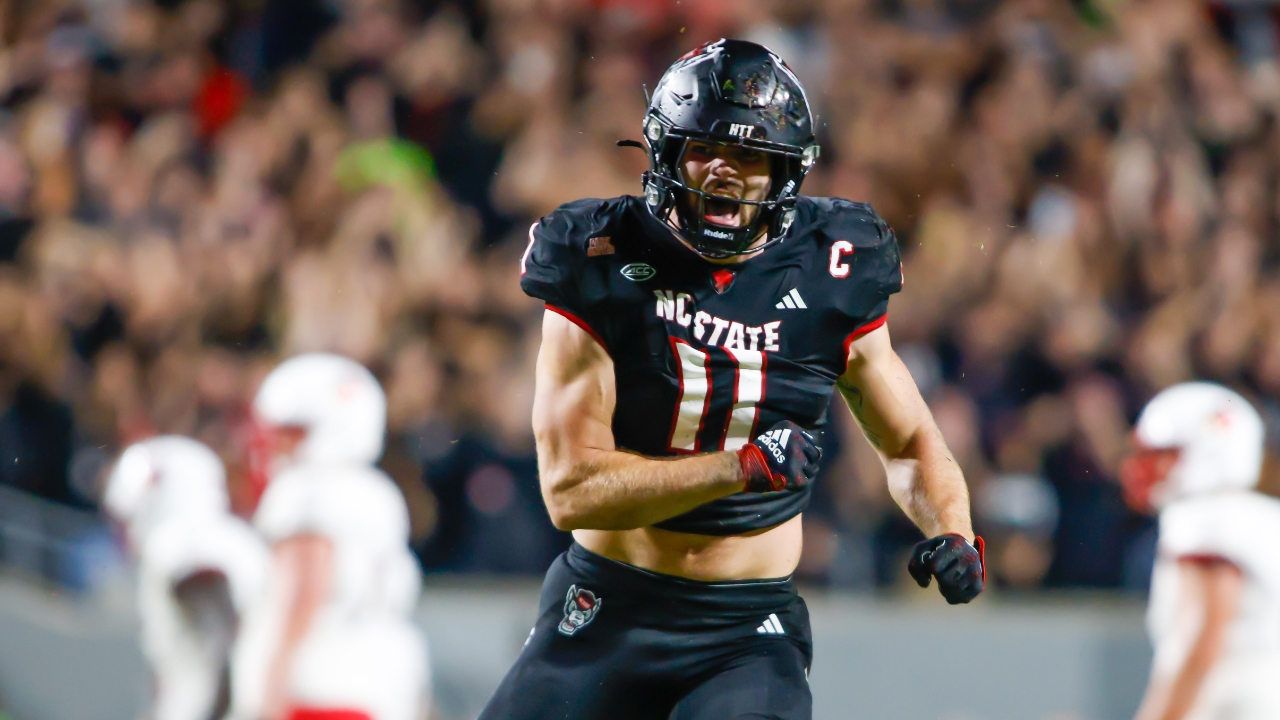 Terrell Timmons, Jr.
Payton Wilson
NC State Football
LOCKER ROOM REPORT: Wolfpack Players
---
NC State wide receiver Terrell Timmons, Jr. and linebacker Payton Wilson met with the media following the Wolfpack's 13-10 loss Friday evening versus Louisville.
Timmons caught three passes for 71 yards, including a 45-yard reception that put the Pack in the red zone. Wilson rocked the Cardinals on defense with 10 tackles, two sacks for a loss of 21 yards, a forced fumble, a pass breakup, and a quarterback pressure.
NOTE: Click on each player's respective thumbnail to watch each interview in the player above.
---
Terrell Timmons, Jr.

On establishing a rhythm this season…
It felt good. I've just got to keep maintaining my energy on the sideline and keep making big plays. We'll bounce back. We'll get the W next week and keep going.
On what the team took away from Wilson's speech after the game…
We just have to stick together, keep going, and keep playing hard. We all played hard. We just have to stay together and just keep going. We can't let this loss get between us. We have to stay as a team and keep going.
On what's holding the offense back…
Just sticking together as a team. It's not just about the offense. It's about everybody. We have to stay together as a whole team.
On what the team is doing to stay together…
We practice hard. We play hard. We all love each other. It's a brotherhood in the locker room. A loss like this isn't going to get between us.
On the biggest issue on offense…
I feel like there really aren't any issues. I feel like we're playing well. We just have to finish games together as a team.
Payton Wilson

On the message to the players in the locker room…
We've been here before. We just have to stick together as a team. There's no team out there that wins when it's offense versus defense. We have to stay together as one. That's been our identity. That's been our culture here. Through good, through bad, we're always one unit. We just have to keep moving forward. Defense, we could've done some things better to help win that game as well. We just all have to come together as one. Everybody's got to love each other. At the end of the day, no team wins if you're separated. We just have to continue to love on each other and play for each other.
On the lack of complementary football at times…
I don't know if you've been around Coach [Tony] Gibson a lot, but if we kick one field goal, and we're up by three, that's all we need. At the end of the day, we don't care. We could go out there every single play if we could. At the end of the day, our job is to stop them from scoring points. They scored more points than we did. As a defense, we put that our on backs. We just have to go back into the lab, and we have to continue to work. If we're out there for 20 plays, if we're out there for 120 plays, we just have to continue to execute like it's the first play of the game.
On the plan to stop the ACC's top-ranked rushing offense…
It's just the love for each other that we have on the defense. I truly love these guys. I feel like all 11 guys on that field, the whole defense, we love each other so much. We're literally willing to die for each other, and that's the culture Coach Gibson's built. Credit to him, he's one of the best coaches in college football, if not the best. With the energy he brings, you have no choice other than to go out there and literally play until you can't anymore. The energy, the style of coaching he brings every single day, every single day in practice, every single day on the sideline — you want nothing more than to be on that field and make a play for him.
On Sean Brown…
That was tough. Sean was having probably the best game he's ever played in his life. He's flying around, making plays, playing like he's never played before. At the end of the day, we got another target zone. We've just got to stay out of those situations, but like I said earlier, Coach Gibson and the mentality he brings, the next person's up and ready, and he's ready to come make every single play Sean was making. Sean going out didn't hurt us, but at the end of the day, Sean was playing his tail off, and it's tough to lose someone playing out of their mind.
On stopping the run…
At the end of the day, that's what we do. The beginning of the season was a little different, but going back last year and going back to some of the games this year, that's our mentality. That's what Coach Gibson prides himself on. We run a 3-3-5 defense, and you're not going to run the ball on us. We're going to shut that down and try to make you one-dimensional, and I feel like we did a good job of that tonight. Everybody knew their assignments, and everybody played as hard as they could because Louisville had some players that, if you don't tackle them on that first time you saw them, they'd turn five-yard hitches and zone reads into 30-yard plays. Being able to tackle, know where you're supposed to be in the run fits, and have that mentality, then nobody's going to run that ball on us.
On evaluating himself individually…
At the end of the day, we lost, so I didn't do enough. I always critique and grade myself as hard as I possibly can. When we don't win, I feel like I didn't do enough, and I feel like I left plays out there on the field. I just have to get back in the lab, and I have to continue to get better. Some of the plays that I missed are the plays that could've affected the game. I just have to hone in on certain stuff, and Coach [Dave] Doeren does a good job of preaching it: just get one percent better each day. I'm never truly satisfied with how I play.
Never miss the latest news from Inside Pack Sports!
Join our free email list