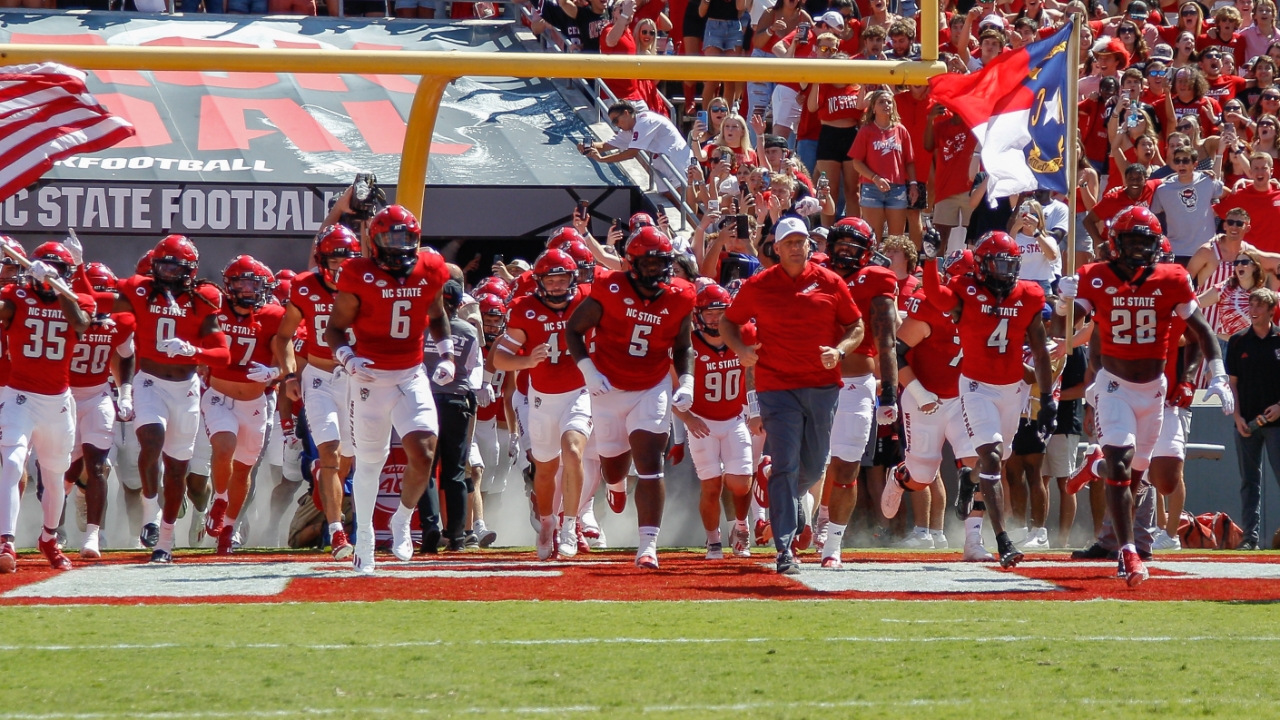 Photo by Steve Murphy/Inside Pack Sports
NC State Football
OUR FINAL TAKE: NC State vs. Louisville
September 29, 2023
87,953
---
Several members of the Inside Pack Sports staff predict the winner of the NC State-Louisville matchup.
---
James Henderson (IPS Publisher)
State 31, Louisville 24
I'm going with the Pack here. I think homefield is a big, big deal in this matchup and State is able to generate enough offense to win this one... for some reason I feel like we'll get a defensive/special teams score as well.
Steve Williams (IPS Football Recruiting Analyst)
Louisville 38, State 21
The wildcard for me in this game is the crowd and atmosphere. Louisville hasn't played in this type of environment all year. Not even close. With that, you're never sure how a team will respond. I think that's the caveat to my pick. Does State feed off that energy and play out of their minds? I hope so.
Bryant Carson (IPS Football Analyst)
State 31, Louisville 27
I've been going back and forth on this one all week--too many unknowns remaining with both teams to size it up correctly.
I'm probably being overly optimistic (a rare occurrence), but I predicted a very close game last week against UVA because playing on the road on a Friday night typically finds the home team and home crowd well motivated, and Carter-Finley can be a nightmare for opponents--particularly at night (probably no opponent knows this more than L'Ville after the blackout in '17). L'Ville has been explosive offensively this season, but I'm not certain they've been met with a ton of defensive resistance – and while this '23 Wolfpack defense might not be as strong as '21 and '22 I still think it will prove to be above average in the world of college football. I also think State's ST units might give them a boost with some excellent starting field position or maybe even a few quick points.
If the defense is able to at least slow down that L'Ville offense and hold them below their 43 points per game average and ST chips in with some nice returns/punts/FGs/etc then I think the offense, with the home crowd behind them, can find enough magic in the moonlight to get this thing done. Of course, I could be wrong and State loses by three scores...tough call.
Phillip Danford (IPS Football Analyst)
Louisville 28, State 27
I believe this will be a one possession game throughout. Both teams will have a chance but I give Louisville a slight edge due to their explosive play ability. I don't think they run rampant through the NC State defense like they did versus BC last week, but how well the secondary plays will go a long ways to determining the outcome of this game. On the offensive side I believe KC has the chance at another big game, but who else around him can step up? This team needs another playmaker to establish themselves if they're going to make a big jump in output. Be loud, wear black, and get ready for a tight one.
Rob McLamb (IPS Writer)
State 24, Louisville 21
NC State winning this game would not be a major upset. The burden of proof is on the Wolfpack, however. NCSU has to show it can score consistently.
Defensively, the Pack has to make game-changing plays -- such as scoop-and-scores or pick-sixes. Julian Gray cribbing a kickoff or punt would be optimal as well. Can NC State's offense do the things required to put up a 30-to-40 point effort against a conference foe? Yes, but seeing is believing. Until then, it must be assumed that if the Wolfpack's opposition can get to the 30-point threshold, NCSU will have problems winning.
If ever there is a game to sort things, this is it. A victory puts a flawed NC State team at 4-1 overall and 2-0 in the ACC. The second half of the schedule is brutal and the value of the games has yet to be determined, but if NC State enters the second half of the schedule needing one or two wins for bowl eligibility it would make the task somewhat easier.
Imagine the Wolfpack winning its next two home contests and getting on the bus for Durham at 5-1 and 2-0 (ACC) in October?
Imagine having a bye week for Clemson at 6-1 and 3-0 or even 5-2 and 2-1?
It would not require anything more than what NC State already has, just more than what they are doing -- meaning they have the players to do it but they are not executing at top efficiency.
Special chances are out there, and NC State controls its destiny.
Alex Gee (IPS Analyst)
State 27, Louisville 24
I like the matchup. I like the spot.
NC State hasn't lost a home game after 7pm since 2019 (2020 Miami doesn't count for me due to limited crowd size). This is by far the most talent UL will have faced on defense this season at all three levels. I expect State to minimize their run game and the outside corners to play well in this one. It comes down to scheme and execution in this game for me, and I'll always bet on a Dave Doeren & Tony Gibson lead defense.
The offense hasn't been great, but the flashes have been. Build, build, build. State doesn't have to be perfect on offense to win this game, but they can't be terrible. Three touchdowns + two field goals = five scoring drives. I feel good about that manifesting.
Jake McSwain (IPS Writer)
Louisville 28, State 21
I do believe that this game is going to be relatively tight and a turnover could certainly swing things in either direction. I just don't feel super optimistic about this one. My gut is telling me that Louisville is going to be the more consistent offense and that will win them the game.
For State to win, the Defensive line will need to dominate plays on a consistent basis and speed them up. They sincerely need to limit big plays, and they haven't shown the ability to do that yet.
Jake Caccavaro (IPS Writer)
Louisville 30, State 23
I think the Cardinals are the better team, and with the injuries in the Wolfpack secondary, it's hard for me to see the NC State defense keeping the Louisville offense at bay for all 60 minutes. Eventually those explosive plays are gonna be too much.
And I simply am not going to pick the Wolfpack offense to outscore any team with a good offense until it actually happens.
Jeff Reeves (IPS Photographer)
Louisville 34, State 13
NC State isn't able to keep up with Louisville in this one. The defense is able to keep the Cardinals in check for most of the game, but big plays once again break the Pack. The Wolfpack offense is still disorganized outside of a few nice nice catches from Rozner and KC.
Runa Cooper (IPS Sponsor)
State 27, Louisville 24
There seems to be two themes over the past decade concerning NC State football that are as certain as death and taxes: losing to a Power 5 out of conference foe and bringing the heat in weeknight games at Carter-Finley. We've already lost to Notre Dame, so it's time to beat Louisville. I don't want to think harder about it and change my pick; Carter-Finley should be rocking and the defense pulls out just enough stops.
BP Cox (IPS Photographer)
Louisville 45, State 24
Louisville comes to Carter-Finley with a perfect 4-0 record. They have also scored 33 more points in ACC play than the next team (FSU).
This shapes up to be a challenge for the Wolfpack defense as the Cardinals will work to test the Wolfpack defensive backs early & often. Aydan White will have to ensure he can stick to Jamari Thrash himself to leave safety help on other levels and matchups.
On offense, Brennan Armstrong will need to ensure he can make quick reads if his 1st & 2nd options aren't there. The Pack will have to limit empty possessions and hope that touchdowns are the results of those scoring drives. Field goals won't cut it in this one.
Even with a blackout from Wolfpack Nation, Friday night lights, and Bill Cowher taking his rightful place in the NC State Ring of Honor, I'm afraid this might be a task too tall for State. I hope I'm wrong.
Never miss the latest news from Inside Pack Sports!
Join our free email list