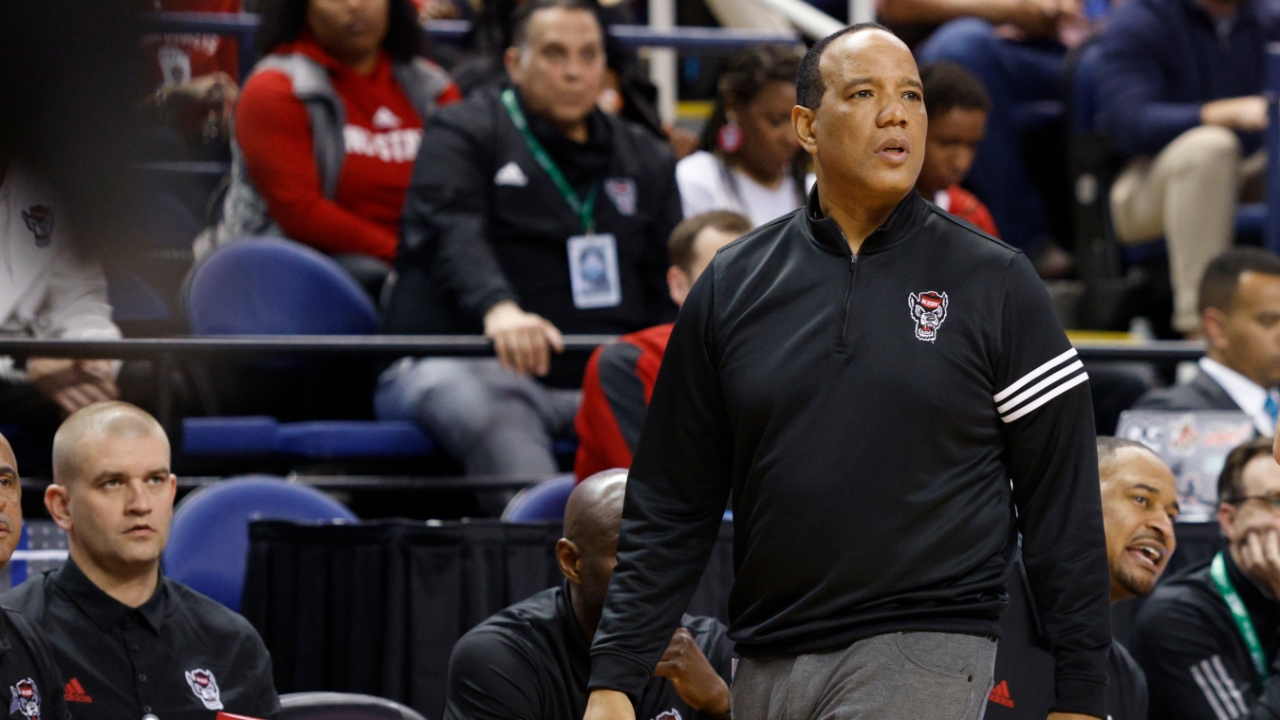 Photo by Steve Murphy/Inside Pack Sports
NC State Basketball
Kevin Keatts: "We've Got a Lot of Options"
---
NC State head coach Kevin Keatts met with the media Thursday afternoon to discuss a plethora of topics as the Wolfpack prepares for the upcoming 2023-24 season.
NOTE: Click on the video in the player above to watch Keatts' press conference. An abbreviated transcript is provided below.
---
Opening Statement
To start off with this, I picked up a part time job, just in case anybody wants to know, and that's firing up the fans for any contests that we may have. I had a good time, [women's basketball head coach] Wes [Moore] and I, so I want you guys to know this. Think about this now: it was a great margin — not to take away to the football team because they played very well — I think Wes and I had a little bit to do with the margin of victory. It is great to see everyone. I've seen most of you guys run around for football and throughout the summer. Honestly, I miss some of you guys. I haven't had a chance to get a few questions from some of you guys, so I missed you. We had a really busy offseason. What I mean by that is we brought in eight new guys, and we got a couple of different staff members. I think our staff has done a tremendous job of hitting the transfer portal which we knew we had to do when we were going to lose so many important pieces that we had. I like our team. We're new. The advantage of this team is that they are new, and so most most of these guys are coming in as sponges and are excited to have the opportunity to play here, and [with] our style of play, a lot of them are very grateful to be in the ACC. The disadvantage is that we got new guys, and we don't have the foreign trip to take this year as we did last year to be able to get some of these guys up to speed. We've done a little bit more competition stuff in practice, a little bit more five on five, trying to get those guys up to speed a little bit in our four hours that we've had a week. Now on Monday, we get an opportunity to do this to start for practice.
On M.J. Rice's timetable for his return…
We do not have a time. If you go back to his statement, he's out for personal reasons, and it's going to be on M.J. when he decides to come back.
On the bonding experiences the team can have without a foreign trip...
Later on in the next two or three weeks, we're going to take a trip; we typically go to Wilmington, practice, and get away a little bit. We're trying to have as many [as we can]. We've done paintball. We use the tailgate as a great example for our guys to get together and have a good time. The more we can grow off the court, the better we're going to be on the court. We take every opportunity that we can just for these guys to be able to hang out and laugh with each other. I don't know if you guys had a chance to come through the lounge; we've completely redone the lounge, so we can get back to hanging out in the lounge. We put a couple of Playstations in there where they can play and have fun a little bit. It's important that we just grow together.
On his and Moore's experience at Carter-Finley Stadium...
Well, first of all, when they said there was one mic, I looked at him and said, "All right, Wes, here's your deal: you've got a chance. Now, you're going to steal the show. You do it. I'll just follow your lead." When we get into the home tunnel, he's like, "Man, I'm going to only talk for 30 seconds then hand you the mic." I'm like, "Come on, Wes. That ain't like you to pass up the show." We had a great time. You know, we talked about a couple of days leading into it. It was exciting. You know, we decided to go with the football jerseys. I'm an old quarterback, and Wes says that he's an old receiver. We talked about us throwing the pass, and I was like, "Wes, that will never happen because I'm going to throw the pass. It's not going to be very good because I haven't thrown a pass in 20 years, and there's no way you're catching the pass." It was pretty good.
On being more acclimated to the transfer portal…
I'm more used to college basketball. I think I said last year that I don't know if there will be many guys have started as a freshman at that university and ended up staying down to graduation. You know, last year, we had four. This year, we have seven, and obviously you had one more with Dennis Parker as a freshman. I don't know if I'll ever get used to it, but it's where we are today, and we have to get up to speed really quick.
On expecting home-run transfer portal acquisitions every year...
I'm going to tell you what: you give me Jarkel Joiner and D.J. Burns every year; they're all home runs. It's funny because people will rank the top transfers, and I don't think any either one of those guys were in the top 50, but for us, they became McDonald's All-Americans. They were really good. You can talk about Jarkel Joiner; he had career highs in every category, transferring from Ole Miss coming here. He had a great year for us. It was an unfortunate thing with Dusan Mahorcic getting hurt. D.J., obviously, got a chance to go into the starting lineup. We played him about 30 minutes a game after that, and man, the legend of D.J. Burns was born. He's going to be mayor of this city one day. He is. He is what he is. Those two guys are really good. It's unfair for me to say whether I have a D.J. Burns and a Jarkel Joiner because we didn't know that at the beginning when we got those guys, but hopefully, two or three guys will turn out to be just as good as those guys.
On the point guard and power forward positions…
I think it's a lot of competition. You got Michael O'Connell, who has played a lot of basketball at Power Five that can play the point. With D.J. Horne, he's in the same situation, but he's been more of a combo guard his whole life. Then, you've got two guys who completely had to play against Jarkel Joiner and Terquavion Smith in Breon Pass and L.J. Thomas. We've got a lot of options. I don't know who we will go with ultimately at the end. Power forward, we've got a lot of options. We could play big. We could go back to the fact when we had D.J. Funderburk and Manny Bates playing because I love what Mohamed [Diarra] is bringing, I love what Ben [Middlebrooks] brings, and then you've got Dennis, and then you'll have the opportunity to play M.J. at some of those positions also.
On what Horne brings to the team…
It's always great to get a young man to come back home. He's here, he's been positive, and he's been great. He's older; he's a great older guy to have in the locker room, let alone his ability to score the basketball. He will put you a little bit in the mindset of Terquavion and Jarkel because he's a really offensive-minded player.
On Atlantic Coast Conference expansion...
I've spent a lot of time in conversations about that. Here's what I will say from where I sit as the basketball coach: I trust Chancellor [Randy] Woodson and [athletic director] Boo Corrigan to make the decisions that are best for NC State and also best for the ACC. I don't get a chance to sit in those meetings. I'm the basketball coach, I've got to put the best product on the floor for NC State, and whoever we play, we play. That's just the way I look at it.
On the non-football sports potentially adapting a more regionally-minded schedule...
I don't know. For us, it's completely a different ballgame, so I don't get the opportunity to see the other sports, how they travel, and how many times they play. It will be completely unfair for me to answer those type of questions because I don't know. l'm a low man in this situation because I don't have the opportunity to have those conversations.
On the team's overall depth…
We have possibly 10 guys that we can put in the game. I won't make hockey substitution where we go five and five, but I do think that, for the first time in a long time, we have two point guards, two shooting guards, two small forwards, two power forwards, and two centers. Then, we've got a lot of interchangeable parts that can play different positions.
On the perceived changing of the guard in college athletics...
I think [Colorado head football coach Deion Sanders and Kansas State head men's basketball head coach Jerome Tang] have done a tremendous job in their first year, and I think that's important. You want to come in, and you want to build your first year. Go back to my first year: we had a great year. You've just got to keep building, and you've got to keep on working. When you you bring up those two guys, I think they've done a tremendous job. They've brought excitement to their job and to their fan bases, and I think that's what's important.
On building upon last season's success...
We've had some great things happen here I know a lot of people say, "Golly, you know, when you look at this and all that stuff…" You know, it's hard at any level to win 20 games four years, and it's really four out of five because one of them was a completely wash where we didn't play a lot of games. Last year, we get back on track for where we were at the first three years. Obviously, I can sit up here, and I can point to COVID. I can say injuries and all that other stuff. None of that matters. What matters is that we came off of, we got back on track, we just won 23 games, we just went to the NCAA [Tournament], and we want to continue to build on that.
On the buzz Parker's arrival brought…
You guys will get a chance to watch us, hopefully soon. What makes Dennis Parker really, really unique is that he plays hard. We had a workout this morning, and I didn't think a couple of guys played hard which is uncharacteristic of the couple of guys. One thing I've always said is that the hardest-playing team typically gives us the best chance to win, and when you look at Dennis, he won't you won't put you in the mindset of a freshman. He believes he runs the floor. He's athletic. He can play multiple positions. He can call more than one position. I'm really excited about him as a freshman. Even when I talk now, I say we have eight newcomers, and I consider him part of a transfer even though he's a freshman.
On where he sees Parker fitting right now…
I think he's I think he's going to play some small forward for us. Also when we go if we were to go small ball, I think he can play that Torin Dorn role be able to play some four for us.
On Kam Woods' eligibility status…
We had conversations. Kam's had a very unfortunate situation. When you think about Kam Woods, he went to Troy. He decided to leave Troy and go to junior college, not knowing that going to junior college, after had some family situations and transferring to [North Carolina] A&T, that that may be his one time transfer because he left Troy as a freshman. He goes to junior college, and then he enters back into college. He's thinking, possibly, "When I transfer the next time, that's my 'first' transfer." Well, we had those conversations up front. We talked about that. We talked about the opportunities here. "We would have to file a waiver for you to be eligible under the current situation, but if the waiver doesn't go through, then, if you're going to come to NC State, you'll have to accept the fact that you're going to have to sit out a year, like it used to be." He was completely fine with that. I tried to set the expectation where it was and make sure that we both understood this as what it could be. We should be filing a waiver for him soon, and we'll live with whatever the results are.
On who the team leader is…
I'm looking for that. You know, D.J. Burns is a great leader when he's catching that ball and scoring. On the other hand, when we put him in ball screens, he's not such a great leader. We're trying to figure out who can step up and be that voice. I don't know where it's going to come from right now. It's the coaches, and we're the loudest guys in practice. That will change come Monday because now someone else has to step in, make the calls, make the defensive calls, and everything else, but I don't have that. I didn't know that until probably two months in when Jarkel Joiner became one of the best leaders that I probably coached in my life. I didn't know that. I just didn't know it. He kind of took over. He took over, and, little did I know, he'd started doing it in the locker room, but I didn't see it on the floor. Then all of a sudden, he elevated. My old coach always said, "The cream will rise to the top." Someone will become that leader.
On what Woods can bring, should he be allowed to play immediately...
He's good. You don't average 17 points in Division I, no matter what level, unless you can really score the basketball. He's gotten a lot stronger. He's shooting the ball a little bit more consistently at this level. He would be a great addition to our roster. Once again, I'll go back and say it: I don't know if he's going to be eligible or not, but if he is, I think he could help us.
On the depth at wing...
We've got good players. I haven't said enough about Casey Morsell this summer. What a great year that he had for us. As I talked about Jarkel Joiner and the impact that he had coming in, Casey had an impact for the jump that he made, and he's played well. Jayden Taylor's going to be really good. We've got some talented guys that can score the basketball. You know, the biggest thing, as I told you before, is learning how to play together. We lost two dynamic scorers. I don't know if I'll coach two guys in the backcourt that will be as good as those guys at the same time. We're talking about 34 points a game. Sometimes when I go back and watch tape — which I do all the time, even as recently as two days ago — man, I almost want to cry. Those guys were really good. Terquavion Smith, I can't say enough about him. I'm grateful that he came here, grateful that people doubted him. He was 150 pounds when he decided to commit here, and look at the impact that he had in two years. I'll go back and say it: Jarkel Joiner was tremendous. Those two guys really worked well together, not because of Terquavion Smith, but more because of Jarkel Joiner who was more of an older brother and kind of took him under his wing. He was okay with a young kid taking a lot of shots even though he was transferring in here.
On Diarra...
He's been our most complete player from the summer until now. He's been really good. He's talented. He rebounds the basketball. He can step out and shoot it. He handles the ball on a break. He thinks he's a point guard. I know he's not, but he thinks he is. He's been really good. I've been impressed with him. His work ethic has completely changed when he got here. He wasn't into it as much, but now he's found some success through practice. He's kind of taken off to another level. He'll play some four and five for us. He won't play small forward, like he may think, but he'll help us out a lot.
On balancing Burns' and Middlebrooks' playing time…
I would never tell a guy who's not committed here yet that D.J. is not going to play a lot or he's going to be in foul trouble, in case he went somewhere else. We talked about the opportunity to play. We don't have a starting power forward. There's opportunities to play. There's opportunities to play minutes at the five. There's opportunity to play minutes at the four. Ben just wanted a different role. He was stuck behind a really good basketball player in P.J. Hall, and he wanted the opportunity to play some power forward, and that's why he's here. And he rebounded well against us. That helped him, too.
On keeping Burns on the floor...
I'm going to have the best back to the basket post guy, and it's so hard. He's tough. He's lefty. He can score it in different ways. You don't get any assists off of him because he'll catch it and dribble four or five times to be able to score the basketball. Because his hands are so good, he reaches a lot. Even on ball screens, he's always thinking he can pick somebody. What we've done is, "Hey, man, you can't do that. You've got to wall off. You've got to do a good job. You can't reach, You've got to stay in the game. You have to do your work early on the defensive end: get in position, and do your work early." A lot of his fouls don't come off the guy he's guarding. It's our guards getting blown by, and he's reaching and not rolling up or jumping when he's in a restricted area. Part of that as we've talked about our guards, you've got to really guard the basketball. And then, D.J., when they do come in, you can't give up stupid fouls.
On how Burns is officiated against...
I think he gets clobbered. He plays through it. The biggest conversation that we've had: he catches the ball almost close to the three-point line, and you shouldn't be able to have a closed elbow. While your guy's there, technically, he's a perimeter player that time. Once he gets close to the block is when you can use your elbow. We've talked about that, and he got a little better at the end. Guys were doing this out of the three-point line which is not allowed because he's no different than any guard when you catch the ball out that far. We talked about that part of it. I think Paul [Brazeau] understood. I didn't need Paul to understand as much. I needed [Bryan] Kersey to understand so he could make sure the other referees really understood what we talking about.
If any of the newcomers have created separation in the offseason…
Everybody's had different days. That's why I think we have more depth because there is no body that's [ahead of the rest]. I think Mo had a week where he kind of separated himself from the pack, and then obviously, he came back down. I think the good thing about this team is that we've had great competition. Typically, what's happening is I've been going on four days for one hour, and I've kind of kept the same teams, and what I like about them is, when one team loses, they talk trash to each other. We keep the same teams, and they come in, and they perform, and they play. I think the competition will make this team really special because they can push each other, and there are no clear guys above.
On the schedule...
When you think about our schedule, and this is a rarity that doesn't typically happen: we had four or five Quad IV's in our league, and it was tough. We had some traditional power programs in our league that just didn't have great years last year. When you get caught playing those folks at home versus on the road, it makes it tough. I like our non-conference schedule. I like the teams that we've got, but I do think our our league will be a lot better, and I think it takes away some of those Quad IV's that we may have had.
On the team's ceiling…
I was going to say some funny when you said that. I think the team has a chance to be really, really exciting to watch. What you'll see is a lot of versatility. I think we led the ACC in fast break points at almost 15 per game, if I'm not mistaken. I want to play faster if I can. I don't know that we can get more that 15 [fast break] points a game. The one thing about the team that we had last year: as fast as we played, we really took care of the basketball. I think this group has a chance to be that type of group. We could be better defensively which I hope is the case because we have a lot of people that can fly around and got multiple positions.
On what he's seen from his newcomers…
Sponges. I think everybody has been sponges. Sometimes, you love me; sometimes, you hate me, but we play hard. We might not do everything right, but we put a product on the floor, and they go play hard. The personalities have completely checked the egos. "Here's what you have to do: you have to compete to play for me." One of the things I told them this morning: it's not even the guy who makes the most shots who are loved. It's the guy who competes every possession and plays all the time. You've seen guys over the past years who weren't great scorers. Greg Gantt did a great job playing for us. He didn't score a lot of baskets, but he played a meaningful role for us. That's the biggest thing with these guys. There is no egos. Most of our guys out of the seven transfers are looking for another opportunity to prove that they should have gotten more playing time at their last place.
On Horne...
I see him as a passer. Now, his assist-to-turnover ratio is not great, but think about this now: he makes every big pass and big play that you need him to. We'll run the offense through him at times where he can become a passer and all that stuff. I don't think he scores. He's different. He's a lefty. He's got great soft touch. His footwork is really good. We will run some things where he'll be to make some plays out to the post by passing the ball, and he's going to get all the types of double teams and everything else because he has all year long.
On what we wants from Thomas and Pass...
I need L.J. Thomas and Breon Pass to learn from Terquavion Smith and, more so, Jarkel Joiner. He made it rough for those guys in practice. It was hard to get the ball on the floor. They couldn't run an offense. What I'm trying to get them to do is, "Hey, this is where you learn. You learn from upperclassmen." I know we're in the world of transfers, but you learn from upperclassmen how to play, how to compete, how to be a good ACC player, and I want them to think back to the days when they couldn't run an offense, and I had to take Jarkel Joiner off of them because we couldn't even practice. I'm trying to get those guys to kind of take on that role.
On the team's best defensive disrupter...
Yeah, I like Jayden Taylor. Last year, I'd said that Casey Morsell would be on the All-Defensive team, and Casey didn't listen to me enough. He's a really good defensive player. I would say Jayden or Casey could play that role more than anything, more so Jayden than Casey.
On the enthusiasm heading into this season...
Everybody loves to win, including myself. Going into last year, there was not a lot to cheer about. You had to trust the fact that I was going to build a roster that was going to be really good and compete, and we did that. Give the coaches a lot of credit; they put the roster together last year, and we had a really competitive year. We were back to playing, as I've already said, like the first two or three years and we were here. It's exciting. My process hasn't changed. Whether we win a lot of games or lose a lot of games, I go back and figure out how we can get better. I think about the things that we did well, the things that we really need to work on, get some players and compete hard. That's what we've done in the offseason, and I'm really excited about practice. We'll go tomorrow at 8 a.m. Some coaches will make Saturday an hour or Sunday two hours when they've saved their days, but I kind of want to make it just like it's the original start of practice like it used to be. Obviously, there's no Midnight Madness leading up to it, but we'll get after it at 2 or 2:30 on Monday, and I want our guys to have that mindset: "Here's 30 opportunities that we get a chance to practice to be ready for our first games."
Never miss the latest news from Inside Pack Sports!
Join our free email list