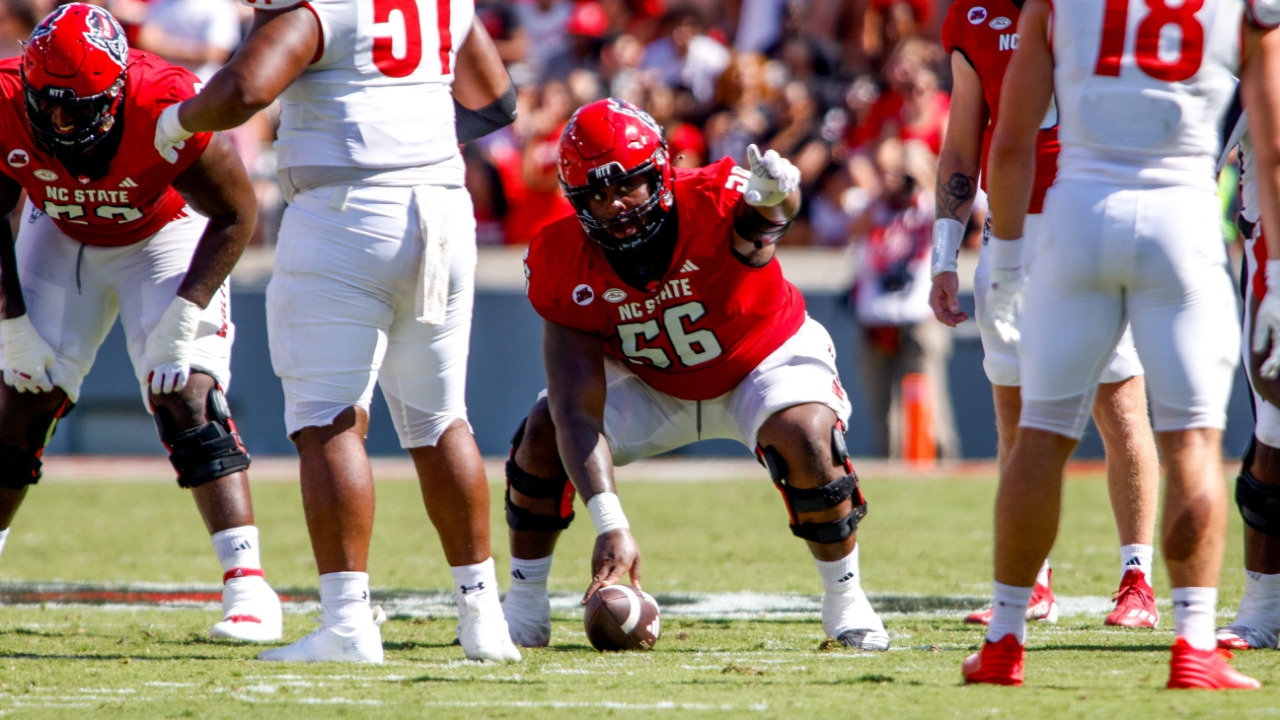 Photo by Steve Murphy/Inside Pack Sports
NC State Football
Lyndon Cooper: "It's Going to be a Battle Up Front"
---
NC State offensive lineman Lyndon Cooper met with the media ahead of the Wolfpack's ACC opener versus Virginia.
NOTE: Click on the video in the player above to watch Cooper's interview.
---
"It was kind of like second nature. My first two years here, I was the backup center. I feel like that prepared me to step in that role when Dylan [McMahon] got injured. I'm thankful that I had that experience."
"The toughest is just making sure the snap gets back there and doesn't go too high or too far to the right. It's just making sure the snap gets back there so I can play my game."
"Coach [Garett] Tujague emphasizes [communication] a lot because we thought they were going to run a lot of seven-men-up, eight-men-up blitzes, but they ended up playing just a 3-3-5 defense where we didn't see too much blitzing. He prepared us for the worst, so the communication part was pretty easy, and it almost came second nature."
"I felt like we were more detailed in the blitz pickups. We made sure we were on the same page and knew what our roles were."
"It's exciting to start ACC play. This'll be my first game playing against another ACC opponent, so I'm excited to see what I can do and how I match up."
"They're a pretty good defense. They definitely have their interior guys who are the base of their defense, so it's going to be a battle up front between the O-line and D-line."
"It's very important. We hope to get four to five yards each play, but we've also got to do our assignment and make sure we give our running backs a big enough hole to fit through. We've got running backs like Kendrick [Raphael], Michael Allen, and Jordan Houston who can fill the hole really quickly, so we have to make sure it's open."
"I told one of the dudes at VMI, 'That boy's going to be hard.' Kendrick is one of the ones I've seen, from the time he came in for spring ball, that I knew was going to be really good."
"Coach [Dave] Doeren is saying every ACC game is not easy. It can go either way. No game is going to be a blowout. He's been preparing us to make sure we're all playing hard, tough, and together and making sure we all do our assignments."
Never miss the latest news from Inside Pack Sports!
Join our free email list